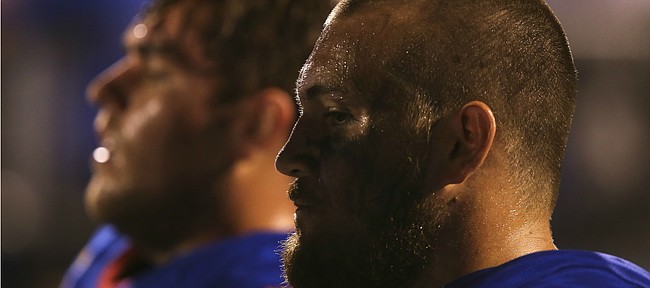 It seemed inevitable that it would come to this.
The Kansas University football team's shift to an up-tempo, Air Raid offense, though more exciting for the Memorial Stadium crowd of 37,798 to watch, became the Jayhawks' biggest problem during Saturday's 55-23 loss to Memphis, as the Tigers took advantage of several short KU drives and wore down the out-manned and overmatched Kansas defense.
"I feel like we've been preparing for that based off the way we've practiced," said junior defensive end Damani Mosby, who sniffed out a reverse for a 14-yard loss and also recovered a fumble in Saturday's loss. "Regardless if (our offense goes) out there and gets a three-and-out or goes out there and scores in three plays, we're trained for that type of stuff. We just need to clean up the little things. And there were a lot of little things (tonight) that's why it made a big difference as you could see in the score. It's execution, man."
Photo Gallery
Kansas football v. Memphis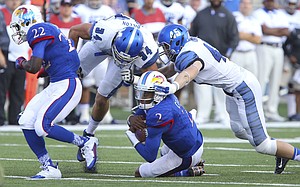 Images from Saturday's game between the Jayhawks and Tigers at Memorial Stadium.
Memphis quarterback Paxton Lynch, who had the attention of KU coach David Beaty well before the teams took the field on Saturday, orchestrated a perfect attack throughout the night, hitting open receivers for key third-down conversions, connecting on 10 passes of 14 yards or longer — including six between 20 and 42 yards — and leaning heavily on the Tigers' running game, which finished with 281 yards and a 5.4 yards-per-carry average.
"After that first drive, I don't think he got his jersey dirty," said Beaty of Lynch, who finished 22-of-25 for 354 yards and two touchdowns. "We've got to get more pressure on guys like that. He can't sit back there and have all day like that because he's a talented guy."
While Lynch hurt the Jayhawks through the air, the Tigers' running backs ran around, through and over the Kansas defense from start to finish, with four different backs finishing between 49 and 77 yards rushing.
The worst part about the Memphis ground attack, from a KU perspective at least, was that it only seemed to get stronger as the game progressed.
Podcast episode
After his Kansas football team fell to 0-2 on the season, first-year Jayhawks coach David Beaty speaks with media members regarding the struggles of a 55-23 home loss to Memphis.
"They came out and made some adjustments and had a lot of misdirection and counter plays and stuff like that," KU safety Fish Smithson said.
Added Memphis coach Justin Fuente: "I felt like, as the game went on, Kansas got a little tired defensively and I think that showed a little bit toward the end."
The 6-foot-7, 245-pound Lynch, whom the Jayhawks seemed more concerned about as a runner heading into the game, did not need to use his feet to do his damage on Saturday night. Most of it came through the air against soft coverages showed by Kansas' defensive backs.
Seven different Memphis players caught at least two passes to help make up Lynch's gaudy stat line.
"We definitely were telling everybody that he was a runner and he could make somebody miss in space," Mosby said of Lynch.
Throughout preseason camp, and before and after last week's season-opening loss to South Dakota State, Beaty emphasized striving to win or at least play "clean" in three key areas of each game — penalties, turnovers and special teams.
But Saturday's game, against an opponent that entered the season ranked in the middle of the pack of the 128 Division I football programs by most preseason publications, provided the plain and painful truth that even doing that might not be enough for this Kansas team.
The Jayhawks won the turnover battle 3-0, committed the same number of penalties as Memphis (7) and neither were hurt nor helped themselves much by anything that happened on special teams.
But KU's inability to turn those three turnovers into more than three points proved costly.
"That'll kill ya," Beaty said. "You've gotta be able to convert."
Saturday's loss was not all bad. The Jayhawks responded to the slow start that doomed them during last week's loss with a much better effort early and even jumped out to a 10-0 lead six minutes into the game.
A fumble recovery by junior linebacker Marcquis Roberts (nine tackles) on one of the few mistakes made by Lynch during this one, set up KU with a first-and-goal at the Memphis 10. And although the three plays that followed foreshadowed KU's offensive night — two incompletions by Montell Cozart and a run for minus-two yards by Ke'aun Kinner — Kansas jumped out to a 3-0 lead — its first of the season — when Nick Bartolotta drilled a 30-yard field goal attempt early in the first quarter.
A Memphis three-and-out and Ben Goodman sack later, Kinner (113 yards on 16 carries) scored the Jayhawks' first touchdown on a nifty run around the right side that showed off both his good vision to stretch the play and his balance to keep his feet. Out of nowhere, Kansas (0-2) led 10-0 and appeared to have Memphis (2-0) reeling.
But KU's early lead was short-lived. Memphis tied the game at 10 seven minutes after KU built its lead and the Tigers outscored the Jayhawks 24-3 to close the first half.
"We started quick," Beaty said. "And that was something we needed to get corrected from last week and it was good to see."
For a while, the quick-strike ability that served KU well in the opener kept the Jayhawks in this one. After falling behind 31-13 on the opening drive of the second half when Memphis' Mose Frazier sprinted 60 yards to the end zone, KU quarterback Cozart guided a 10-play, 75-yard drive to pull the Jayhawks back within two scores. Cozart, who finished 13-of-28 passing for 118 yards and with 18 yards on 11 carries, capped the drive with a seven-yard TD run on a called QB draw with 11:20 to play in the third quarter.
"From there, I never felt like we really got it back going again on either side of the ball," Beaty said.
That touchdown was the final highlight of Cozart's night. Junior-college transfer Deondre Ford relieved the KU starter midway through the fourth quarter and KU limped to yet another lopsided loss.
"If you look at the stat line, it tells the story," Beaty said. "(Memphis was) seven-of-seven in the red zone and we've gotta stop 'em down there.... Just a lot of things that added up to that being the result." 
— See what people were saying about the game during our live blog.
---
More news and notes from Kansas vs. Memphis
---