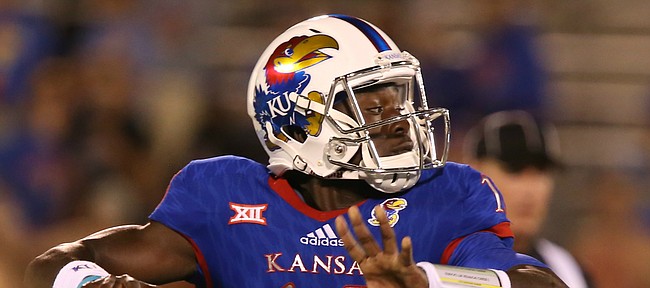 One week after sending true freshman Ryan Willis into the game to relieve starting quarterback Montell Cozart for a couple of plays, Kansas University coach David Beaty went a different direction during Saturday's 55-23 loss to Memphis at Memorial Stadium.
Midway through the fourth quarter, with Cozart struggling and the game out of hand, Beaty put junior-college transfer Deondre Ford onto the field to finish the game in place of Cozart.
The reason, Beaty said, was that Ford outplayed Willis in practice this week, a fact that further cements Beaty's belief that everything is earned week to week, day to day, snap to snap.
Asked if he thought about giving both players a few snaps in the loss given his stated desire to bring Willis along a little more each week in case he is needed, Beaty said the circumstances dictated the decision.
Photo Gallery
Kansas football v. Memphis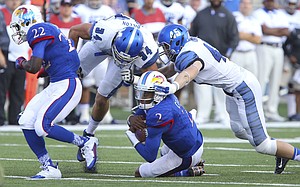 Images from Saturday's game between the Jayhawks and Tigers at Memorial Stadium.
"If we would have had a little bit more time at the point that we make a decision, we might have," Beaty said. "But at that point it was all Rob Likens' decision, and he wanted to stay with (Ford)."
As for how he felt Ford handled his first Div. I action, Beaty seemed pleased.
"You know, when he went in there, he moved us down the field, which was good," Beaty said before reiterating that Cozart remained KU's starter. "That's something that we had asked him to do and to be able to recognize what's happening coverage-wise and take advantage of open grass, and for the most part he did that. ... I was happy to see him go in there and be excited about it and move us down the field throwing that last drive; as happy as you can be with a game turning out the way it was."
Dineen starts
Four Jayhawks made the first starts of their KU careers Saturday, including Free State High graduate Joe Dineen Jr.
Dineen, who finished with two tackles and a QB hurry while starting in place of Courtney Arnick, said he learned he would start last Monday.
"It was fun," Dineen said. "Starting's just kind of a title. I just want to go out there and make as many plays as I can. But I'll probably remember it. Maybe I'll tell my grandkids about it someday."
Podcast episode
After his Kansas football team fell to 0-2 on the season, first-year Jayhawks coach David Beaty speaks with media members regarding the struggles of a 55-23 home loss to Memphis.
Wide receiver Joshua Stanford (in place of Bobby Hartzog Jr.), safety Michael Glatczak (in place of Greg Allen) and right tackle Larry Hughes (in place of Larry Mazyck) were KU's other first-time starters.
Kinner killin' it
With his second consecutive 100-yard game to open the season, junior running back Ke'aun Kinner (113 yards on 16 carries) became the first Jayhawk since James Sims in 2013 to put together back-to-back 100-yard games.
"Any time you have a guy that can move like that, it's a really good thing," junior tackle Jordan Shelley-Smith said in praising Kinner. "Our coaches say, 'Do your job,' and, 'Control what you can control.' That's all we can do. We have some really solid backs. Hats off to running-backs coach (Reggie) Mitchell. He's one of the best in the nation."
Hello, good bye
The Jayhawks are off next weekend and will have their bye week, which gives them an extra week to prepare for the Sept. 26 nonconference finale at Rutgers.
"Honestly, I'm not sure that the bye can come at a better time for us," Beaty said. "With us being in our first year of our program, with a lot of young guys playing, we've got two games under our belt. Two of them gave us a lot of different situations that we can go to school on. So I think there's a lot that we can learn from, we can continue to build on, and then we've just got to just continue to add another week of being better fundamentally."
This and that...
The Jayhawks lost the opening coin toss for the second week in a row and received the opening kickoff after Memphis deferred its choice to the second half. ... Red-shirt freshman Tyler Patrick (38 yards on six receptions) recorded the first receptions of his college career. ... Sophomore place kicker Nick Bartolotta went 2-for-2 on field goals and remained perfect on the season .... Red-shirt freshman Ryan Schadler, who returned a kickoff for a touchdown in KU's opener, served as the team's fourth captain, a spot reserved for a special-teams standout.
— See what people were saying about the game during our live blog.
---
More news and notes from Kansas vs. Memphis
---