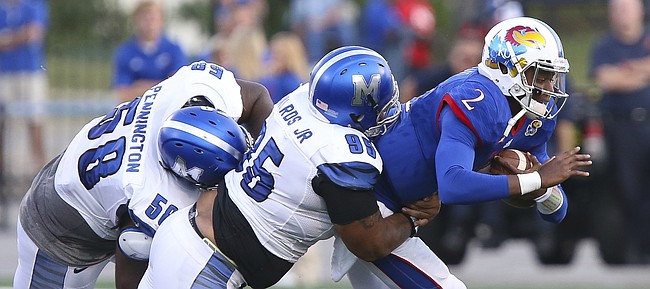 Junior quarterback Montell Cozart's mostly strong showing in Kansas University's season-opening loss inspired cautious optimism regarding his future.
The caution came from the caliber of the opponent and begged the question of how Cozart's improvement would translate against a faster defense.
The answer came Saturday night: Not very well.
On the run more often than is ideal but not to a ridiculous extent, Cozart looked an awful lot like the same quarterback replaced midway through last season by out-for-the-season Michael Cummings.
Cozart completed 13 of 28 passes for 118 yards. He rushed for 50 yards and a touchdown in gains, but suffered 32 yards in losses.
Photo Gallery
Kansas football v. Memphis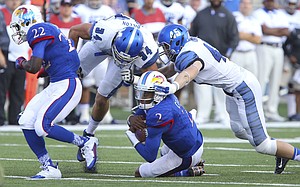 Images from Saturday's game between the Jayhawks and Tigers at Memorial Stadium.
Cozart's tendency to badly overthrow receivers returned, even blossomed, in a 55-23 loss to a Memphis squad that had fallen behind, 10-0.
The defense, not Cozart, had the roughest night. It's too late to add personnel, so KU won't be stopping anyone any month soon. So in order to compete, KU will need to complement stellar running backs Ke'aun Kinner and De'Andre Mann with a passing game that features accuracy, including an on-target deep one here or there.
First-year head coach David Beaty didn't point to poor pass protection as the issue.
Podcast episode
After his Kansas football team fell to 0-2 on the season, first-year Jayhawks coach David Beaty speaks with media members regarding the struggles of a 55-23 home loss to Memphis.
"As I walk away from this game, I look at a lot of missed opportunities, really on Montell's part," Beaty said. "He's a little bit more of an accurate quarterback than I think what he showed tonight. I think he'll come back and rebound from that."
Cozart completed 2-of-7 passes for 13 yards in the second half before being replaced by Deondre Ford midway through the fourth quarter.
"He wasn't completely on tonight and I know if he could get those throws back, he would take them back," Beaty said, citing a couple of down-field overthrows and pair of overthrows to tight ends over the middle.
Cozart led an offense that didn't turn over the ball, but also produced just three points from three Memphis turnovers.
Cozart's misses so often are overthrows, which makes me wonder if he's worrying too much about avoiding interceptions and thinking too little about using the right touch to complete passes.
"As you look at it, I think a lot of it comes back to mechanics," Beaty said. "I mean, there's a lot of times where when you see guys that overthrow people, they're throwing off of their back leg a little bit and they're not transferring weight from back to front."
It's the sort of thing that comes up in games more often than practice, one of the factors that makes it so difficult to evaluate quarterbacks based on practice performances.
"I think the big thing for him tonight was just trusting that his protection was going to be there and being able to sit in there and let that ball go," Beaty said. "That's something he's got to continue to keep growing on, him and all of them, but he was just a little bit off tonight."
A lot off at times.
Add Cozart's self-evaluation to his list of overthrows.
"I think I did all right," Cozart said. "Like I said, a couple of throws that I wish I could have back right now. One of the balls that I threw down to the end zone I overthrew and like I said, a couple of throws over the middle that would have sparked our offense would have been big plays for our offense. I think I did all right, just stuff to learn on film and continue to get better."
Asked about whether Cozart is entrenched as the starter, Beaty reiterated that nobody on the team is entrenched, "ever."
"But he's still our starter," Beaty said.
KU has two weeks to prepare for a game at Rutgers.
"We want those guys to have confidence, but they still are going to have to compete," Beaty said of his quarterbacks. "I love Montell. I trust him. I know that he wants to do well. I just think he didn't have his best game tonight, but I know he'll come back and work on trying to get better."
And he will get better in practice. At quarterback, more than any position, that doesn't mean it will translate to games. Simulating game conditions in practice is nearly impossible.
— See what people were saying about the game during our live blog.
---
More news and notes from Kansas vs. Memphis
---