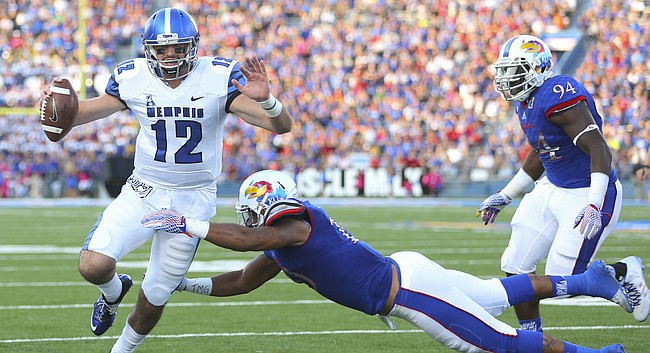 Despite an early 10-point lead against favored Memphis, the Kansas football team, early in a major rebuilding project, couldn't keep up with the Tigers the rest of Saturday night's 55-23 loss at Memorial Stadium.
Junior KU quarterback Montell Cozart struggled to hit open receivers early, often overthrowing them, and completed just 13 of his 28 passes for 118 yards, with no interceptions and no touchdowns.
Tigers QB Paxton Lynch, on the other hand, had his way with the Jayhawks (0-2), with just three incompletions on 25 attempts. The veteran threw for 354 yards and two touchdowns as Memphis (2-0) moved the ball with ease, routinely picking up massive chunks of yardage.
Just as he did in KU's opener, junior running back Ke'aun Kinner impressed — this time rushing for 113 yards and a touchdown.
Photo Gallery
Kansas football v. Memphis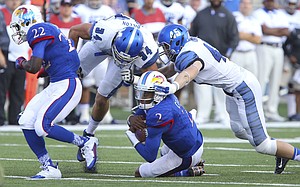 Images from Saturday's game between the Jayhawks and Tigers at Memorial Stadium.
However, the Tigers' 651 yards of offense, compared to KU's 359, made it a long night for the Jayhawks.
KU will have next week off and visit Rutgers on Sept. 26 for its non-conference finale.
• See what people were saying about the game during our live blog.
— Check back in at KUsports.com later for much more.
Podcast episode
After his Kansas football team fell to 0-2 on the season, first-year Jayhawks coach David Beaty speaks with media members regarding the struggles of a 55-23 home loss to Memphis.
HOW THEY SCORED
First Quarter
12:34 — Nick Bartolotta 30 field goal. After stalling on its first offensive drive of the game, Kansas picked up a gift on its first defensive play when Memphis QB Paxton Lynch and running back Tevin Jones fumbled a handoff which KU linebacker Marcquis Roberts pounced on at the 10 yard line to set up the kick. Four plays, -2 yards, 0:44. (KU 3, Memphis 0).
9:48 — Ke'aun Kinner 5 run. Bartolotta kick. A big sack by Ben Goodman on third down forced the Tigers to punt and allowed the KU offense to jump out to a two-score lead. Montell Cozart hit Joshua Stanford for a 19-yard gain to start the drive and then picked up 20 yards on the ground on a well-timed QB draw. Kinner did the rest, rushing for 24 yards on the next play and the final five after bouncing it to the outside and nearly falling down two or three times before reaching the end zone. 5 plays, 73 yards, 1:23. (KU 10, Memphis 0).
6:26 — Sam Craft 1 run. Jake Elliott kick. Memphis got on the scoreboard with an eight-play, 75-yard drive that took 3:22 and featured good run-pass balance. The key play on the drive came when Memphis QB Paxton Lynch pitched to Mose Frazier for a 14-yard gain to set up first-and-goal. The play was reviewed by officials, who wanted to see if the pitch went forward past the line of scrimmage. Replay showed it did not and Memphis scored two plays later. (KU 10, Memphi 7).
2:28 — Jake Elliott 27 field goal. A stop and a personal foul on the KU special teams set the Tigers up at the Kansas 34 yard line to start their second scoring drive of the game. Seven plays later, Elliott knocked the ball through the uprights on a fourth-and-goal to tie the game. The drive spanned 39 yards in 2:23. (KU 10, Memphis 10).
Second Quarter
13:45 — Doroland Dorceus 9 run. Elliott kick. Another Memphis stop on defense, which again featured the Tigers' front seven putting serious pressure on Cozart, led to a six-play, 69-yard scoring drive that took 1:16. The drive featured a 4-of-4 passing performance by Memphis QB Paxton Lynch. (Memphis 17, KU 10).
6:54 — Bartolotta 33 field goal. KU's longest drive of the first half covered 65 yards in 14 plays and four minutes and featured three completions from Cozart to Tyler Patrick and a 20-yard pitch-and-catch from Cozart to De'Andre Mann on third down early in the drive to keep the chains moving. (Memphis 17, KU 13)
0:32 — Tevin Jones 6 pass from Paxton Lynch. Elliott kick. After stuffing the Kansas offense on a drive that started inside Memphis territory, the Tigers responded with a 10-play, 80-yard drive that covered 4:07 and put them up two scores just before halftime. Lynch hit Phil Mayhue with a 32-yard gain to set up the score and a pass interference call on KU cornerback Brandon Stewart on third-and-goal allowed the Tigers to put up seven instead of three. (Memphis 24, KU 13).
Third Quarter
14:04 — Mose Frazier 60 run. Elliott kick. The Tigers blew things open 56 seconds into the second half with a three-play, 75-yard touchdown drive that included an 11-yard pass to Phil Mayhue for a first down that set up the jet sweep to Frazier. (Memphis 31, KU 13).
11:20 — Montell Cozart 7 run. Bartolotta kick. Kansas answered its biggest deficit of the game with an impressive drive to get right back into the game. Kinner ran for 29 yards on the drive and De'Andre Mann added 23 to set up the Cozart TD on a called draw on third-and-goal. (Memphis 31, KU 20).
9:14 — Daniel Montiel 3 pass from Lynch. Elliott kick. The Tigers answered the Jayhawks' quick score with a seven-play, 75-yard drive that took 2:06 and featured a crucial third-down conversion on a pass from Lynch to Frazier and a 42-yard hook-up by the same two players on the very next play. (Memphis 38, KU 20).
3:53 — Elliott 32 field goal. The Tigers upped their lead to three touchdowns after another stalled drive by the Kansas offense. Lynch hit on a couple of mid-range throws to set up the field goal, which came as a result of the KU defense stiffening in the red zone. The drive covered 65 yards in eight plays. (Memphis 41, KU 21).
1:01 — Jarvis Cooper 1 run. Elliott kick. Memphis' offense really started rolling on this drive, carving up the middle of the Kansas defense with the running game all the way to the end zone. The drive that put the Tigers up by four touchdowns covered 62 yards in five plays and 1:41. (Memphis 48, KU 20).
Fourth Quarter
10:56 — Jamarius Henderson 1 run. Elliott kick. Memphis kept things on the ground for the majority of this eight-play, 71-yard touchdown drive that spanned 3:50 and pushed the Tigers over the the opening over/under number of 54 points established by odds makers in Las Vegas when the lines came out last week. (Memphis 55, KU 20).
7:57 — Matthew Wyman 51 field goal. With junior Deondre Ford spelling Cozart at quarterback, the Jayhawks drove 42 yards in eight plays and 2:59 to crack the scoreboard for the first time since the 11:20 mark of the third quarter. (Memphis 55, KU 23).
---
More news and notes from Kansas vs. Memphis
---