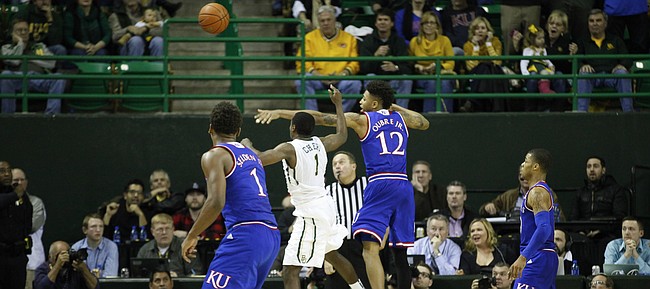 Photo Gallery
Kansas basketball v. Baylor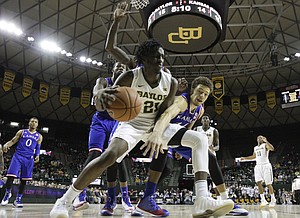 Images from Wednesday night's game between the Kansas Jayhawks and Baylor Bears at Ferrell Center in Waco, Texas
Podcast episode
Kansas University men's basketball coach Bill Self discusses KU's 1-0 start in Big 12 play, which came via a 56-55 win at Baylor.
Podcast episode
Brannen Greene & Wayne Selden break down KU's wild win at Baylor
KANSAS 56, BAYLOR 55
Waco, Texas — From the midway point of the first half right to the frantic final few seconds, Wednesday's 56-55 Kansas University basketball victory over Baylor at the Ferrell Center carried the feeling of a game that could come down to a single play or two.
And none of the plays that shaped the outcome of KU's big win in its Big 12 opener were more important or memorable than the defensive gem made by freshman Kelly Oubre Jr. as the Bears attempted to inbound the ball under their own basket, trailing by one with 10 seconds remaining.
Long after the lights had gone off and the fans had gone home, Oubre remembered the play vividly.
"Chery, he had a great game, he led his team, and I just knew that he was gonna have the ball in his hands," said Oubre of Baylor guard Kenny Chery, who led all scorers with 25 points in a game-high 35 minutes. "I knew that something was gonna happen for him on that last play."
Credit KU coach Bill Self with an assist for Oubre's knowledge.
"Coach said (Chery) was gonna throw it inbounds and they were gonna set a down screen for him to come off for the three, so we kind of anticipated that," Oubre recalled. "We didn't switch so I had to help on Cliff's man and just kind of knew where he was gonna be and used my reactions."
Those reactions led to a bang-bang play that won't soon be forgotten in Lawrence. As Chery struggled to find somewhere to go with the ball and the official's five-second count continued to climb, the 6-foot-7 Oubre and his 7-foot-2 wingspan leaned right and then back left to obstruct Chery's view. Knowing he had to get the ball in before being whistled for a turnover, Chery leaned as far right as he could and tried to flip a quick pass over Oubre's arm. It didn't work. Oubre got a piece of the pass and then knocked the ball off of Chery and out of bounds.
"I just kind of anticipated where he was gonna throw it and I just used my length and just got the deflection."
The official immediately ruled that it was KU's ball and Oubre walked into the deep corner of the court and roared with approval over his big play. Moments later, the referees met at the scorer's table to review the play on the TV monitors but Oubre was not too worried.
"I already knew it was off him," he said. "But it (was) their home court so I felt like something could've changed it."
Nothing did. Brannen Greene hit a couple of clutch free throws. And the Jayhawks (12-2 overall, 1-0 Big 12) escaped with a one-point victory and got their quest for consecutive conference title No. 11 off to a great start.
Next up, KU will play Texas Tech at 2 p.m. Saturday at Allen Fieldhouse.
---
More news and notes from Kansas at Baylor
---