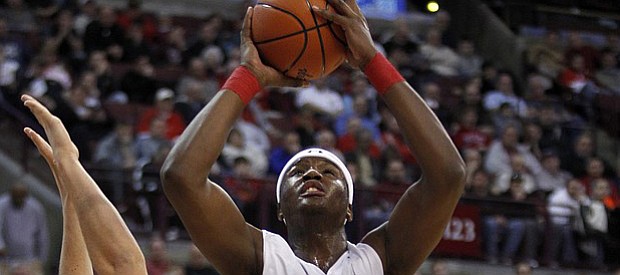 Coveted power forward prospect Carlton Bragg had no sinister switch planned Thursday afternoon when the 6-foot-9 senior announced his college choice at Villa Angela St. Joseph High, in Cleveland.
The nerves of the moment, though, led the graceful big man to stumble over his words, likely giving Kansas University basketball fans a genuine scare in the process.
Bragg, the No. 14-ranked recruit in the Class of 2015 by Rivals.com, walked to the podium wearing a crimson-and-blue striped tie, reached down, grabbed a red-billed KU hat, placed it on his head and declared: "Next year, I'll be playing at the University of Kentucky."
Instantly, the VASJ star, whose big moment was live-streamed by usatodayhss.com and Cleveland.com, covered his face with his hands and stuck out his tongue, trying to wag the misplaced K-word away.
"Kansas," Bragg clarified. "I'm sorry."
He chose KU over Kentucky and Illinois. Earlier, he'd also considered Arizona, UCLA and others. Bragg said the whole process had him twisting and turning daily. That's why the five-star prospect, averaging 20 points and eight rebounds per game for the Vikings — off to a 7-0 start with wins over national powers Archbishop Carroll and Arlington Country Day — wanted to go ahead and make his college plans official now.
"A lot of stress kept coming on me," Bragg said while fielding questions from media in attendance, "and I just wanted to go forward with my season, so I just got it out of the way."
The soon-to-be Jayhawk said he spoke with those close to him about his choice, prayed about it and even asked current KU freshman Cliff Alexander for advice.
"He just said, 'Go with your gut,'" Bragg said of his conversation with Alexander. "That's what he did. That's why I trusted and went with my gut."
According to Bragg, the first member of the Class of 2015 to commit to coach Bill Self and Kansas, his official recruiting visit back in October played a key role in his decision-making process.
"When I went to Late Night… that's when everything changed," Bragg said. "It was a great experience."
In his mind, KU took the lead that weekend.
"On my visit, toward the last day, we went to coach Self's house, so we all got together, (were) hanging out, stuff like that," Bragg recalled. "I felt that brotherly love they had and I felt comfortable around the guys. That's when I knew I could be there. That's what changed."
It has been reported that Bragg would like to be part of a package deal with No. 2-rated Jaylen Brown, a 6-7 senior from Wheeler High in Marietta, Georgia; and No. 18 Brandon Ingram, 6-8 from Kinston (North Carolina) High. Both are also considering Kansas and Kentucky.
A reporter asked Bragg if he expected other big-name recruits to follow his lead and join him in Lawrence.
"I hope so," he responded, with a laugh.
Later, Bragg told the Journal-World, "I believe so, yes," when asked about convincing Brown and Ingram to follow him to KU.
Named second-team Division III All-Ohio in 2014 after averaging 18.7 points and 8.5 rebounds per game as a junior, and helping the Vikings reach the state championship game, Bragg admitted he never would've dreamed of this day as a youngster.
"Baseball was my sport at first, and then I hit a growth spurt," he shared. "Ever since then I've been dreaming about playing college basketball. Dreams can come true."
Even if they don't go exactly as scripted. His VASJ coach, Babe Kwasniak, said during the event Bragg is a "rock star" in Ohio — "Everywhere he goes he gets the Justin Bieber treatment," the coach said. Now, people also will probably remind him of his Kentucky flub.
Bragg, though, received a second take at his big moment when someone in the gymnasium asked if he could make his announcement again. This time, he got it right.
"Next year, I will be playing college basketball for the University of Kansas," Bragg re-proclaimed, smiling.
And asked what he'd say to his new college fans, Bragg beamed and grinned and answered with a familiar three-word phrase: "Rock Chalk Jayhawk."
Coach K speaks: Kwasniak had an idea where Bragg would end up not long after the standout returned from his visit to Lawrence.
"When Carlton came back from his visit, I could just tell he had a little bit of a different stride to him," Kwasniak said. "Coach Self has a great track record. You go and play basketball at the University of Kansas ... it might be the most electric place to play basketball, not just in college, but in America.
"Self runs a high-low system, so that won't be a shock to Carlton's system because obviously with he and Dererk (Pardon, teammate), we run a high-low offense, so I think that's something he's going to adapt to," Kwasniak said. "He's used to playing with really good players. Now, obviously the caliber at Kansas is going to be great. But, not only is he used to playing with great players, our kids are used to playing against great players."
Graham doubtful for Tech: Self on Thursday listed freshman point guard Devonté Graham (sprained right big toe) as "doubtful" for Saturday's 2 p.m. home game against Texas Tech. Self said he'd have to practice full-go on Friday and respond well to play Saturday.
Two-year stay?: Bragg's mentor, Michael Graves, has worked with Carlton on hoops and life skills since eighth grade.
"Hopefully the 3 or the 4," Graves said of Bragg's position in college. "He has a good enough jump shot to pull the bigs out, knock down threes. He can run the floor."
Asked to compare him to somebody playing in the NBA, Graves said: "Sort of like a Kevin Love-type person. He can rebound and bang, but also hit the three. He's kind of light so he can get up the floor."
Asked how long he envisions Bragg playing college basketball, Graves responded, "probably two years. I think he'll need one year to get acclimated. With the training they give him, hopefully he'll be able to go in two years."
Bragg told the Journal-World, "Anything would do. I'd love to be able to go in one year."
http://www.youtube.com/watch?v=FH1b5ihD1KE
http://www.youtube.com/watch?v=DlVGnNjfXDI
http://www.youtube.com/watch?v=JUM58jhY-jw