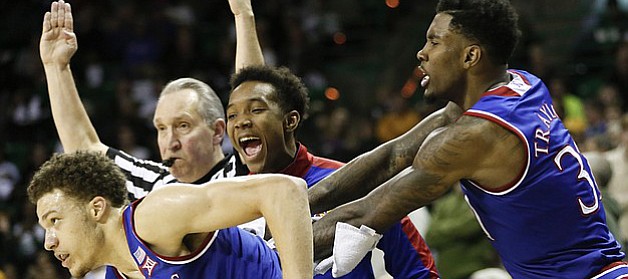 Photo Gallery
Kansas basketball v. Baylor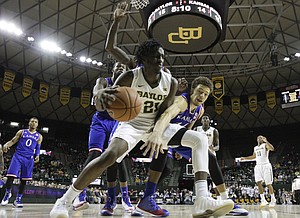 Images from Wednesday night's game between the Kansas Jayhawks and Baylor Bears at Ferrell Center in Waco, Texas
Podcast episode
Kansas University men's basketball coach Bill Self discusses KU's 1-0 start in Big 12 play, which came via a 56-55 win at Baylor.
Podcast episode
Brannen Greene & Wayne Selden break down KU's wild win at Baylor
KANSAS 56, BAYLOR 55
Waco, Texas — Plenty has been made so far this season about Kansas University's lack of point guard depth behind Superman starter Frank Mason III. But spend a game watching injured freshman Devonte' Graham operate on the bench and it'll leave you feeling just fine about the Jayhawks' lead guard position.
Graham, the 6-foot-2 freshman whom KU coach Bill Self said earlier this week was getting closer to returning from a severely sprained right big toe injury that has forced him to miss the past six games, did everything but play during Wednesday's wild, 56-55 victory over Baylor at the Ferrell Center.
Sure, it was just pre-game, but Graham, in his blue warm-up suit and low-top sneakers, found a way to break a light sweat anyway, getting right into the thick of things to rebound for his teammates and zip perfect chest passes with pace back to the guys trying to find their shots. For Graham, for now, these moments are his game nights.
"At times it's hard," Graham said of sitting out. "But you just can't rush it. It was really bad timing because before I got injured I think I was starting to get into a good flow and understand what coach was asking me to do and be more aggressive and stuff like that."
With Graham out, sophomore Mason has had to handle the bulk of those duties on his own. Mason was good when he had to be in this one, finishing with 11 points, five assists and just one turnover, while playing a team-high in minutes (34) for the fourth game in a row and ninth time in 14 games. But as heavy minutes, bumps and bruises and the grind of the season start to add up, it's clear that KU (12-2 overall, 1-0 Big 12) could use Graham.
The best thing about it from a Kansas perspective, however, is that the boost Graham has picked up while sitting out may allow him to return as twice the player he was before.
"I've actually learned a lot just by being on the sideline, becoming a quote/unquote coach," Graham said. "You just see things differently."
There's a reason for that. The more time he spends not worrying about his defensive assignment or finding a way to score, the more time he has to learn. And learn he does. As the game on the floor unfolds a few feet away from him, Graham goes through a game of his own in his head. He calls out instructions to teammates, — sometimes even before they see it — shouts encouragement during good times and bad and soaks up every second of his prime spot six seats down the bench, next to assistant coach Jerrance Howard and constantly within earshot of Self.
Throughout any given possession, you actually can see Graham learning. His eyes move something like this: Self, court, Self, court, Self, court.
Of course, the guy he connects with the most during the games is Mason. He studies Mason's moves as if he's watching a 10-year NBA veteran, talks to him like the two are brothers and, at times, even lives vicariously through everything Mason does.
"Our relationship is good," Graham said. "And I think it's grown while I've been out. I just watch what he does and listen to what coach tells him to do and try to learn based off that."
Living through Mason for the time being also has its down side. For instance, every time the 5-11 Mason gets knocked to the deck, as he did six times in Wednesday's victory over Baylor, Graham reacts as if he can feel the contact.
"Those are the moments where you just gasp," Graham said. "Because we don't really have another point guard."
Except the Jayhawks do. And if things continue to go the way the way they have during Graham's rehab thus far, don't be surprised if you see him out there again sometime in the next week. At this point, Graham seems as excited about that idea for Mason as he is for himself.
"I know he's tired," Graham said of his do-everything teammate. "He does a lot for our team. I wish I could play. I feel pretty good. Maybe the next game. Maybe the game after that."
Maybe. And can you imagine the impact of adding another ball-handler and scorer who can help keep Mason fresh for a team that kicked off its run toward an 11th consecutive Big 12 title with a gritty and gutsy road win?
---
More news and notes from Kansas at Baylor
---