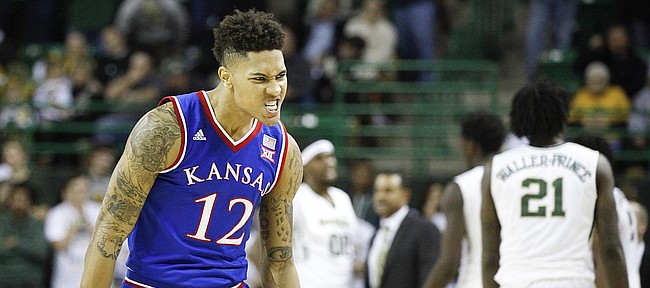 Photo Gallery
Kansas basketball v. Baylor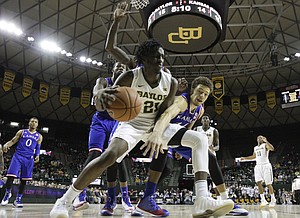 Images from Wednesday night's game between the Kansas Jayhawks and Baylor Bears at Ferrell Center in Waco, Texas
Podcast episode
Kansas University men's basketball coach Bill Self discusses KU's 1-0 start in Big 12 play, which came via a 56-55 win at Baylor.
Podcast episode
Brannen Greene & Wayne Selden break down KU's wild win at Baylor
KANSAS 56, BAYLOR 55
Waco, Texas — Kansas University basketball coach Bill Self extended his right hand to Baylor big man Rico Gathers as he passed him in a Ferrell Center hallway a half hour after the Jayhawks' thrilling 56-55 victory over the Bears.
"You were a monster tonight, bud," Self told the 6-foot-8, 275-pound Gathers after the No. 12-ranked Jayhawks (12-2, 1-0) rode some late-game heroics by Wayne Selden Jr., Kelly Oubre Jr., and Brannen Greene — and an all-around effort by Jamari Traylor (13 points, five boards) and Frank Mason III (11 points, five assists) to victory over No. 21 BU.
Gathers, who grinned and said, "Thank you," to Self pulled down 14 rebounds (nine offensive) and scored nine points — and at one point was poised to be the hero of the game after ripping numerous caroms and 50/50 balls away from Jayhawks in 29 minutes of action.
"He was great, really good. That was a good win for us," Self acknowledged to reporters after the handshake.
The victory — KU's 24th in a row in conference openers — was made possible by the Jayhawks' own set of heroes.
First Selden, who hit one of his first six shots, cashed a deep jumper, a three and an eight-foot bank shot to give KU a 54-51 lead at 1:19.
"Not necessarily," Selden (9 points, 4 assists) said, asked if he tried to take over late. "I know we had to step up and make plays and my teammates found me."
Kenny Chery (25 points) cut the gap to 54-53 at 1:08.
The score remained the same as Baylor took the ball out of bounds under its own goal with 10.1 seconds left. 
That's when freshman wing Oubre (three points, 1-of-7 shooting, 24 minutes) subbed into the game and tipped the ball off in-bounder Chery out of bounds, to KU, causing a pivotal turnover and maintaining the one-point margin.
Brannen Greene, who had hit 15 of 15 free throws on the season, was fouled with 6.3 seconds to play and swished a pair of free throws to give KU a 56-53 lead. Baylor coach Scott Drew called a timeout to try to ice Greene on his second of two freebies.
"I'm a pretty confident free-throw shooter," Greene said. "We talked in the timeout, me and Wayne. He was looking for me (to send the reliable Greene to line) and I was ready to knock them down."
Things became even more interesting when KU coach Self elected to foul with his squad up by three, the idea to not let Baylor jack up a potential game-tying three, instead to go to the line for two foul shots down three.
So Mason fouled Chery, sending him to the line with 5.1 seconds left.
Chery hit both free throws and sliced the gap to 56-55. 
Mason was fouled with 3.9 ticks left and KU up by the single point. 
He missed his free throw, giving the Bears a chance to pull out a victory. Taurean Prince, who rebounded in the corner, passed to Chery, who fed Lester Medford near midcourt. Medford didn't even get a shot off in time as the clock expired and KU had the victory.
"My deal is to foul under five (seconds, rather than let an opponent shoot a three)," Self said. "We fouled right at five. It worked out OK. The risk is you've got Gathers on the glass. We rolled the dice, played the percentages and got fortunate."
Self continued ... "Usually when people foul late like that they are going to force their opponents to miss the second one. They decided to make it which was smart because there were five seconds left. There was too much time. It was the percentage play," Self added, "but I'm not sure I wouldn't play it out, make them drive it or whatever, but it worked out great. What happened is you could have  lost the game because we fouled and missed the free throw. Down one, all they've got to do is make a basket and we lose. The worse you can do is overtime the other way."
No overtime this night, thanks in part to the 6-foot-7 Oubre, who harassed the 5-11 Chery on the inbounds pass. 
"That was the play of the game," Greene said. "Coach made the sub. He (Oubre) hadn't played much the second half. Kelly came in with a good attitude. He knew we needed a stop. He has the longest arms. He's our best defender, came in and made the play."
Self noted: "It was a great play. We made the decision to go with Wayne instead of Kelly. Wayne scored seven straight points. Then we subbed Kelly for defense. He gets the steal to put us in position to win the game."
It was pivotal that KU not allow the Bears a final shot. The Jayhawks hit 72.7 percent of their shots the final half to BU's 39.3 (KU scored just 18 points the first half).
"The plan was to make it but it didn't go through like that," Mason said of his late free throw with KU up only one. "I think we were great on the defensive end. We didn't give up any silly fouls and put them on the free-throw line (after the charity miss). I think we defended it really well. I at least thought they were gonna get a shot up but it was good they didn't," Mason added.
"I thought they were going to shoot deep instead of passing ahead," Selden noted.
KU will next meet Texas Tech at 2 p.m., Saturday, in Allen Fieldhouse. The Jayhawks are happy to be coming off a huge victory instead of what would have been a disappointing defeat.
"It's a good win and will be a good win at the end of the season. Baylor's a good team," Self said.
"We are a close-knit team," assessed Greene. "It's one of the reasons I feel we pulled out this game, the experience we had in past games. It's been an up and down season for us, at times not the greatest for us. What is so special about this team is this year we've been put in situations we've had to come out on top an that's what we've done."
---
More news and notes from Kansas at Baylor
---