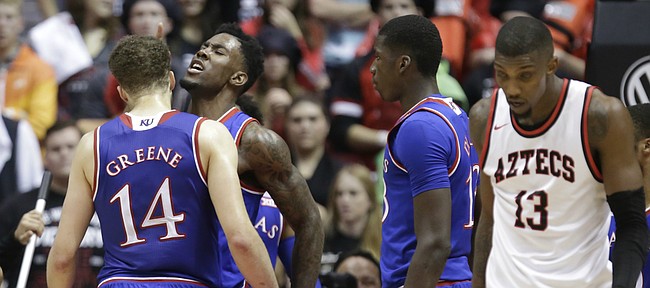 San Diego — After Kansas University won its first road game of the season, 70-57, at San Diego State Tuesday night, KU coach Bill Self lauded the play of Brannen Greene (four points, four boards, 26 minutes) and Jamari Traylor.
"You could make a case they were our two best players," Self said.
"And Carlton (Bragg, two points, six minutes) gave us some good things. Cheick (Diallo, four points first half) made two big baskets in the first half. Landen (Lucas, two minutes) didn't play a lot. I thought Hunter (Mickelson two points, eight minutes), even though he starts, he's sort of a bench guy. They all play the same. If you add that position together we got some good production," Self said.
Photo Gallery
Kansas basketball v. San Diego State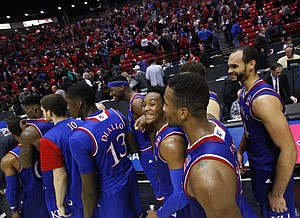 Images from the Jayhawks' game against the Aztecs at Viejas Arena in San Diego, California.
Self on the big men: "It's not easy to play six big guys, and we played one of them 17 minutes in the first half (Ellis). Have to give everybody a chance. When the game got tight, I went with experience (Traylor). I put an experienced guy out there because he'd been there before."
Self on the win: "We would have been very happy coming out here and getting a win, period. And to come out here and control the game basically from start to finish with the exception of a couple of minutes, I think is pretty good. Both teams were ready to play. A lot of energy in the building. I think it was great prep for conference play, but the bottom line, we needed this game. We needed  to go on the road and play in a good building. I think it was good for us. I think our non-conference, even though the schedule probably wasn't as tough as it has been in other years. We played some good teams but we just didn't play as many really, really good teams this year probably. But I think the non-conference schedule has done what it's needed to do for us this year."
S.D State coach Steve Fisher: "We played a team tonight that is, in my opinion, nobody in the country is better than. They're good. They're good in so many different ways. They're obviously well-coached. They can run body after body after body on you. They don't lose—and usually gain—a step when they go to the bench.
"Like really good teams do — really good teams—they took a hard hit, took a left hand to the head, but came back to themselves with a 1-2-3 on us to get eight straight points, to push it right back up to where it was. The fight was there, we just weren't quite good enough."
— See what people were saying about Kansas at San Diego State during KUsports.com's live blog
---
More news and notes from Kansas at San Diego State
---