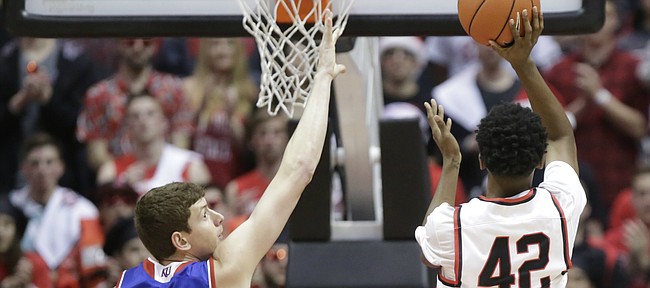 San Diego — Jeremy Hemsley had a chance to blow the roof off Viejas Arena. But he missed a high-percentage layup. Winston Shepard had an even better chance just seconds later, but his put-back dunk clanked off the rim.
So it went for San Diego State's men's basketball team in its 70-57 loss to Kansas University on Tuesday. With a rowdy home crowd ready to explode early in the second half, Hemsley and Shepard both had beautiful opportunities to make it a one-possession game on a 3-on-1 breakaway with 14:37 remaining and Kansas up 43-39. Hemsley missed the layup, then Shepard missed the put-back dunk. San Diego State missed the best attempt it was going to have to take back the game.
"I really thought that layup was going in," Hemsley said. "I had an off night, but that's one of the shots that I really thought was going in.
Photo Gallery
Kansas basketball v. San Diego State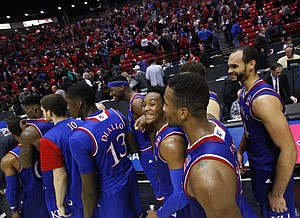 Images from the Jayhawks' game against the Aztecs at Viejas Arena in San Diego, California.
"The momentum definitely did swing after that missed layup. If I would've made it, I think it would've been the other way around."
Added SDSU coach Steve Fisher: "If you're going to play with a team that's this good, you have to make those shots. We didn't, and two for us becomes three for them, and all of the sudden it's an avalanche."
Kansas was clearly the deeper and more skilled team Tuesday, but the raucous crowd of 12,414 was an advantage the Aztecs sought to maximize.
San Diego State fans had been waiting three years for this matchup, since the home-and-home series with Kansas University was first announced in December 2012. While big names from the west coast occasionally appear in Viejas Arena since its 1997 opening (Arizona, Cal and USC among them), never before has a blue blood made an appearance.
Bolstered by six straight NCAA Tournament appearances, the Aztec fan base has slowly turned Viejas into a hostile place to play, and there certainly were reminders of that when SDSU chipped away at KU's double-digit deficit early in the second half.
Unfortunately for Aztec fans, this wasn't the SDSU teams of Kawhi Leonard or Xavier Thames that made this home-and-home so intriguing when it was finalized.
Kansas started the game on an 8-3 run, and followed with a 9-3 run. The KU lead grew and grew, as large as 16 in the first half, in no small part due to the Aztecs' inability to keep up in any facet of the game. They were out-rebounded by the Jayhawks in the first half, had more turnovers, a worse shooting percentage and more.
"We had big, bad Kansas coming in here," freshman Zylan Cheatham said of the first half. "We got those first-half jitters out, and we responded pretty well."
The Aztecs' run in the second half brought the deficit no tighter than four, just out of reach from a one-possession game that would've really charged the crowd. After the back-to-back clanks by Hemsley and Shepard, the Jayhawks slowly grew their lead back up to a comfortable spot—and held onto it this time.
Where does San Diego State go from here? A loss to No. 2 Kansas is understandable, but the Aztecs are reeling heading into Mountain West play. They lost to Grand Canyon University at home last week, and also have a home loss to Arkansas-Little Rock and a loss to little brother University of San Diego at PETCO Park earlier this month.
Their freshmen certainly have potential—Cheatham made the crowd erupt with a windmill dunk early in the second half en route to a team-high 12 points, and Hemsley, missed opportunity aside, had 10 points and glimpses of standout play on Tuesday.
But the raised standards that Fisher set for this program — annual NCAA Tournament appearances — might go unrealized this season. A win over Kansas could've negated its early bad losses, but instead, San Diego State might be banking on a huge run in Mountain West play to get its golden ticket.
"We've got good players that have to play better," Fisher said. "If we're going to be effective in league play, we have to play better."
— See what people were saying about Kansas at San Diego State during KUsports.com's live blog
---
More news and notes from Kansas at San Diego State
---