San Diego — There will be nonstop ho-ho-hoing and mistletoe-ing in the household of Kansas University's basketball players and coaches this Christmas.
No need for Scrooge-like mentions in 2015: The Perry Ellis-led Jayhawks gave their fans an early present in the form of a 70-57 victory over San Diego State on Tuesday in Viejas Arena.
"The pie tastes better when you win before Christmas," concedes KU coach Bill Self, whose squad — thanks to Ellis' 20 points and Wayne Selden Jr.'s 10 key second-half points to go with Frank Mason III's 10 first-half points — improved to 10-1 heading into a four-day break. 
"We needed this win. We needed to go on the road and play in a good building, good environment, which we did. I thought the atmosphere was fantastic. I loved it," Self said.
Photo Gallery
Kansas basketball v. San Diego State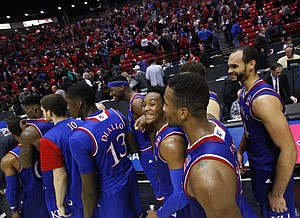 Images from the Jayhawks' game against the Aztecs at Viejas Arena in San Diego, California.
The Jayhawks are off from now until Saturday night, when they reunite before their holiday clinic at noon Sunday.
Ellis scored 14 points off 6-of-11 shooting (2-for-3 from three) and Mason 10 points off 4-of-9 shooting (also 2-for-3 from three) as the Jayhawks led, 39-27, at halftime. KU's biggest lead of the half was actually 16 points as the Jayhawks stormed to a 35-19 advantage.
Ellis, a 6-foot-8 senior from Wichita, had 14 of KU's first 26 points as KU rolled to a 26-13 lead with 8:56 left in the half. He could have made it an early 16 points, but missed a layup right after KU had built that 13-point advantage.
Ellis knocked down three shots in his first four tries, including a three, as KU grabbed a 11-6 lead at 15:31. The lead then climbed to 11 points at 17-6 following back-to-back threes by Mason.
"That's the best he's been," Self said of Ellis. "It's the most aggressive he's been all year long."
"Perry was great. He was pumping me up, being a leader out there. On the court he was yelling, 'Mari, Mari. Let's go.' That was something different from him," noted Jamari Traylor, who in playing 15 minutes the second half finished with six points and six boards.
Of his play, Ellis said: "I came out and wanted to attack. It was important to make shots. It was important to be aggressive to win on the road."
The only first-half negative came when Selden — the hero of the second half — picked up his second foul at 17:39 and did not play the remainder of the half.
Selden pretty much saved the Jayhawks after a second-half Aztec flurry cut KU's 12-point halftime lead to 45-41 at 13:45.
Selden scored eight points and Brannen Greene three in an 11-0 run that gave the Jayhawks a comfy 56-41 margin. Selden cashed a huge three to open that run and widen the lead to 48-41. He then followed with a hard drive to the hoop and ensuing layup as the lead grew to 50-41.
Selden, who went scoreless the first half, finished with 10 points. Mason had 12 and Devonté Graham 10 for KU, which hit 42.6 percent to the Aztecs' 37 percent. KU hit eight of 19 threes and the Aztecs three of eight.
The Jayhawks made up for last year's pre-Christmas loss to Temple. KU lost by 25 points in Philadelphia.
"We had a tight huddle playing on the road," Traylor said. "We were together and played a great game."
The Jayhawks also made up for a loss to S.D. State in Lawrence two seasons ago.
"I didn't make a big deal out of that," Self said. "They had a good team. I knew we had to make shots tonight, and we did."
KU will meet UC Irvine at 8 p.m., Dec. 29, in Allen.
Notes: Lagerald Vick did not suit up. Self said he has been ill. ... Former KU center Eric Chenowith and signee Mitch Lightfoot visited with Self after the game.
— See what people were saying about Kansas at San Diego State during KUsports.com's live blog
---
More news and notes from Kansas at San Diego State
---