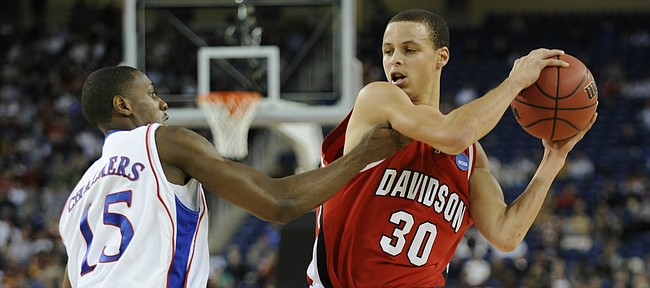 The more Stephen Curry dominates the NBA ... the more impressive the fact Kansas University survived Curry's Davidson Wildcats, 59-57, in an NCAA Tournament Elite Eight game in 2008 in Detroit.
The 6-foot-3, 190-pound Curry, who blistered KU for 25 points off 9-of-25 shooting (4-16 from three), brought the ball up court with 16.1 seconds left and his Wildcats trailing by two.
Brandon Rush, who now is Curry's teammate on the Golden State Warriors, slipped while guarding Curry about 20 feet from the basket with 10 seconds left. Rush received immediate help from Mario Chalmers, a defensive whiz in college who now plays for the Memphis Grizzlies.
Appearing confused, Curry passed to Jason Richards, whose 25-footer over Chalmers and Sherron Collins was long enough, but thudded off the backboard.
The Jayhawks, who collectively breathed a sigh of relief, went on to the Final Four and ultimately won the national title. Davidson's season was over.
"I'm just glad he didn't take that last shot," KU coach Bill Self said of the reigning NBA Most Valuable Player, "because after seeing him play since then, if he could have taken it he would have made it.
"We got lucky. That's what goes through my mind," Self added. "He (Curry) didn't really get a chance to get a look off, fortunately for us, because he's the best there is of making bad shots. He takes off-balance, crazy stuff that goes in.
"He was by far the best player in the tournament. If he got the shot up, chances are pretty good it would have gone down. Fortunately we defended that pretty well. Although it was a hard shot, the guy (Richards) missed it wide left and the rest is history."
Self said that in looking back ... "certainly it was a treat to coach against him. What was unique about that Davidson team, everybody thought they were the choir boys. That was without question the most physical team in the tournament. Sasha Kaun was the one who stepped up and won that game for us," Self added of the current member of the Cleveland Cavaliers, who had 13 points and six boards.
Curry returned to Davidson for one more year, his junior year. The Wildcats did not receive an NCAA bid. Curry turned pro and was taken No. 7 overall in the 2009 NBA Draft.
"When people took him that high in the draft, I was like, 'He's too frail. Is he going to be able to handle 82 games?''' Self said. "He's become a terrific athlete. He's tough as nails which is very apparent when you see him play.
"His shooting is unbelievable. He's in ridiculously great shape, knows how to take advantage of the defense when the defense turns. He's in perpetual motion. He can get it off the bounce. I've never seen a guy lull you to sleep then (throw in a three). It's amazing watching him play."
No summer tour coming: KU's basketball team, which is eligible to take a foreign trip this summer, will bypass a possible trip, instead travel somewhere in the summer of 2017.
"We're going to take a year off. We're tired. That's a lot (in a short period of time)," said Self, whose Jayhawks traveled to South Korea for three weeks last summer for the World University Games.
The Jayhawks were allotted a month of practice before heading to Korea where they won seven games (and an exhibition) and the WUG title.
KU won two exhibitions vs. Canada before heading to Korea.
The Jayhawks competed in the Maui Invitational this past November and will be heading to Honolulu for a game versus Indiana on Friday, Nov. 11 with a game against Duke slated just four days later in New York. KU also will play in Las Vegas next season. The Jayhawks' last summer tour was a trip to Switzerland in the summer of 2012. The NCAA allows teams to travel overseas once every four years.
Two left: KU has two nonconference games left to play — Tuesday vs. UC Irvine, then a Jan. 30 meeting against John Calipari's Kentucky Wildcats.
That's part of the Big 12/SEC Challenge.
"It's great we are going to get some exposure. It's great we are playing Kentucky," Self said. "The Kentucky game is not bigger than any conference game. These (challenge) games are basically thrown in the first third of your conference season. I don't think any coach is excited about that.
"I think we are excited about the exposure it could potentially bring to our league. Every game is going to be played that Saturday and GameDay will operate from one of the places, hopefully ours from that particular day all day long. It'll be fun, a great challenge. It's something I think a lot of our fans because of Kentucky's success especially of late will look at this as the game of the season. It is the nonconference game of the season, but it's not a conference game.
"I think all coaches would feel if it is in December it'd be perfect."