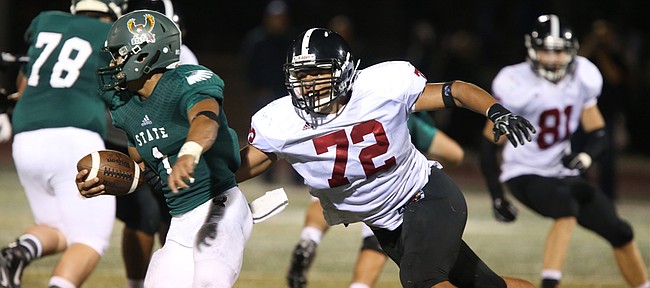 After a busy month focusing on recruiting, Lawrence High football standout Amani Bledsoe is excited to make his return on the field.
The 6-foot-5, 270-pound defensive end will play in the Semper Fidelis All-American Bowl at 8 p.m. Central time on Jan. 3 at StubHub Center in Carson, California. The game will be televised on Fox Sports 1.
Bledsoe will leave Lawrence on Tuesday for practices before the game. Playing on the West squad, which includes Olathe North free safety Isaiah Simmons, Bledsoe will practice with his team at Orange Coast College for four days.
"It's really exciting at the moment," Bledsoe said. "To me, I think it's going to be fun just to play harder competition. … It'll be a fun challenge for me to see where I'm at against those type of athletes."
Bledsoe, who was selected as the Sunflower League's Andre Maloney Most Valuable Player, had 89 tackles last season for Lions, including 11 sacks. It'll be his first time playing on national TV, but he's more excited for the chance to make himself better as a player against top competition.
"I'm not one to like all the hype and TV and stuff, but I think it'll still be pretty cool," said Bledsoe, who won the Buck Buchanan Award earlier this month, which is given to the best lineman/linebacker among big-class schools in the Kansas City metro area.
The trip to California will also give Bledsoe a chance to relax on the recruiting front.
Bledsoe took his fifth and final official visit to Kansas University on Dec. 11-12. He is also considering Baylor, North Carolina State, Oklahoma and Oregon.
He was the only football recruit on campus during his visit to KU, which gave him the undivided attention of the Jayhawks' coaching staff. He ate each meal during his visit with head coach David Beaty, defensive coordinator and Lawrence High grad Clint Bowen and defensive line coach Calvin Thibodeaux. All of the KU coaches attended his last meal at Cielito Lindo.
"It was great," Bledsoe said. "A lot of attention from all the coaches. Good food, good people and nice players. I had a good time."
Bledsoe only decided in the past few weeks to take an official visit to Kansas. He's made plenty of unofficial visits to campus, but once he progressed in his recruiting, he decided to take a more in-depth look at his hometown option.
"There's like no time to go somewhere else," he said of his thought process. "I'm not really trying to wait. Just go to KU and get a good feel for them. I know I've already been there a lot, but just get a different type of feel for them like the official was. Get to see where I'm at with things and if I have new feelings toward them or if things have changed."
Two days after his visit to KU ended, NCAA Div. I football teams went into a dead period on the recruiting calendar — no in-person contact is allowed — through Jan. 13.
Now, he can spend most of his time focusing on his first game since the high school season ended.
"It's a great relief," Bledsoe said. "A huge weight off of my shoulders, just to be able to chill and not have them bombard me with as many phone calls and visits and stuff. It's nice."