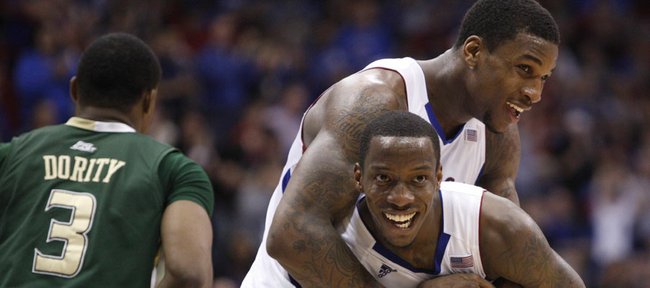 Podcast episode
Kansas coach Bill Self talks to reporters following his team's 70-42 victory over South Florida on Dec. 3, 2011.
Videos
KU vs. South Florida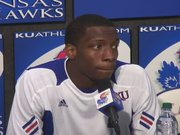 Kansas defeated South Florida, 70-42 on Saturday, Dec. 3, 2011 at Allen Fieldhouse.
KU vs. SFU
A case of the "crud" has stricken Kansas University basketball coach Bill Self and several of his players this past several days.
"Head congestion. Cough. Fever. Diarrhea. That's the crud," Self said, defining the malady that has slowed the likes of Thomas Robinson, Elijah Johnson, Travis Releford, Naadir Tharpe, Kevin Young and Merv Lindsay, to name a handful of Jayhawks.
"I think it's going around on campus. We have some people, including the coach, that haven't felt great, but good gosh … " he exclaimed, not blaming illness for cruddy play in Saturday's 70-42 victory over South Florida in Allen Fieldhouse.
KU led just, 24-21, at the half.
"I just think we were awful," Self said of a half in which the Jayhawks (5-2) hit just 37.5 percent of their shots while missing 10 of 11 threes and committing nine turnovers against six assists.
"I told our guys before the season that we were going to have to really enjoy winning ugly because we don't have as many offensive weapons as we've had in the past, but they've taken it to a different level than I've ever imagined. I told our guys it's a different galaxy where no man has ever gone before."
It makes two sub-par games in a row for the Jayhawks, who also were lethargic in Wednesday's 77-54 victory over Florida Atlantic.
Fortunately for KU, the Bulls (5-4) weren't much better. They were 4-for-17 from three and hit 32.6 percent from the field to KU's 46-percent mark.
"You start a game ... you should be full of energy. Why do we have more energy the second half than the first half? To me, that doesn't make a lot of sense," Self said. "We're fortunate they didn't play great. They missed shots. We did a pretty good job guarding overall."
Junior shooting guard Johnson went 1-for-8 from three, 1-for-7 the first half. He finished with five points, four rebounds and three assists.
"With Elijah, he has good intentions to play well, but when he doesn't play well, he automatically becomes very deflated fast, which is really bad," Self said. Johnson missed threes on KU's first three possessions.
"As an athlete, you've always got to be thinking, 'Next play.' You go 0-for-3 and have three strikeouts (as a baseball hitter), you still have to get on base when you are one run down in the ninth. We're not showing that mental toughness. When the coach is telling you, 'Shoot it every time you are open,' that ain't a bad gig. There's a lot of people would like to have that gig in college basketball.
"To abuse that and not guard on the other end or lose focus ... I am not buying into that," Self said. "He's too good a player to play like this. We've got to get him where he is playing better. If your playing well is based only on missed shots, you are probably not a complete player. He is a complete player. Elijah can do a lot of things. He is not impacting the game when things don't go well early, which he's got to be able to change."
How to do that, coach?
"Through toughness. 'Next play' is a form of toughness. We had one (unidentified) guy stop playing to call three-seconds while the ball is in play. Who does that?" Self asked incredulously. "That is not thinking 'next play.' I think maybe our sickness has a little bit to do with it. I don't think the guys were all there emotionally."
Asked if sickness was the reason Johnson only played eight minutes the second half after 12 the first, Self said: "To be honest with you, I was trying to win the game. The guys who played in the second half are the guys who I thought gave us the best chance to win."
KU, which did outscore the Bulls, 46-21, the second 20 minutes, was fueled by Tyshawn Taylor's 20 second-half points. Taylor, who finished with 24, had 14 points (including three threes) in a 29-8 run that expanded a 38-31 lead (11:09) to 67-39 at 2:35. Releford, Teahan and Taylor opened that surge with made threes. KU hit six of 14 threes the second half.
Junior All-America candidate Robinson did not record a double-double for the first time this season. He finished with 14 points and eight boards.
Self smiled when a reporter suggested Robinson was one Jayhawk who played hard all the time.
"Next question," Self said. "I think we pick and choose when we play hard. The whole team picks and chooses."
Self didn't want to make it seem as if he was leaving the fieldhouse feeling totally negative about his squad, which next meets Long Beach State at 8 p.m. Tuesday in Allen.
"It is a 28-point win. Who would ever argue beating a Big East team by 28 points?" Self said.