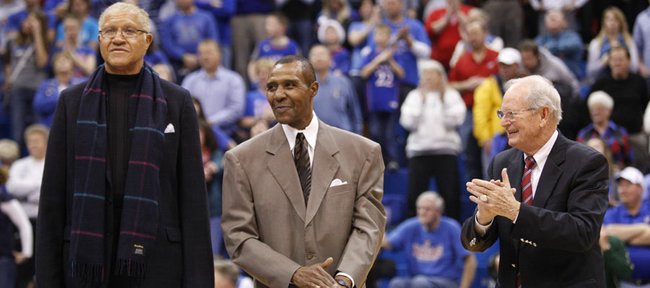 Podcast episode
Kansas coach Bill Self talks to reporters following his team's 70-42 victory over South Florida on Dec. 3, 2011.
Videos
KU vs. South Florida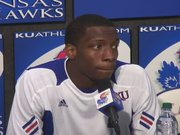 Kansas defeated South Florida, 70-42 on Saturday, Dec. 3, 2011 at Allen Fieldhouse.
KU vs. SFU
Kansas University's 1965-66 Big Eight championship team was introduced at halftime of Saturday's KU-South Florida game in Allen Fieldhouse.
"Everybody's having a great time," former KU coach Ted Owens said.
He and the players watched practice on Friday, then attended Saturday's 70-42 victory as well as a banquet in the fieldhouse on Saturday night.
"They were blown away by the facilities (on tour Friday). Some of the guys said if they'd had that when they were here, there'd be no reason to leave the building," Owens gushed of the plush players' lounge and locker room.
The '65-66 Jayhawks went 23-4 overall and 13-1 in the Big Eight. Key players included Walt Wesley and Jo Jo White, whose jerseys hang in the fieldhouse.
"I think it was good for us," KU senior Tyshawn Taylor said of Owens and the Jayhawks being in town. "They came and talked to us at practice yesterday, and they gave an inspirational speech that helped us realize that every day we come out here we are playing for something bigger than ourselves. I think for them to be at the game it was something that we were all excited and grateful for. We are lucky to be in a situation where we can play in front of amazing guys and amazing players — guys that paved the way for us."
Unselfish
Taylor could have tied his career-high of 26 points on a late-game breakaway, but instead dished to Thomas Robinson for the easy hoop.
"I wasn't paying attention to how many points I had. I just saw him (Thomas Robinson) coming in from the right so I just gave it up," Taylor said.
Close to double-double
Robinson had 14 points and eight boards. He missed a double-double for the first time all season.
"I've been kind of under the weather the last couple days. It is not a distraction when it's time to play," Robinson said of a bad cold. "It didn't affect my play."
Player notes
Taylor has scored in double figures in all seven games. He hit a career-best four threes. His 24 points were most by any Jayhawk this season, and his eight field goals made also tied for the most made by a Jayhawk (Elijah Johnson vs. UCLA, Robinson vs. Towson). ... Robinson's four steals set a career-high. ... Conner Teahan's four assists set a career-high and his 11 points tied a career-high mark set against Towson in the season opener. Teahan played a career-high 25 minutes.
Team notes
South Florida scored 42 points, the fourth-lowest mark by a foe in the Bill Self era. ... KU's 24 first-half points marked the fewest the Jayhawks scored in one half since Jan. 10, 2009 in a 75-62 loss at Michigan State — a 98-game span. ...The Jayhawks outscored the Bulls, 20-2, in fast-break points, the best since a 32-2 spread against Towson in the season opener.