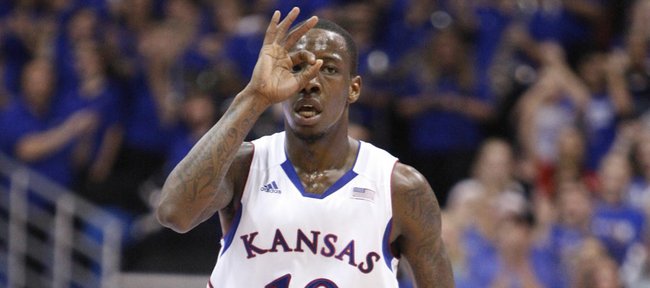 Podcast episode
Kansas coach Bill Self talks to reporters following his team's 70-42 victory over South Florida on Dec. 3, 2011.
Videos
KU vs. South Florida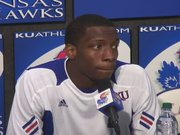 Kansas defeated South Florida, 70-42 on Saturday, Dec. 3, 2011 at Allen Fieldhouse.
KU vs. SFU
University of South Florida men's basketball coach Stan Heath was asked a lot of questions about what went wrong following USF's 70-42 loss to Kansas University on Saturday at Allen Fieldhouse.
And Heath had plenty of answers.
But one seemed to sum it up better than all the others combined.
"Tyshawn Taylor, in the second half, was just the difference," Heath said.
KU's senior point guard hit four of five second-half three-pointers and scored 20 of his game-high 24 points in the second half, turning a three-point game at halftime into a blowout victory for Kansas (5-2).
Although Taylor was the catalyst for KU's 46-21 second-half spread, the Jayhawks, as a whole, wore down the Bulls (5-4) throughout the second half.
First came a 7-0 run that pushed the Kansas lead to 10. South Florida hung tough after that one and actually cut the deficit to five with 11:21 remaining. But even though the Bulls hung around on the scoreboard, their body language showed they were gassed.
"At the start of the second half, they went on a run, and I think that we put our head down," USF junior Toarlyn Fitzpatrick said. "We tried to withstand the run and go on a little run ourselves, but they started knocking down more shots, their fans got into it more, and we didn't respond."
Added Heath: "We took a timeout (after KU's first run) and got things into a closer range, and then, in the next wave that came, it just seemed like we couldn't regroup. It might have been the conditioning."
From start to finish, the Bulls showed signs of fatigue Saturday night. For the first 30 minutes, they didn't let that keep them from battling. But while Kansas seemed to grow stronger as the game moved along, the Bulls' lack of depth and fresh legs caught up with them. It was not without good reason.
Senior forward Augustus Gilchrist, who led USF with 11 points in 26 minutes, practiced for the first time all season on Friday. Freshman guard Anthony Collins, who finished with eight points in 32 minutes, was still in his first week of full-contact practice. And Saturday's game marked the first time the two had played in a game together.
In addition, the Bulls were missing last year's second-leading scorer, Jawanza Poland, who has yet to practice all season.
"It's been a strange beginning of the year for us," Heath said. "We literally have not been able to practice with 10 guys since October. I don't think our conditioning is where it needs to be, and a lot of that is not the kids' fault, it's just the lack of having bodies out there to practice every day."
Of course, Saturday, Kansas had as much to do with USF's struggles as its conditioning.
"I don't know which team you want to talk about, our first-half team or our second-half team," Heath joked in his opening postgame comments. "Our second-half team lost a little focus and really, more than anything, just couldn't keep pace with Kansas."