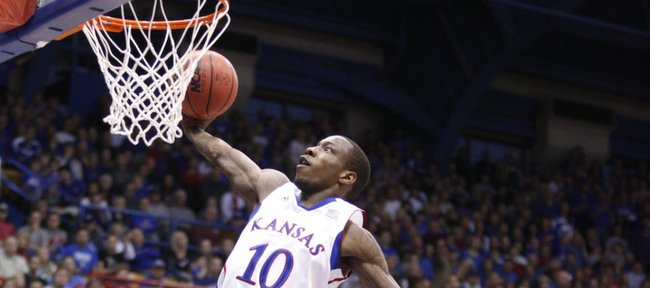 Podcast episode
Kansas coach Bill Self talks to reporters following his team's 70-42 victory over South Florida on Dec. 3, 2011.
Videos
KU vs. South Florida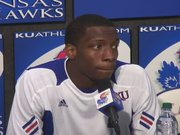 Kansas defeated South Florida, 70-42 on Saturday, Dec. 3, 2011 at Allen Fieldhouse.
KU vs. SFU
On his team's flight back from the Maui Invitational last week, Kansas University guard Tyshawn Taylor pulled out his iPad to watch a replay of KU's 68-61 loss to Duke.
When he was done, he started it back over again — making a long flight even longer.
"It definitely weighed on me," Taylor said following KU's 70-42 victory over South Florida on Saturday.
So what was Taylor focused on as he watched the film?
"Counting those 11 turnovers. Counting that," Taylor said. "Seeing where I could have made different plays and not turned the ball over. Seeing where I could have completed the play I was trying to make. Seeing the guy make that shot over and over."
The Hoboken, N.J., native went over the video four times before finally moving on. He wanted to make sure that whatever mistakes he made wouldn't happen again.
"Losing sucks, especially when you lose a game like that," Taylor said, "when you know that if we would have just made two or three more plays, you could have won. Just two or three different."
Taylor said he had been waiting to play Duke for all four of his years at KU.
"That's one of the best teams in the country every year, so that was one of the teams you want to play against," Taylor said. "I got my chance, and I just didn't feel like I played as well as I should have."
Kansas coach Bill Self preaches having a short memory, though, and Taylor believed his performance against South Florida would help his confidence moving forward.
Taylor contributed 24 points — two off a career high — on 8-for-10 shooting. He also added five assists to go with five turnovers.
"I think I did some things to get better today," Taylor said. "And I think I've got a long way to go until I'm where I want to be, but I think I made a step today, and I'm going to keep just making steps."
Self was pleased with Taylor's effort, saying he was the best player on either team in the second half.
"I hate that we're relying on him to score that much," Self said, "but when you're shooting the ball like he did tonight, that was a big positive for us."
Taylor posted a career high in three-pointers, making four of six.
"Me scoring well isn't what I'm going to hang my hat on. I've got to be a point guard," Taylor said. "I've got to be able to take care of the ball, play defense, get us in the offense every time and make open shots."
His self-critique after Saturday's game was much more positive than it was on the trip back from Hawaii.
"I've got to do better taking care of the ball and playing defense," Taylor said, "but it does feel good to play a good game."