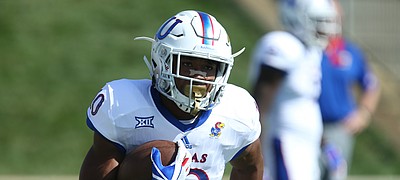 Now in his second year with the University of Kansas football program, running back Khalil Herbert spent some of his formative years attending Marjory Stonemason Douglas High School, in Parkland, Fla., site of a deadly shooting on Wednesday. Herbert stated his shock over the mass shooting, which left 17 dead. By Benton Smith

University of Kansas football fans can get their first glimpse of the 2018 team on the final Saturday of April, when the Jayhawks will play their annual spring game at Memorial Stadium. By Benton Smith

Kansas sophomore signee Miles Kendrick doesn't look at a tall quarterback through green-tinted glasses of envy. He's more likely to look at him and wonder how much better Stretch might be if only had the advantage of being shorter than the prototypical passer.
When David Beaty said during his National Signing Day press conference Wednesday he doesn't care about national team recruiting rankings the Kansas football coach wasn't kidding. By Benton Smith

Fourth-year Kansas football coach David Beaty came to Wednesday's press conference on signing day armed with numbers. He was eager to use them to demonstrate his point that he was not putting the Kansas football program right back in the same rut that he inherited from his predecessor. By Tom Keegan
Not many college football coaches recruit 4-foot-10, 70-pound wide receivers, but when David Beaty heard about Tayber Witt, the Kansas coach couldn't resist. Beaty included Witt, an 11-year-old from nearby Tonganoxie, among the Jayhawks' National Signing Day additions Wednesday, highlighting the relationships the elementary school student is developing with KU football players and staff members. By Benton Smith

Fourth-year Kansas coach David Beaty finally got to discuss one of his favorite topics, recruiting, on Wednesday, otherwise known as National Signing Day in the realm of college football. Speaking with media members for the first time since the Jayhawks lost their 2017 season finale at Oklahoma State, on Nov. 25, capping a 1-11 season, Beaty reveled in hailing the program's newest additions. Eventually the coach also responded to queries on the presence of 11 junior college signees in a 2018 class that currently features seven known scholarship players from the high school ranks. By Benton Smith

Spencer Roe signs to walk-on at KU
After a whirlwind two weeks, Free State senior offensive tackle Jalan Robinson decided to press pause on his recruitment Wednesday and opted not to sign with any school on National Signing Day. By Bobby Nightengale
February 7, 2018 5:28 p.m.

Mock draft projects KU DE as 2nd-round pick
Former Kansas football defensive end Dorance Armstrong Jr. will be one of 326 prospects hoping to impress pro coaches and decision-makers at the upcoming 2018 NFL Scouting Combine. The league announced its full list of participants Tuesday, and Armstrong, who left KU a year early to enter the draft, was one of 29 Big 12 players deemed worthy of an invite. By Benton Smith

One of the most productive high school quarterbacks in the state of Missouri this past year, Park Hill senior Billy Maples plans to walk on with the Kansas football program. By Benton Smith

11th juco prospect to join 2018 class
As the hours leading up to National Signing Day tick down, more commitments for the Kansas football program's 2018 recruiting class continue to trickle in. The latest came on Monday afternoon, when junior college offensive tackle Reuben Lewis announced his intentions to sign. By Benton Smith

Less than 72 hours before Wednesday's National Signing Day, the Kansas football program picked up a new commitment for its 2018 recruiting class Sunday night. A dual-threat high school quarterback from Rockdale, Texas, Torry Locklin announced his intentions to join the Jayhawks via Twitter. By Benton Smith
According to the Star-Telegram, TCU filed a motion for the university to be removed from a lawsuit that claimed head football coach Gary Patterson and some of his assistant coaches harassed former receiver Kolby Listenbee into returning from an injury too soon. TCU countered that Listenbee's lawsuit — which named then-TCU co-offensive coordinator Doug Meacham, now offensive coordinator and receivers coach at Kansas — should not include the university. By Benton Smith

Blue Valley North TE pledges, too
An in-town lineman from Free State High, Spencer Roe on Friday announced his plans to join the Kansas football program. A defensive tackle and offensive guard during his senior season at FSHS, Roe will join the Jayhawks as a walk-on. Dylan Freberg, a 6-4, 220-pound tight end from Blue Valley North, plans to stay in state and join KU as a non-scholarship player, as well. By Benton Smith

Kansas offensive coordinator and receivers coach Doug Meacham, who previously was co-offensive coordinator and coached inside receivers at TCU, has been named in a lawsuit by a former player who says he was harassed by TCU's coaching staff, according to a Fort Worth Star-Telegram report. By Benton Smith
February 2018
January 2018
December 2017
November 2017
Previous Next