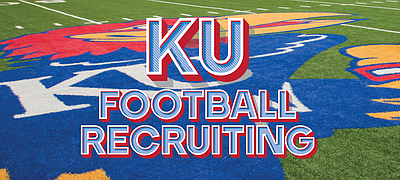 Mere days after announcing he had picked up a scholarship offer from Ole Miss, Texas prep quarterback Clayton Tune, a Class of 2018 recruiting target of Kansas, traveled to Oxford, Miss., to check out the SEC program in person. According to what Tune told Rebel Grove, the visit went "really well." What's more, the QB described KU as "still in the picture" — far from a ringing endorsement. By Benton Smith

On the same day his Kansas football program officially lost commitments from two longstanding Class of 2018 recruiting targets, three-year head coach David Beaty on three occasions Sunday took to Twitter to make unrelated "neat deal" declarations, marking the additions of new recruits. By Benton Smith

A day many Kansas football fans feared — and others assumed was inevitable — for months finally arrived Sunday. Five-star receiver Devonta Jason, the 31st-best high school senior in the country according to Rivals, backed out of his non-binding verbal commitment to play with the Jayahwks. By Benton Smith

Mark off another name from the Kansas football team's list of potential high school signees in the 2018 recruiting class. By Benton Smith

Although the Big 12's coaches determined Kansas junior defensive tackle Daniel Wise belonged on their all-conference first team, neither Wise nor any of his KU teammates received the same distinction when the Associated Press unveiled its all-league selections Friday. By Benton Smith

The Kansas football team's 2018 recruiting class may have lost another potential signee Thursday evening, when a high school prospect from New Orleans announced his plans to further examine other programs. By Benton Smith

A week after learning the Big 12's coaches voted him a second-team all-conference linebacker, Kansas redshirt junior Joe Dineen picked up a national honor Thursday from Sports Illustrated with an even more prestigious ring to it: second-team All-American. By Benton Smith

Kansas linebacker Joe Dineen would be the first to admit the 2017 season didn't live up to the expectations he and other team leaders had going into it. But that doesn't mean the redshirt junior couldn't find some small gratification in his contributions to the Jayhawks' endeavors. By Benton Smith

As Dec. 20 and the NCAA's new early signing period for college football nears, one of the New Orleans high school players Kansas has coveted for months has eliminated all but two programs from his list of potential destinations. By Benton Smith
Judge orders probation, anger management for marijuana conviction instead
The Douglas County District Attorney's Office has dropped a felony assault charge against a former University of Kansas football player accused of threatening his girlfriend with a gun.
December 5, 2017 11:38 a.m.

The Kansas football team's Class of 2018 commitment list is one name shorter after a junior college defensive lineman this past weekend declared his intentions to play elsewhere. Zach Burks, a sophomore defensive tackle at Coffeyville Community College, announced through his Twitter profile after making an official visit to Ohio University that he had committed to the Bobcats. By Benton Smith

A neighborhood group will be formed to provide input on the design of the new indoor practice facility for the University of Kansas football team.
December 4, 2017 4:32 p.m.

A new suitor has emerged on the Devonta Jason recruiting front. The five-star receiver from Louisiana, who committed to the University of Kansas back in February, revealed in an interview this weekend with Pelican Preps his top choices for the upcoming Dec. 20 signing day include not only KU, LSU and Mississippi State, but also Florida. By Benton Smith

Sheahon Zenger played football at Fort Hays State and MidAmerica Nazarene and served as recruiting coordinator at Kansas State, South Florida and Wyoming before taking a turn toward the administrative side of athletics in 2001 at K-State. The Kansas AD's background hasn't translated to on-field success for the Kansas football program. By Tom Keegan

The 2017 season fell far short of the type of success Kansas football players envisioned, but their efforts within a challenging 1-11 campaign didn't go overlooked by the Big 12's coaches. Led by junior Daniel Wise's first-team selection, four Jayhawks achieved all-conference status for their individual play and production, the Big 12 announced Thursday afternoon. By Benton Smith
December 2017
November 2017
Previous Next