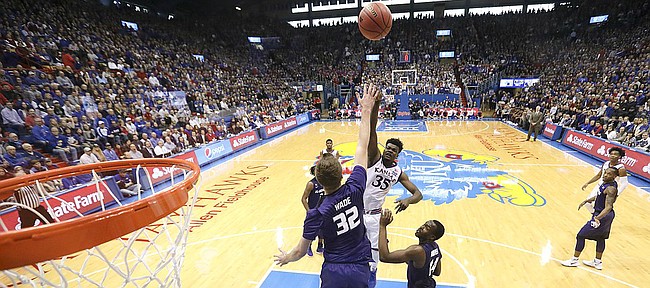 Here's what Bill Self and Bruce Weber have in common: They both served as head coach at Illinois and now lead Big 12 programs in the state of Kansas. Here's how they are most different: Weber's teams don't pull out close games often enough and Self's almost always do.
A most entertaining college basketball game played Saturday in Allen Fieldhouse followed that script and Kansas won, 73-72, moving into a four-way tie atop the Big 12 standings.
Each team's final possession opened a window into why Self wins more tight ones than Weber.
For Kansas, Malik Newman drove to the hoop, was fouled and made both free throws. No panic. Nobody asking what happened. Just players doing what they're drilled to do based on what opportunities the defense gave them.
Photo Gallery
Kansas basketball v. Kansas State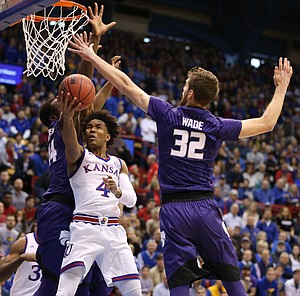 View a gallery of images from Saturday's game between the Jayhawks and Wildcats at Allen Fieldhouse.
And then there was Kansas State. The player with the ball in his hands didn't do what his coach told him to do. He did what he wanted to do, which was to take the potential game-winning shot.
After Newman gave Kansas a one-point lead, Kansas State had the ball with 15.2 seconds remaining.
Brown's actions strayed so egregiously from Weber's instructions imparted during a timeout between Newman's free throws that all the guard coming off a 38-point game could come up with to say in answering questions was, "I don't know." Twice.
The play called for Brown to hit Dean Wade with a pass behind the 3-point line to the right of the circle. Weber rightly figured Udoka Azubuike, who had a terrific game for Kansas, would have a tough time following Wade all the way out to the 3-point line. Brown was supposed to hit Wade with a pass. Wade broke open and had his hands ready for the ball with four-and-a-half seconds left.
Why didn't Brown pass it to him?
"I don't know," Brown said.
Why did Brown walk the ball up the floor instead of pushing it to give K-State more time to run a play?
"I don't know why I did that, either," Brown said.
None of us know, of course, but Brown left himself open to this unavoidable speculation: Brown walked the ball up the floor and didn't pass it to Wade because he wanted to take the final shot.
This is my 13th season covering Bill Self's Kansas basketball teams. I can't recall a Kansas player so blatantly tuning out his coach and calling an audible that the circumstances didn't dictate.
Moreover, I don't even want to try to picture the consequences if one decided to go rogue on Self with the game hanging in the balance.
Weber and his assistants barked at Brown as the game ended on his missed 25-footer.
Afterward, Weber shared what Brown did wrong and was quick to follow that with all the things he has done right for a team that recently lost fellow starting guard Kamau Stokes.
"Barry's unbelievable," Weber said. "He saved our team. He had a practice Sunday on his own. Cares so much. Was in the gym Sunday, without practice, at least six, seven hours."
What was Brown supposed to do on the final play?
"Throw it to Dean," Weber said.
Then the coach came to Brown's defense.
"Barry, he's been unbelievable," Weber said. "He wants to win and he cares so much. His timing, we talked about making the right play, easy play, whether Dean makes it or not."
Regardless of whether Brown intended it that way, his actions amounted to him trusting himself more than his coach and teammate.
That doesn't reflect well on a coach who did so many things right to keep his team in the game until the final possession, especially a coach who lost his Illinois job in part because the rap against him was he didn't win close games and hasn't done a lot to squash that rap five-and-a-half seasons into his Kansas State tenure.
Since coming to Manhattan, Weber is 2-12 vs. Self. KU's winning streak against its rival from 85 miles away stands at six, and the margin of defeat in the past three has been two points, three points, one point.
Early in his post-game media session, Weber shifted the conversation from the final possession to the referees.
"Our guys played their hearts out," Weber said. "I was really disappointed in some of the calls, but we were all here last year, same thing. A technical shouldn't make a difference in the game."
Again, not a good look for a coach whose team showed so poorly on the game's win-or-lose possession. Sure, it was a frustrating time for a technical with 6:35 remaining, K-State up by two and feeling good after Makol Mawien's blocked shot.
Weber guessed that Cartier Diarra might have said something along the lines of "Way to go, Mak, getting that (stuff) out of here!" after his teammate's blocked shot and that maybe (stuff) was misconstrued by the ref as being aimed at him. Diarra said he did not saying anything to the ref.
Asked to clarify whether he said officiating cost his team the game, Weber said, "No, I didn't say that. I'm disappointed in some of the calls, and I hope you guys are too."
Let's just say Self and Weber don't count each other as friends, which adds subtle spice to the rivalry. Self's reaction to Weber's comments suggests that the coaches didn't draw any closer Saturday.
"I shouldn't comment because I haven't seen the tape, but I would bet over the course of a game, and more importantly over the course of the season, that they pretty much balance out," Self said of calls. "I'm not going to comment what another coach says, but if that's a reason for losing, or losing a great game, that was a great college basketball game where two teams played their butts off, I don't buy into that at all. At all."
The second "at all" was delivered with wider eyes burning with more heat than the first "at all," and even had a little more volume.
Whatever happened with calls that upset Weber, it doesn't change the fact that in the final two possessions, Self's players did as instructed and one of Weber's did not.
---
More news and notes from Kansas vs. K-State
---