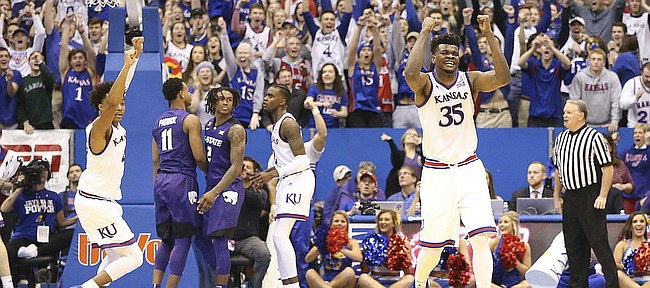 During his first live and in-person experience in the Sunflower Showdown, Malik Newman's two free throws with 15.2 seconds to play gave 12th-ranked Kansas a 73-72, hang-on-for-dear-life victory over visiting Kansas State.
Business as usual at Allen Fieldhouse, right?
Not exactly.
What happened from the time Saturday's tilt was tipped off to the moment when Barry Brown's last-second heave clanged off the rim at the buzzer was anything but normal in the typically one-sided KU-K-State rivalry. If anything, it was yet another clear indication that, past KU teams be damned, these Jayhawks are going to have to win some games like these and Bill Self is not going to apologize to anybody when they do.
"We don't have the same teams (as in the past), where we can pull away from folks," Self said after the victory. "And when you play better competition, any win's a good win. And we need to understand that. Especially close ones. I envision us having a lot of games that are like this."
Photo Gallery
Kansas basketball v. Kansas State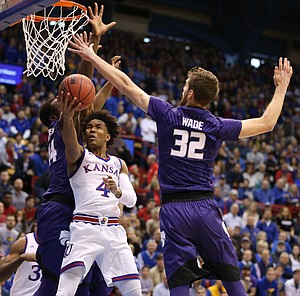 View a gallery of images from Saturday's game between the Jayhawks and Wildcats at Allen Fieldhouse.
By, "like this," here's what Self meant:
• Both teams control portions of the game. Check.
• Both teams have big-time players step up to make big-time plays. Check.
• Both teams get lucky breaks, bad bounces and chances to win. Check. Check. Check.
Saturday's one-point win over the purple people from the west was not a carbon copy of Tuesday's victory over Iowa State in the same building. But it was close.
Devonte' Graham led the Jayhawks (14-3 overall, 4-1 Big 12) with what Self dubbed "a quiet 23" points and Newman, Svi Mykhailiuk, Lagerald Vick and Udoka Azubuike all chipped in enough to help Kansas survive.
Were there others who made plays? Sure. Freshman Marcus Garrett had a big driving bucket in the second half that broke a 55-all tie. Mitch Lightfoot scored two points and blocked one shot, both plays that look massive at the end of a one-point game. And even freshman forward Silvio De Sousa, who was cleared about 90 minutes before tip-off, checked into the game for four minutes, which gave Azubuike a brief rest.
But none of those plays or players could hold a candle to what KU's veterans did to will the Jayhawks to victory in this one. And, the way Graham sees it, that's exactly how it should be.
"It's just basketball," he said after the win. "There's going to be ups and downs, the good, the bad. It's a game of runs. And, up 11, down 11, we keep that same composure and just play each possession. That's definitely why you play. It's way better than a blowout, winning a one-point game against your in-state rival. You couldn't ask for a better outcome.
"We just had to make sure we wanted it more than they did because there's a lot of guys who don't understand this rivalry."
There were moments, in both halves, when a favorable outcome was not necessarily a given for the Jayhawks.
After building an early 13-4 lead, the Jayhawks were outscored 30-15 during the next 15:03 and Kansas State (12-5, 2-3) looked to be headed toward taking a lead into the locker room at halftime. But — and stop me if you've heard this one — a couple of big stops on the defensive end led to two big 3-pointers from Svi Mykhailiuk just before halftime and instead of down six, the Jayhawks went into the half tied with the Wildcats at 34-all.
"That was huge," Graham said. "We went in tied and we had all the momentum on our side."
The momentum did not subside when the teams left the locker rooms. After trading buckets to open the second, the Jayhawks, led by a not-so-quiet stretch from Graham, ripped off an 11-0 run that broke a 38-all tie and featured two Graham 3-pointers, three Graham free throws and an assist by Graham to Azubuike (18 points, eight rebounds) for an easy alley-oop.
From there, it was the Wildcats' turn to respond and they did exactly that, ripping off a 21-8 run that built a two-point lead and set the stage for the wild finish.
Freshman point guard Cartier Diarra played a huge part in the run, at one point scoring 11 straight K-State points, and junior Dean Wade (22 points in 38 minutes) also played a key role in bringing the Wildcats back.
A pair of Vick 3-pointers inside of 5:00 tied twice tied the game and that set the stage for a back-and-forth finish in which Newman delivered the last blow.
After a soft Azubuike tip-in of a missed layup by Graham put the Jayhawks up 71-70, Xavier Sneed's free throws gave K-State a 72-71 lead with 30 seconds to play.
Kansas, which could have held for the final shot, elected to go quickly and that led to Newman turning the corner and getting into the paint, looking for a go-ahead bucket.
Asked if he would've preferred to run more time off the clock on that final possession, Self said simply, "I won't play that way. I want to try to score and give us a chance and, if it doesn't work out, you still got a chance because, worst-case scenario, you're shooting a 3 to try to tie the game."
It never came to that. Newman was fouled, hit two free throws on both sides of a K-State timeout and then helped bottle up Brown's attempt at heroics, contesting a 28-footer that missed and sealed the win for Kansas.
As for the two free throws that looked good the entire time Newman stood at the line, the KU sophomore said he had all the confidence in the world he would make them.
"I've shot free throws a million times in my life," he said with a smile. "And I just looked at it like two more normal free throws and tried not to put any more pressure on myself."
The strategy worked. The Jayhawks survived. And those facts, coupled with a Texas Tech victory over No. 2 West Virginia on Saturday in Lubbock, Texas, set the stage for a first-place showdown of first-place teams Monday night in Morgantown, W.Va., where the Jayhawks will look to snap a four-game losing streak on the Mountaineers' home floor.
---
More news and notes from Kansas vs. K-State
---