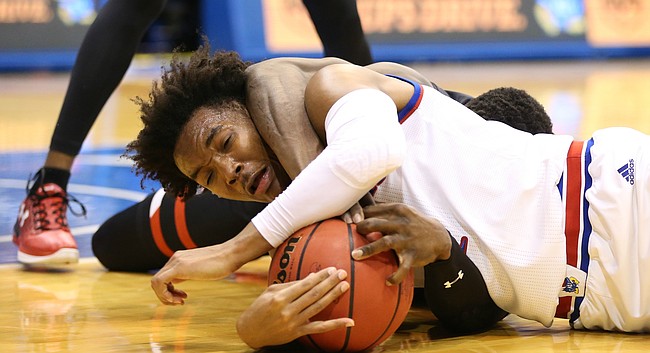 No one on the Kansas basketball team thought winning in the Big 12 would be easy this season, and Texas Tech made sure to remind the Jayhawks of that Tuesday night, in KU's conference home opener.
The No. 18-ranked Red Raiders did more than give the No. 10 Jayhawks a battle, the men in black from Lubbock, Texas, out-worked KU at Allen Fieldhouse to earn a 85-73 victory and never even trailed.
Tech's defensive efforts often made its Kansas counterparts look uncomfortable with the ball in their hands, and although the Jayhawks (11-3 overall, 1-1 Big 12) made 45 percent of their shots from the floor versus the Red Raiders, that success didn't carry over to long range, where they made only six of 26.
The grit head coach Chris Beard's bunch really showed up on the glass, too, where an all-hands-on-deck approach allowed Texas Tech (13-1, 2-0) to out-rebound Kansas, 44-29.
Red Raiders center Norense Odiase did most of the damage on that front, with eight rebounds to go with his 12 points. He was one of five Tech players to reach double-figure scoring. Senior guard Keenan Evans led with 15.
Senior guard Devonte' Graham led Kansas with 27 points and six assists in defeat.
Photo Gallery
Kansas basketball v. Texas Tech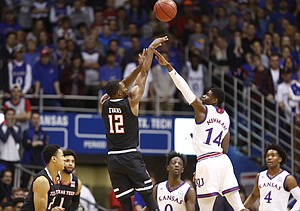 View a gallery of images from Tuesday's game between the Jayhawks and Red Raiders at Allen Fieldhouse.
Here's a quick look back at some of the action:

• The game turned when: The Red Raiders showed up at Allen Fieldhouse not only ready, but unafraid of the challenge, the moment or their foes.
Tech's confidence and intent on attacking became evident minutes into the conference battle, with the unheralded visitors setting a tone with their half-court defense and then looking just as assertive on offense.
Senior guard Justin Gray's 12 points and five rebounds in the first half led the way for the upset-minded visitors, who built a 16-point lead before the midway point of the opening half.
• Offensive highlight: One of the few productive stretches for KU came in the first half after falling behind 23-7.
Out of Bill Self's second timeout of the game, Graham set up center Udoka Azubuike (11 points, seven rebounds) with a lob fora jam.
The next time down the floor, Svi Mykhailiuk (fouled out with 11 points and six rebounds) knocked down a corner 3 in front of the Tech bench.
A steal and layup (courtesy a goaltending call) by freshman Marcus Garrett followed. Then Graham rose up to make a 3-pointer to cut Tech's lead to 29-22.
But the Jayhawks simply found it hard to replicate such a run — when they had to have them to win — much of the evening.
• Defensive highlight: With KU completely desperate for signs of life, senior Mykhailiuk came through with a steal as the Jayhawks applied full-court pressure off of a made free throw with 8:48 to play.
Niem Stevenson could sense the baseline official's count nearing five seconds as he looked for an open teammate and when he rushed to make a pass, Mykhailiuk jumped in front for a steal.
The eruption from the often-silenced home crowd doubled when the swipe resulted in a Malik Newman drive and layup, which cut Tech's lead to 62-56.
That six-point margin, however, was as close as KU could get down the stretch.

• Key stat: Energy points. The Red Raiders dominated in two categories most of the night: points off turnovers and second-chance points.
The one-sidedness of the final takeaways-into-scores tally — Tech's 26, to KU's eight — had as much to do with the Jayhawks' sloppiness with the ball as Tech's ability to play more soundly.
When the Red Raiders did make mistakes, they rarely turned out costly. KU, meanwhile, fueled the visitors' upset bid with ill-timed passes and miscues that allowed Tech to pounce.
The offensive glass, in the meantime, was a destination seldom visited by Kansas versus Texas Tech. Thirty minutes into the game the Jayhawks had just two second-chance points. The Red Raiders easily won this key category, too, 15-4.
Tech chased down 18 offensive boards, while the home team only came away with eight.
• Up next: The Jayhawks head back down to the lone star state for their second conference road game of league play. KU will play at No. 16 TCU (13-1, 1-1) Saturday at 8:15 p.m. (ESPN2). The Horned Frogs won at Baylor in overtime Tuesday night.
---
More news and notes from Kansas vs. Texas Tech
---