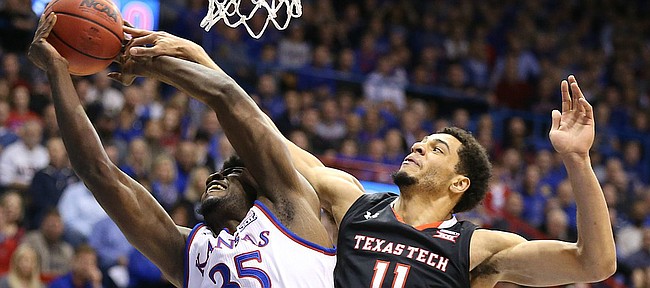 Two streaks ended Tuesday night at Allen Fieldhouse and another might be in jeopardy after the Red Raiders snapped a 16-game losing streak to Kansas and won for the first time ever in Lawrence.
Yes, it's still early. And, sure, the 10th-ranked Jayhawks still have 16 games to figure it out in time to win the Big 12 Conference again. But Tuesday's 85-73 loss to No. 18 Texas Tech at Allen Fieldhouse sure makes you think.
For one, it proves beyond a shadow of a doubt that the Jayhawks (11-3 overall, 1-1 Big 12) will face a guaranteed tough test, night in and night out, during this year's Big 12 race no matter if they're at home or away.
For two, it marks the second time already this season that the Jayhawks have lost inside Allen Fieldhouse. The last time that went down was the 2006-07 season and it has happened just one other time in the Bill Self era.
"It's just not normal," said senior point guard Devonte' Graham, who scored 27 points and dished six assists but also turned it over five times. "It's not something that I'm used to and that we're used to. We just got to get more focused and get way tougher."
Photo Gallery
Kansas basketball v. Texas Tech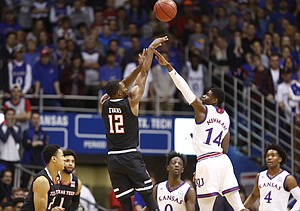 View a gallery of images from Tuesday's game between the Jayhawks and Red Raiders at Allen Fieldhouse.
Added senior sharp-shooter Svi Mykhailiuk, who tallied 11 points and five turnovers on 4-of-11 shooting: "It's terrible."
Terrible was a good word to describe the way the Jayhawks played and executed in just about every aspect of Tuesday's loss, which, at times, looked similar to the home loss to Arizona State in mid-December.
Tech's guards were quicker, the Red Raiders, as a team, were tougher and Kansas just could not make enough winning plays when it mattered most.
It was evident early on that it would be that kind of night as Tuesday's game opened just the way the Red Raiders (13-1, 2-0) would have wanted, with their defense forcing Kansas to labor on every offensive possession and the TTU offense racing out to 60 percent shooting, including a 3 of 5 mark in the game's first five minutes.
That staked Tech to an early 15-5 lead and left the Jayhawks in an early hole that would only grow deeper.
Nine minutes into the game, the Red Raiders led 23-7 and had Kansas chasing a record for most timeouts in the first 10 minutes.
"The start set the tone," KU coach Bill Self said. "They were so much better than us early."
KU's first easy bucket of the night — an alley-oop from Graham to Udoka Azubuike — sparked a 10-2 run that pulled Kansas back into it and energized the home crowd.
But that was short-lived and after a skin-of-your-teeth catch-and-shoot 3-pointer by Graham pulled the Jayhawks within 29-22, the Red Raiders flashed their veteran composure and responded with five quick points — two on a driving layup by Keenan Evans past Malik Newman late in the shot clock and three more on a steal of the ensuing inbounds pass — that quieted the building and put the momentum back on the visiting bench.
The Red Raiders' biggest lead of the first half came at 37-22 after two more fruitful possessions capped an 8-0 run.
By halftime, the Red Raiders had weathered one of KU's signature runs and led 43-32. It marked the largest halftime deficit of the season for the Jayhawks and just the second time KU had trailed after 20 minutes all season.
Tuesday's game, in many ways, was the opposite of what went down last weekend in Austin, Texas. In that one, during which Kansas shot 17 of 35 from 3-point range — compared to 6 of 26 on Tuesday night — it was Texas that kept clawing back and Kansas that always had an answer.
Tuesday, the Red Raiders played the role of the Jayhawks, answering every mini-KU run with a big shot or monster effort. Tech out-rebounded Kansas 44-29 overall, 18-8 on the offensive end, and also outpaced KU 41-12 in points off of turnovers and second-chance points combined.
The final dagger, for all intents and purposes, came with with 3:58 to play and Tech leading by nine. With the KU coaches screaming from the bench over and over to the Jayhawks on the floor, freshman Zhaire Smith flew above all of them for what proved to be the exclamation point on the Texas Tech victory, a high-flying flush that put the Red Raiders up 72-61 and allowed the doubt in every seat to come rushing to the faces of the KU faithful.
Three minutes later, he added another one, for good measure that sent the KU fans fleeing for the exits with 1:10 remaining. This year's double-digit, home losses to Arizona State and Texas Tech were just the second and third suffered by Kansas under Self, who is now 226-12 all-time at Allen Fieldhouse.
TTU coach Chris Beard had a strategy to prevent his players from letting up.
"I didn't even know that," Beard said of the wire-to-wire win. "We kept telling our guys in timeouts we're down six, we're down seven. At halftime, I said, 'Hey, we're down nine. We got to win this half by 10 to win.' All the way to the end. Even late, I was telling Jarrett Culver, our freshman, 'Hey, we're down six.' And he came over to me and said, 'Coach, there's 30 seconds left in the game, we're not down six.'"
That mentality, according to several Jayhawks and the stat sheet, was a clear sign of the Red Raiders wanting it more. While Graham and his teammates explained how "You just got to want it" is a good place to start to help the Jayhawks get back on the right path, Self was not as accepting of that answer.
"I think it's ridiculous that kids could say, 'We gotta want it more,'" Self said. "I think that's a ridiculous statement. But what's sad is it's true. Whenever you say that somebody wants something more than you, oh my god, to me, as a coach, it makes me cringe as a coach because that is my responsibility to put them in a position to be competitive and we haven't done that near enough."
---
More news and notes from Kansas vs. Texas Tech
---