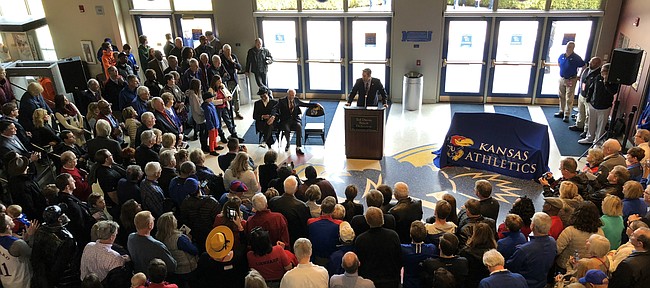 Isaac "Bud" Stallworth had the right idea.
As hundreds of people packed into the concourse at the Booth Family Hall of Athletics, Stallworth asked for the former players in attendance to stand to be recognized.
The words, drawing laughter from a crowd that was already on its feet, preceded a moment where one after another, players proudly shouted out their names and added the years they played for coach Ted Owens, who sat in a folding chair at the front of the room.
As it were, the moment couldn't have been any more perfect.
Owens, who was honored with the unveiling of a bench that will sit at the south end of Allen Fieldhouse, followed Stallworth to the podium to accept the honor. He talked about the things a coach hopes to get out of their time at any stop, the first of which was: "Did you earn the respect and love of the young men you had the opportunity to lead?"
Photo Gallery
Kansas basketball v. Oklahoma State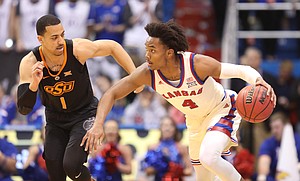 View a photo gallery from Saturday's game between the Jayhawks and Cowboys at Allen Fieldhouse.
If the turnout was any indication, the answer was a resounding yes.
"I can't tell you how much it means to me," Owens said. "Some of you came all the way from Italy."
The ceremony, occurring after KU's 84-79 loss to Oklahoma State on Saturday, began with a brief introduction from "Voice of the Jayhawks" Brian Hanni.
Hanni noted that Stallworth had actually reached out to him on Friday to make sure they weren't speaking on the same topics.
"I reached back out to Bud to make sure our outfits also didn't overlap," Hanni joked, "which is a good thing, because I had that same hat and suit combination."
Jokes aside, Hanni read quotes from former players of Owens' about their coach.
David Robisch (1969-71): "Coach Owens started out as my coach and my mentor at Kansas, but as the years went by he became an important part of my family. I love you so much."
Walter Wesley (1964-66): "Our relationship has grown with every passing year. He's always made our bond about so much more than basketball."
Hanni also spoke of the late Jo Jo White, as did Stallworth, asking for a moment of silence before going on to honor the former KU coach.
In his career at the helm of the Jayhawks, Owens tallied a 348-182 record, making him the fourth-winningest coach in KU history. Owens' Jayhawks won six Big Eight regular season titles and reached two Final Fours. He was named Big Eight Coach of the Year five times and coached five All-Americans.
"The accomplishments of Ted Owens can be measured in more than just stats," said Stallworth, who began to choke up speaking about his former coach. "Ted Owens is a class act. He always put the needs of his players above the desire to be recognized personally. And he led a moral and ethical program and nurtured a relationship with each individual player that extended far beyond graduation day."
As for the coach himself, Owens said several times he felt honored to have so many in attendance. He finished his speech with a parting message about how he hoped the bench would be used.
"I hope it brings a smile to your face," Owens said. "It was an incredible privilege to be a part of this tradition."
---
More news and notes from Kansas vs. Oklahoma State