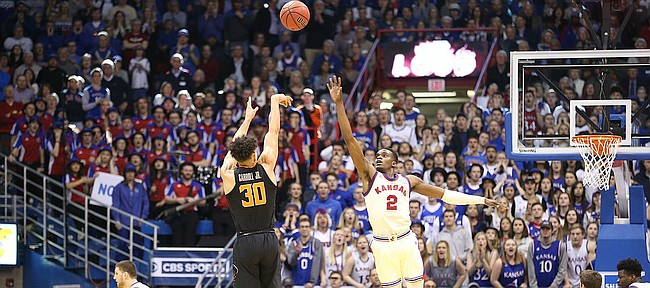 Kansas looked more foggy than Phoggy from the start Saturday in trying and failing to stave off a 21st-century first.
Oklahoma State took it to the Jayhawks, 84-79, leaving the home team with its third loss in Allen Fieldhouse — something that hasn't happened since the 1998-99 season.
Arizona State was the first, Texas Tech the next to leave the building, which has come to be known as college basketball's greatest home-court advantage, victorious.
Kansas didn't give the spectators much cause to holler away the morning sluggishness. For the entire first half, the Cowboys looked more alert, quicker, more ready to play an 11 a.m. basketball game.
Photo Gallery
Kansas basketball v. Oklahoma State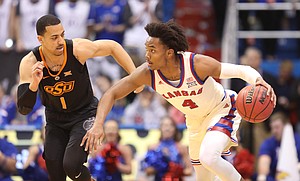 View a photo gallery from Saturday's game between the Jayhawks and Cowboys at Allen Fieldhouse.
Oklahoma State took a 46-33 lead into halftime. KU is better than the Cowboys, but not 14-points-in-one-half better than anyone from a Big 12 that has a stronger bottom half than in most seasons.
Why didn't Kansas come out with more sizzle?
"I think we get a little comfortable," Kansas guard Malik Newman said. "We came out lackadaisical, not playing with much energy or effort. We dug ourselves a hole and it was hard to dig out of."
Nothing gets the Allen Fieldhouse crowd going quite like watching the home team end fast breaks by throwing down lobs or nailing open 3-pointers. It didn't happen because it's impossible to finish a break without starting one. Most of them start with defensive rebounds, and those were in short supply for the Jayhawks.
Discounting the two rebounds that came on missed free throws, KU had just eight defensive boards in the first half, compared to Oklahoma State's 13 offensive boards.
By game's end, Oklahoma State had scored 26 second-chance points, compared to seven for Kansas.
"They had 22 in the first half," Self said of second-chance points. "That is the least competitive (rebounding) that I have ever seen. They got a couple of rebounds where we just walked away from it and gave them uncontested baskets."
Not all of those were in the first 20 minutes.
One came late in the second half, when Lagerald Vick didn't make an effort to block out. It's come to the point now with Vick that it's tough to watch him without wondering where the player so eager to put his freakish athleticism to work early in the season has gone.
Vick spent 34 minutes on the floor and turned that into just five points, three rebounds and one assist without a single steal. He made 2 of 10 shots, 1 of 10 3-pointers.
His game has tailed off in every area since he dropped 21 points in the Big 12 opener against Texas. In the past 10 games, he's averaging 7.2 points, shooting .371 overall and .263 from 3.
What is the source of the decline?
"I have no idea," Self said. "I have no idea."
How do you get out of it?
"I don't know," Self said. "Worry about the right things maybe; worry about defending and rebounding and doing little things that add up to teams winning."
Nobody has given up on Vick, but the search party continues for the player who looked so good in so many ways in November and December.
"Lagerald is one of our top athletes, he is one of our top playmakers, one of our best scorers," Newman said. "We have a lot of confidence in him. As you can see, we kept going to him tonight because we know what he's capable of."
Self keeps going to him, too, because his options are limited. Vick has the most potential of the four guards in the starting lineup to rebound like a forward, but it's not happening.
He was far from alone in having an off day, but he remains the biggest mystery on a team that dropped into a first-place tie in the Big 12 standings Saturday.
---
More news and notes from Kansas vs. Oklahoma State
---