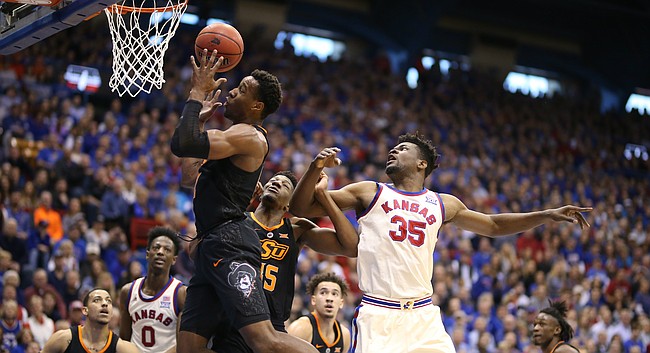 On the day the vaunted Kansas basketball program celebrated its 120-year history, the Jayhawks weren't able to dominate or cruise like they have so many times through the years inside Allen Fieldhouse.
In fact, KU found lost at home for the third time this season on Saturday.
Visiting Oklahoma State put KU in its largest hole of the year during the first half and a late-game push by the Jayhawks wasn't enough to overcome their offensive and defensive woes in an 84-79 defeat.
Four of five Kansas starters scored in double figures, led by sophomore center Udoka Azubuike's 20.
The big man shot 4-for-5 from the floor in the second half, as the home team tried to recover form 12-for-32 shooting in the first half.
The Jayhawks (18-5 overall, 7-3 Big 12) made 57.1 percent in the final 20 minutes.
Senior Svi Mykhailiuk put up 17 points, senior point guard Devonte' Graham added 17 and eight assists and sophomore guard Malik Newman chipped in 16.
OSU's Kendall Smith led all scorers with 24 to go with five boards and five assists.

Photo Gallery
Kansas basketball v. Oklahoma State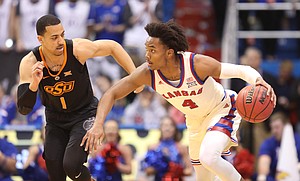 View a photo gallery from Saturday's game between the Jayhawks and Cowboys at Allen Fieldhouse.
Here's a quick look back at some of the action:
• The game turned when: The Jayhawks couldn't make stops down the stretch.
A 13-point halftime cushion for the visitors didn't get trimmed below seven until Mykhailiuk knocked down a 3-pointer with 1:09 left in the game.
A Graham 3 with 0:42 left cut it to five, and his free throws with 0:14 to go got Kansas within three, but the push proved too late and incapable of making up for what came before it.
The Cowboys (14-9, 4-6) converted 12 of 15 shot attempts during a crucial stretch of the second half that began with more than 15 minutes left and lasted until the 3:17 mark.
Oklahoma State played with energy and confidence, and shot 64 percent on KU's home court in the second half to pull off the upset.
• Offensive highlight: The Kansas offense needed some life in the second half to fuel any sort of rally. Mykhailiuk did what he could to spark his team often, but one occasion in particular out of a timeout impressed more than the rest.
Mykhailiuk, situated on the left wing, began cutting toward the paint when Graham had the ball at the top of the key. Mykhailiuk lost his man as Graham hit Mitch Lightfoot at the left elbow.
A textbook bounce-pass from Lightfoot set up Mykhailiuk in stride and the senior rose up off of two feet to throw down a one-handed hammer.
• Defensive highlight: Chase-down Svi strikes again.
Just as he did earlier this week in a KU road win at Kansas State, senior Mykhailiuk reminded those watching he has some athleticism and defense in his game, too.
After forcing a shot on offense, leaving his feet only to get stuck and blocked, Mykhailiuk didn't hang his head. He hustled back to the other end as OSU looked to capitalize.
When Jeffrey Carroll tried to put an exclamation point on a finish, driving from the wing in transition for a one-handed dunk attempt, Mykhailiuk kept Carroll in his sights, measured his steps and soared upward to perfectly block the would-be jam with KU trailing 14-12.
The senior from Ukraine wasn't finished there, either. Less that two minutes later, he came flying in toward the rim again on a potential Oklahoma State transition chance off a Cameron McGriff steal.
This time it was Kendall Smith who fell victim to a soaring Mykhailiuk, as he once again used his left hand and positioned himself ideally to avoid contact, allowing him to smack the shot off the backboard.
His defensive efforts helped make up for Mykhailiuk's slow offensive start in the first half — 1-for-5 shooting in opening 10 minutes, 3-for-10 before the break.
• Key stat: Second-chance points.
The Cowboys not only survived KU's home court, but thrived on it early because they kept beating the Jayhawks to their missed shots.
OSU put up 20 second-chance points to KU's 16 total points a little more than 11 minutes in, building a 28-16 advantage on the scoreboard.
Oklahoma State took the largest lead by a KU opponent this season (18) and a 46-33 advantage into halftime on the strength of its second-chance points, dominating the category, 22-3, in the opening 20 minutes.
In the second half, the Cowboys only added four second-chance points but there weren't many opportunities for them to cash in on that front with all the shots that were falling for them.
KU scored seven second-chance points in the loss, via 10 offensive rebounds.

• Up next: The Jayhawks will be right back inside the fieldhouse on Tuesday night for Round 2 with TCU (8 p.m., ESPN2). KU won in Fort Worth, Texas, against the Frogs, 88-84, in January.
---
More news and notes from Kansas vs. Oklahoma State
---