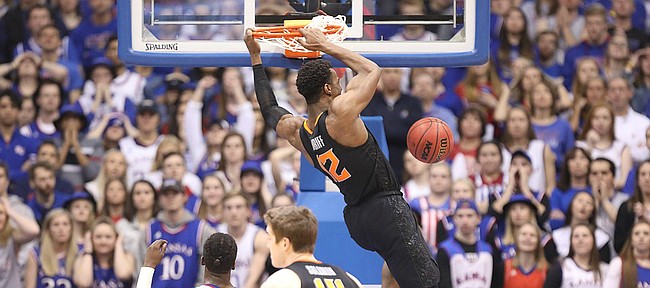 Five years and a day after Marcus Smart's backflip on the Allen Fieldhouse floor put an exclamation point on a surprising Oklahoma State victory over Kansas, Smart's alma mater left Lawrence on Saturday with a downright shocking 84-79 victory that put a serious damper on the daylong celebration of 120 years of Kansas basketball.
The Cowboys on Saturday played tougher, executed better, looked quicker and completely controlled the game from start to finish, leading for 37:35 of a game that Kansas somehow found a way to make close at the end.
To be fair, that is what Kansas does. Even in the most dire situations during the past couple of seasons, Devonte' Graham and Svi Mykhailiuk have been a part of some pretty big comebacks and mind-boggling efforts, the kind that have left the program with the general feeling that no matter how things look on the scoreboard, if there's time, there's a chance.
Photo Gallery
Kansas basketball v. Oklahoma State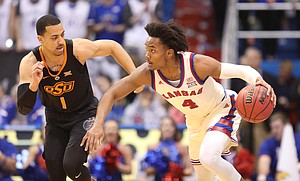 View a photo gallery from Saturday's game between the Jayhawks and Cowboys at Allen Fieldhouse.
Saturday, the Jayhawks just were not able to make the right plays late to steal a victory that so clearly belonged to the other side.
"To think we had a chance to be in that game if we scored (late) was pretty amazing to me," KU coach Bill Self said after the loss, his 13th all-time at Allen Fieldhouse and KU's third home defeat this season. "Because I thought we got whipped in pretty much every facet."
When asked how it happened, Self pointed to a variety of factors and, seemingly, could have gone on for days. So many of the traits that led to Saturday's OSU victory were those that generally have been true about Self's Jayhawks.
"Poised, fast, athletic, tougher," Self began. "When you force them to play the way they play, up the line, always denying, all that stuff. That may mess teams up some, but that's not what the purpose is. The purpose is to make your guys tougher and harder and faster and to be alert. That's the purpose of that.
"It's not to say, 'We're going to do this against this team so we take them out of offense.' That's not it. You do it against that team and the end result may be taking (away) their offense but the mindset is, 'This is who we are, this is how we play.' They play tough. They play very tough."
The seventh-ranked Jayhawks (18-5 overall, 7-3 Big 12) certainly have done that at times this season, and they even did it at times on Saturday. But that type of identity has not fully taken root with this entire team, and it cost Kansas against Oklahoma State.
"There's Svi and there's Devonte'," Self said, noting that Graham scored 17 points and dished eight assists in 40 minutes on Saturday while dealing with a bone bruise on his knee that kept him out of practice most of the week. "Those guys, God, they give their heart and soul to every game. If everybody else was committed like those guys, I think we would perform a little bit better."
Behind the power of 8-of-18 shooting from 3-point range, an incredibly uncharacteristic mark for one of the conference's worst 3-point shooting teams, Oklahoma State (14-9, 4-6) built a lead of as many as 18 points in the first half and went into the locker room with a lead in the teens.
OSU big man Mitchell Solomon even hit one — his fourth 3-point make in 25 attempts this season — early in the second half with the shot clock winding down and OSU in a bad spot.
Although the Cowboys' hot shooting was eye-popping enough — OSU finished at 51.6 percent for the game, 12 of 27 (44.4 percent) from 3-point range — it was made even more impressive by the fact that the Cowboys limited Kansas to just one first-half 3-pointer, and that came on the first possession of the game.
The Jayhawks missed their next eight shots from behind the arc before finally hitting their second triple of the game at the 18:23 mark of the second half.
Between that and the furious finish in which Kansas used a late 12-4 run to pull within a single possession (82-79) with 14 seconds to play, it was the Cowboys who got just about anything they wanted, be it in the form of tough jumpers late in the shot clock, rebounds at an alarming rate that led to a 41-28 advantage on the boards and a 26-7 edge in second-chance points or, of all things, sloppy turnovers by Kansas.
One of the biggest came with 23 seconds to play, when Mykhailiuk's tough pass intended for Marcus Garrett was picked off, negating the lift KU got from Oklahoma State missing the front end of one-and-one free-throw opportunities twice in the last 30 seconds.
"That was just a bad play," said Self of Mykhailiuk's miscue. "He was just trying too hard. Was he open for a second? Yeah. But the pass had no chance to get through. It was just a bad play."
Although that one proved to be the dagger, a dose of foreshadowing for Saturday's outcome came a few minutes earlier.
With just less than four minutes to play, the Jayhawks fell victim to one of those bounces that sure made it seem like a comeback might not be in the cards.
Podcast episode
After an 84-79 home loss to Oklahoma State, Kansas coach Bill Self discussed his team's problems with defensive rebounding, why he thought the Jayhawks played slow and KU's small margin of error in conference play.
With Malik Newman hounding OSU guard Kendall Smith above the 3-point line, Newman poked the ball away from Smith (24 points) as he tried to make a move. Most days, it would've been an easy steal and a turnover for the Cowboys. Saturday, the bouncing ball found its way right to Cameron McGriff (20 points, nine rebounds), who found nothing but open space between him and the rim. Instead of Kansas going the other way with a chance to cut the game to a two-possession deficit with more than three minutes to play, McGriff punished the rim and gave OSU a 78-67 lead.
Although no one knew it at the time, that, essentially, was the big blow that put the Cowboys over the top, as OSU continued to execute down the stretch the way it had all game to deliver coach Mike Boynton a rare victory in Allen Fieldhouse in his first try.
Said Boynton of achieving something that legendary OSU coach Eddie Sutton never could: "I don't know if I want to be trying to say I'm as good as him. I've got a long way to go. I'm at 14 (wins) now and he won 800 and something. He won a lot more places than I have."
Said Self, summing up his team's subpar effort: "I love our team. I love our guys. But there's not much margin for error out there. And when one guy doesn't bring it or one guy has some mental lapses or whatever, it's magnified more with us. … Hey, we could win four in a row in this league or you could lose four in a row. It's been proven by other teams. The league is so good and if you just don't bring it at all and the other team plays well, you're going to get beat."
---
More news and notes from Kansas vs. Oklahoma State
---