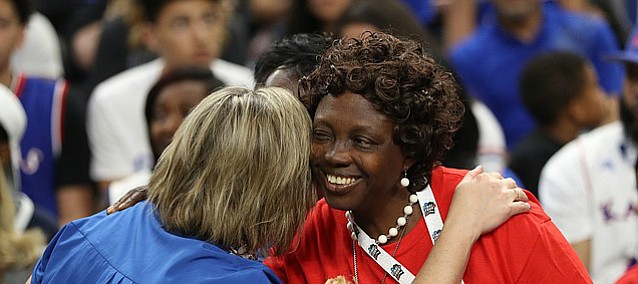 San Antonio — Escorted by her son's host family, with whom he lived in Jacksonville, Fla., after leaving Nigeria at age 13, Florence Azuonuwu, the mother of Kansas center Udoka Azubuike, walked over to Scott "Scooter" Ward about 15 minutes before tipoff of Saturday's Final Four clash with Villanova and planted a big hug on him.
Ward, KU's associate athletics director for student-athlete development, who is beloved by any KU athlete who has come in contact with him, said the moment was a bit overwhelming and one he won't soon forget.
"I told her it's great that she's here, I told her I loved her and she said, 'Oh, we love you,'" Ward recalled before tipoff of KU's 95-79, season-ending loss. "It's very, very cool that we were able to make that happen. It's so cool that the NCAA realized that that's something that would be good for a lot of people."
Ward, who has worked closely with the still-18-year-old Azubuike since he arrived on campus younger than most college freshman, said Azuonuwu spoke wonderful English.
Her son was the first Jayhawk introduced to the Alamodome crowd, and, when he was, Azuonuwu threw her arms in the air and waved them from side to side with a huge smile on her face.
"It was great, man," said a disappointed Azubuike after the game.
Added KU coach Bill Self: "She didn't get in (Friday) night until midnight. There was a brief exchange, certainly, with us and everything. She was exhausted. So I haven't talked to her again. But, you know, sports in so many ways, it's just amazing to me how so many good things can come out of competition. And who would have thought that winning and having a chance to play at the highest level would allow a mother and her son to reconnect after six years? That was a proud moment for all of us and a really special moment for those two."
After the game, Azubuike was uncertain about his mother's immediate plans but said he hoped she would be able to stay in Jacksonville for another week or so and that he would be able to go down there to spend some time with her.
Uncertain futures?
While Saturday's loss marked the final game in the careers of KU seniors Devonte' Graham, Svi Mykhailiuk and Clay Young, it also may have marked the end for a few underclassmen.
Self said after the game that he believed KU's roster "will be totally different next year, I would think, because there's a lot of unknowns out there," and those unknowns figure to include Azubuike, Malik Newman and Lagerald Vick, who all could entertain the idea of leaving Kansas early to pursue their professional careers.
If that is in the future for any of the three, they were not talking about it on Saturday night.
"Right now, I haven't really thought about anything," Newman said. "I just want to get back with my teammates, make sure that they're good. Later on, in a week or sometime down the line, I'll sit down with Coach Self and my family and have that discussion."
Added Vick: "I haven't even thought about it yet."
Azubuike offered similar thoughts while referencing his "decision."
"I'm not going to say nothing right now," he said. "I'm just going to make my decision later on what I'm going to do. But right now I'm not going to say anything."
Preston in attendance
Former KU player Billy Preston, whose freshman season never got off the ground and ended in January without Preston having played a single official game, was in attendance at the Final Four this week, seated behind the KU bench during Saturday's loss.
Preston, who shared his love of KU during a pregame video directed at the KU fans who supported him during his tough times, said he was incredibly proud of his former teammates and wanted to be in San Antonio to support them.
"I'm just excited to be here to support them and them getting this far just shows how great Coach Self is that they were able to get here and do it," Preston said. "They're a bunch of fighters and a bunch of dogs and we believed in ourselves the whole time."
KU blues
As the lower seeded team on Saturday — Villanova was the No. 2 overall seed and Kansas No. 3 — the Jayhawks were in the visiting team on the scoreboard and, therefore, wore their blue uniforms for the first time all tournament.
KU is now 5-5 at the Final Four since 1988 while wearing blue uniforms.
The Jayhawks wore blue during both of its Final Four victories in both 1988 and 2008 and also won one game in blue at the 1991 Final Four before falling to Duke in the national title game.
Unique anthem
Before Saturday's first game — a 69-57 victory by third-seeded Michigan over tournament darling, Loyola (Chicago), one student from each of the four schools participated in a moving rendition of the National Anthem.
Decked out in clothes supporting their school, the student singers took turns singing a verse before finishing the pregame tradition together.
KU's representative, who went fourth in the order of singers, was Darius Sheppard, a KU sophomore and member of the Class of 2020.
"It's been an amazing week, absolutely incredible," Sheppard, 20, told Chris Lazzarino of the KU Alumni Association.
This and that...
KU ended its season with a 31-8 record, marking the 15th 30-win season in KU history and ninth in 15 years under Self... The Jayhawks are now 9-6 all-time in national semifinal games and had their three-game semifinal win streak snapped on Saturday night... KU fell to 8-9 all-time against No. 1 seeds in the NCAA Tournament and 2-3 all-time against No. 1 seeds in national semifinals... KU is now 3-3 all-time in NCAA Tournament games played in San Antonio... Saturday's loss was the first by the Jayhawks this season on a neutral court, leaving KU 10-1 at such venues this season... Villanova now leads the all-time series with Kansas, 4-3. These two programs will begin a home-and-home series next season, with the Wildcats coming to Lawrence in December and KU heading to Philadelphia in 2019 for a game at Wells Fargo Center.
---
More news and notes from Kansas vs. Villanova
---