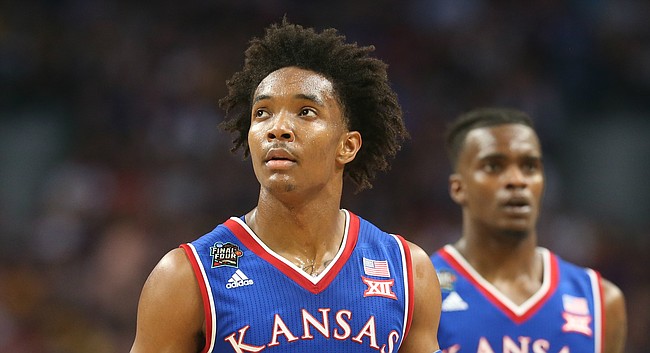 San Antonio — "The road ends here," the Final Four slogan goes.
Those four words plastered all over the River Walk and surrounding areas, including The Alamodome, site of the NCAA Tournament semifinals, proved true for Kansas on Saturday night.
After leading the Jayhawks to the program's 14th consecutive Big 12 regular-season title, a conference tournament crown and KU's first Final Four berth since 2012, a momentous run concluded two days ahead of college basketball's ultimate destination, with a 95-79 loss to Villanova.
The same program that extinguished KU's title hopes one game shy of the Final Four in 2016 again wrecked the postseason plans of coach Bill Self and guards Devonte' Graham and Svi Mykhailiuk — this time a game short of the national championship game.
Photo Gallery
Kansas basketball v. Villanova (Final Four)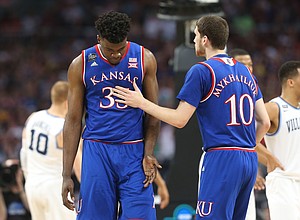 View a gallery of images from the Kansas Jayhawks' semifinal game against the Villanova Wildcats on Saturday, March 31, 2018 at the Alamodome in San Antonio, Texas.
The Wildcats' red-hot shooting out of the gate, in front of 68,257 fans, all but buried the Jayhawks in the opening 20 minutes.
Self suffered a national semifinal loss for the first time in his third trip to the Final Four. Kansas fell to 9-6 all-time in the national semifinals.
Graham scored 23 points in his final game in a Kansas uniform.
Sophomore Malik Newman, hot throughout most of March for the Jayhawks, scored 21 on 6-for-14 shooting.
Eric Paschall led Villanova with 24 points, making 10 of 11 shots. All-American guard Jalen Brunson went for 18 points and six assists.
Here's a quick look back at some of the action:
• The game turned when: Villanova came out intent on setting the nets ablaze.
It only took 16 minutes and 13 seconds in the first half for Villanova to tie the Final Four record for 3-pointers in a game.
When Phil Booth drilled his team's 13th, from the right wing, the Wildcats led by 15, having connected on 13 of their first 21 attempts from beyond the arc.
That shot equaled the 13 made over the course of an entire game by UNLV, in 1987.
Although KU scored the semifinal's first basket, a shot in the paint by starting center Udoka Azubuike, a barrage of Villanova 3-pointers soon followed. The Wildcats led by as many as 18 before halftime as a result. All five of their starters made two or more from deep in the first 20 minutes, with AP Player of the Year Jalen Brunson (13 first-half points, 3 of 6 on 3-pointers) leading the charge. Eric Paschall knocked down both of his tries. Big man Omari Spellman made a pair in the first four minutes and entered halftime 2 of 6. Versatile wing Mikal Bridges hit 2 of 4 from deep, as did Booth, setting up a 47-32 halftime lead for the 2016 national champions.
Villanova set a new Final Four record when Paschall gave his team a 14th exactly a minute into the second half, after he picked up a loose ball following a Udoka Azubuike blocked shot.
The Wildcats moved on to Monday's national title game against Michigan after hitting 18 of 40 3-pointers.
• Offensive highlight: The way Villanova shot the ball, few plays on the opposite end of the floor seemed nearly as devastating.
But Azubuike at least got to unleash some of his frustrations on the rim in the first half.
With Spellman getting a breather on the bench, Azubuike caught backup big Dhamir Cosby-Roundtree on his hip in the paint. The sophomore 7-footer for Kansas quickly sealed his defender, creating an opportunity for Svi Mykhailiuk to make an entry pass over the top.
Azubuike (eight points, five rebounds), though unsuccessful at tearing down the rim, delivered a thunderous, two-handed slam to cut Villanova's lead to 12 with a little less than six minutes left in the first half.
• Defensive highlight: Considering Villanova shot 55 percent from the floor it would be difficult to consider much of what Kansas did defensively as a success.
So give this category to the way the Jayhawks kept a potential lottery pick, Mikal Bridges, from taking off offensively.
Bridges only scored 10 points, well below his average of 17.8 per game, on 4-for-8 shooting in 31 minutes.
However, with the attention KU gave to Bridges, Paschall was able to thrive.
• Key stat: KU 3-point attempts.
While the Jayhawks obviously had their issues defensively against the multi-threat talents of the Wildcats, the Big 12 champions weren't even able to keep pace, because they couldn't find for themselves the same quality long-range looks Villanova attempted time after time.
The Wildcats better defended the 3-point arc by far, limiting a Kansas team that thrives on perimeter shooting to 7-for-21 success from downtown.
• Up next: The Jayhawks head back to Lawrence with a 31-8 record to show for their 2017-18 season after losing on a neutral court for the first time this year in their finale.
Self and Kansas will reload — like always — and soon start working toward a possible 2019 Final Four trip. Kansas is set to add at least three McDonald's All-Americans to its rotation next year, with signees Devon Dotson, Quentin Grimes and David McCormack joining the roster.
---
More news and notes from Kansas vs. Villanova
---