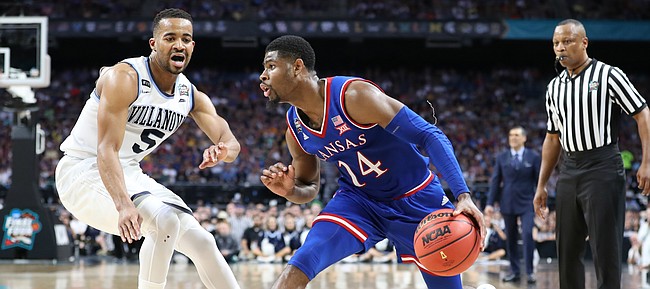 San Antonio — As Villanova guards, wings and bigs buried 3-pointer after 3-pointer Saturday night at the Alamodome, Kansas guards, typically the beneficiaries of such shots, went through periods of struggling to even find an attempt.
While the Wildcats assailed the Jayhawks with long-range jumpers, what head coach Jay Wright's team accomplished in defending any such counterattacks proved just as crucial in a 95-79 victory that sent Villanova to the national championship game.
A Kansas team that averaged 25.1 3-point tries in its first 38 games couldn't as much as release a single 3 in the national semifinals' opening 12-plus minutes, making it all the more difficult to keep pace with the devastating shots leaving the hands of Villanova shooters, who set a Final Four record for 3-point makes, connecting on 18 of their 40.
In their season-ending loss, the Jayhawks (31-8) finished 7 for 21 on 3-pointers, connecting on as many in 40 minutes as the Wildcats hit in the first 10.
"That was one of our main focuses coming into this game, just limiting their 3s," Villanova junior guard Phil Booth said. "They're really good players, guys who can get shots off the dribble and guys that can catch and shoot."
Photo Gallery
Kansas basketball v. Villanova (Final Four)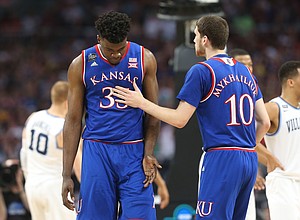 View a gallery of images from the Kansas Jayhawks' semifinal game against the Villanova Wildcats on Saturday, March 31, 2018 at the Alamodome in San Antonio, Texas.
Typically KU's best marksman from outside, senior Svi Mykhailiuk only made 1 of 4 against the Wildcats (35-4). In his Kansas finale, Mykhailiuk didn't make a field goal until the 11:46 mark of the second half. His lone 3-point make came 33 seconds later.
Villanova junior forward Mikal Bridges said his team took away open shooters, including Mykhailiuk, by moving as a unit and playing tough.
"It's not just one guy on the ball," Bridges said of the Wildcats' half-court defense. "There's four other guys behind him and just playing our way."
On so many other nights this season, the Jayhawks grew accustomed to spotting up and finding open shooting windows awaiting them on the catch. Not against Villanova.
"They just don't let us catch the ball," Mykhailiuk said, "and played aggressive. Just always let us feel them."
Far more sound in their help defense than past KU foes, the Wildcats even had an answer for the staples of the Jayhawks' offense, ball screens and drive-and-kicks.
"Their ball screens are very important," Booth said of Villanova's biggest concern entering the Final Four matchup, "because (Devonte') Graham coming off ball screens, he can throw a lob, he can shoot a 3, he can get in the paint and score, kick it opposite. He's kind of their engine that gets them going, gets everyone involved. "
Graham (4 of 8 on 3-pointers, team-high 23 points) only finished with three assists in the loss. Only one of those passes led to a 3, with 3:38 left in the second half and the game all but decided.
"They played great today. That's why they won," Mykhailiuk said. "They did everything today. They just didn't let us play good."
Villanova limited KU to six 3-point chances in the entire first half, when the Jayhawks made two. Six more of KU's 21 total 3-point attempts came in the game's final 10 minutes, after Villanova had pushed its lead out to as many as 22 points.
"We were doing a great job of making it difficult for them," sophomore guard Donte DiVincenzo said. "We weren't stopping them, because they are great players. But we were making it difficult for them."
As much as the Wildcats enjoyed torching KU with 3-pointers, All-American junior guard Jalen Brunson said their defensive efforts were satisfying, as well.
"Obviously we're very talented offensively. We have a lot of weapons offensively, but when it comes to us staying together on defense, that's what makes it special," Brunson said. "And we're going to keep getting better and keep getting better (Sunday) and be ready for Monday."
Now Wright's team has a chance to win its second championship in three seasons, not just because of Villanova's fire power.
"If you look at the numbers, we held them to 45 percent shooting," Wright said. "It doesn't look great, but against that team — that averages 80 points a game, is a very, very talented offensive team, very well-coached — it's actually a pretty good job. We were pleased defensively, especially having a lead."
---
More news and notes from Kansas vs. Villanova
---