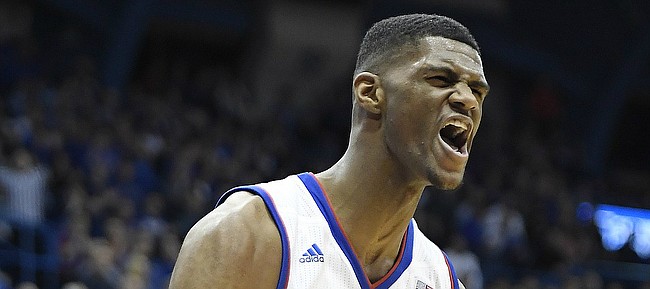 Few moments during Tuesday's 100-54, exhibition victory by Kansas over Pittsburg State at Allen Fieldhouse had as much raw emotion and jaw-dropping excitement as Billy Preston's hammer dunk in transition after a soft pass from Newman just a few minutes into the freshman forward's Kansas career.
But the fancy flush was just one of the handful of highs and lows from Preston during Tuesday's victory.
After an athletic, one-legged jump sent him soaring above a Pitt State defender, whom he probably didn't even see, Preston hammered the dunk, flexed his arms and let out the kind of roar that many would expect from a Top 10 recruit.
"Billy was on a roll," KU coach Bill Self said after the win. "Billy was by far our best big guy tonight. In his very limited action he made a couple nice plays."
Photo Gallery
Kansas basketball v. Pittsburg State (exhibition)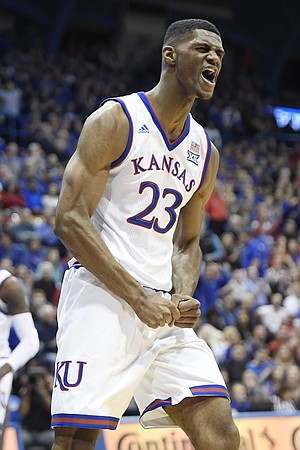 View a gallery of images from the Jayhawks' exhibition game against the PIttsburg State Gorillas at Allen Fieldhouse.
After a strong first half that featured the highlight dunk, a smooth jumper and a soft jump hook in the paint, Preston earned the start in the second half — in place of Mykhailiuk — but played just eight minutes overall because of foul trouble and a head-to-shoulder collision that temporarily knocked him out of the game.
Self said after the game that he thought Preston would be fine and that an off day on Wednesday would do him some good.
He also said he wanted to see Preston play a little smarter so he could earn more minutes.
"He got hit in the noggin, so we held him out," Self said. "He was playing really well. But four fouls in eight minutes. He's gonna foul. He and (Udoka Azubuike) will foul regardless, but they don't need to make silly fouls like a couple they made tonight."
Another debut for Newman
As if two Late Nights, four games in Italy and an exhibition victory over Missouri a couple of weeks ago were not enough debuts for Malik Newman, the Mississippi State transfer enjoyed another unofficial first on Tuesday night — his first exhibition game at Allen Fieldhouse.
In it, Newman scored 19 points on 7-of-10 shooting, with three rebounds and four assists in 22 minutes.
"It was great," Newman said. "It was just exciting to be out there with the guys. I'm excited to be playing again, the atmosphere was good. Everything was great for me."
Podcast episode
After a 100-54 win over Pittsburg State on Tuesday in an exhibition game, Kansas coach Bill Self discussed what he wants to see from Malik Newman, Lagerald Vick's double-double and more.
Graham gets a rest
One game after carrying his team offensively in a Border War win over Missouri, KU senior Devonte' Graham hit the brakes on Tuesday.
After tallying 25 points and 10 rebounds in the win over Mizzou, the senior point guard finished just 1-of-5 shooting on Tuesday night for six points, six rebounds and five assists in 23 minutes.
"He's not hurt by any stretch," Self said of his leader. "But I feel like his body's a little tired right now so it was good that we didn't play him a bunch tonight."
Podcast episode
After a 100-54 win over Pittsburg State on Tuesday in an exhibition game, Kansas coach Bill Self discussed what he wants to see from Malik Newman, Lagerald Vick's double-double and more.
Increased security
There was a noticeably greater police presence inside Allen Fieldhouse on Tuesday night, when KU hosted its first men's basketball game of the on-campus, conceal-carry era.
Associate athletic director Jim Marchiony said that was by design, as KU has taken several measures, including metal detectors at every entrance, to ensure the safety of everyone in attendance at their athletic events.
Another KU official said the number of officers stationed inside Allen Fieldhouse this year compared to past years increased by 20-25, with nearly as 50 uniformed police officers now floating around Allen Fieldhouse.
"The decision is what we believe we need to adequately staff the security measures we now have in place," Marchiony said, noting that the extra attention, including metal detectors would be standard practice at any KU athletic event in which they expect 5,000 or more spectators.
This and that...
Tuesday's victory improved KU to 85-9 all-time in exhibition games, including 53-2 under Self... The 46-point triumph marked the Jayhawks' 26th consecutive exhibition victory and 47th straight exhibition win in Allen Fieldhouse... The KU-Pitt State clash was the Jayhawks' first ever game on Halloween... KU is now 12-0 all-time against Pitt State in a series that dates back to 1944 and features eight exhibition games and four regular season contests.
— See what people were saying about the game during KUsports.com's live coverage.
---
More news and notes from Kansas vs. Pittsburg State