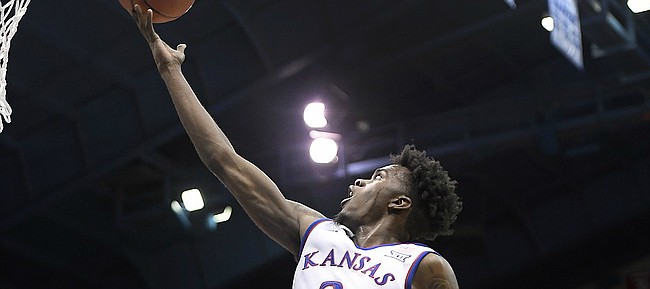 It was far from a perfect half, but it had one aspect that Kansas coach Bill Self absolutely loves — offensive rebounding.
From four offensive rebounds on the first three possessions of the game to two from the same player in the final 10 seconds of the opening frame, Kansas corralled 10 offensive rebounds in the first 20 minutes of Tuesday's 100-54, Halloween night exhibition victory over Pittsburg State at Allen Fieldhouse.
"If you don't block them off, you're in trouble," Pitt State coach and former Missouri Tiger Kim Anderson said after the game. "And we didn't a couple times so, all you TV stations back there, I'm sure there were some great highlights tonight."
Junior guard Lagerald Vick was responsible for most of those, as he immediately scored on three of his offensive rebounds, including a high-flying slam dunk of a missed 3-pointer by Devonté Graham that made it 40-10 KU midway through the first half and a lay-in of his own missed tip just ahead of the halftime buzzer.
"Coach and them are always telling me, 'Just keep crashing, you might not get all of them,'" recalled Vick after posting 15 points and 11 rebounds in 26 minutes Tuesday. "So I've just been listening and continuing to work."
Photo Gallery
Kansas basketball v. Pittsburg State (exhibition)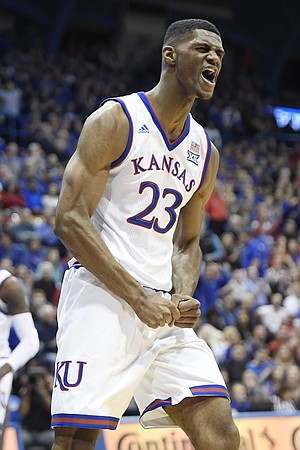 View a gallery of images from the Jayhawks' exhibition game against the PIttsburg State Gorillas at Allen Fieldhouse.
Vick was hardly done at the break. Four minutes into the second half, after a missed 3-pointer by Svi Mykhailiuk provided the perfect Sunday hop, Vick, without hesitating, ran untouched through the lane and hammered home another miss, this time with just his right hand, leaving Pitt State forward Xavier Adams with nothing to do but throw his hands up, toss his head back and wonder why nobody was putting a body on the guy.
"Guys that are in Division 1 are very athletic and that was a very athletic play," Adams said after the loss. "But, on the other side, we missed a lot of blockouts tonight. So it was kind of like, 'Dang, that was a nice play.' But also like, 'We've got to box out.'"
Added Mykhailiuk of the gift-wrapped highlight for his teammate: "I saw him coming, so I just missed it on purpose. It felt good, though, but it was a little bit short and Lagerald got a lot of offensive rebounds this game and did a great job on the glass for us."
If only it were that easy. In the eyes of KU coach Bill Self, it can be. That does not mean offensive rebounds are going to be handed out like candy to trick-or-treaters, but Vick's productive night was proof positive that good things happen to players who attack the glass.
"He can be our best offensive rebounder, without question," Self said of Vick. "The thing about it is, you've got to go every time and you've got to have the ball bounce right in addition to going every time. We got lucky a couple times because the ball just bounced right. But if you go five out of 10 times or six out of 10 times, you'll definitely steal your team a couple more points."
Emphasizing the one area that their head coach growled about most following their recent exhibition win over Missouri, the Jayhawks on Tuesday proved they had been listening, out-rebounding Pitt State 27-11 in a high-intensity first half and 48-29 for the game.
Although those numbers both look good, Self reminded everyone who would listen that the kind of size advantage the Jayhawks had on Tuesday night should produce numbers like those.
"When you have a big size advantage like Udoka (Azubuike, 17 points, 14 rebounds), you can kind of get misled on how you're doing rebounding the ball," Self said. "Those may not be rebounds against Kentucky."
Podcast episode
After a 100-54 win over Pittsburg State on Tuesday in an exhibition game, Kansas coach Bill Self discussed what he wants to see from Malik Newman, Lagerald Vick's double-double and more.
Perhaps the best part about KU's attention to detail on the glass was the fact that it allowed the Jayhawks to do some quality things elsewhere on the court.
Sprinting out in transition as often as possible, KU roared out to a 30-point lead en route to a 53-28 halftime edge. By game's end, five Jayhawks had reached double figures in scoring — led by 19 from Malik Newman and 18 from Mykhailiuk — and all but one player who checked into the game scored.
"I thought we played pretty well first 11 minutes of the first half and about the first nine minutes of the second half," Self said. "And then we didn't play near as well to finish both halves."
By Self's count, KU scored 70 of its 100 points in those 20 minutes.
The early onslaught by Kansas, which included a 22-0 run that gave KU a 26-4 lead, featured a little bit of everything. Offensive rebounds in bunches. Unselfish play on the offensive end. Trips to the free-throw line. And, of course, a couple of 3-pointers.
"I was worried we weren't going to get to 10," Anderson said after the loss.
Kansas shot 55 percent for the game, 35 percent from 3-point range and out-performed Pitt State in pretty much every meaningful statistic except free-throw shooting. Pitt State shot 9 of 11 from the line while Kansas made 20 of 29.
None of it, of course, impressed Self too much and the Jayhawks will get back to work on Thursday after an off day Wednesday.
"All in all, about 20 good minutes," Self said after the game. "But certainly a lot of things we can improve on."
The Jayhawks will close out their exhibition schedule next Tuesday, when Fort Hays State comes to Allen Fieldhouse, and will tip off regular season action on Nov. 10 at home against Tennessee State.
— See what people were saying about the game during KUsports.com's live coverage.
---
More news and notes from Kansas vs. Pittsburg State