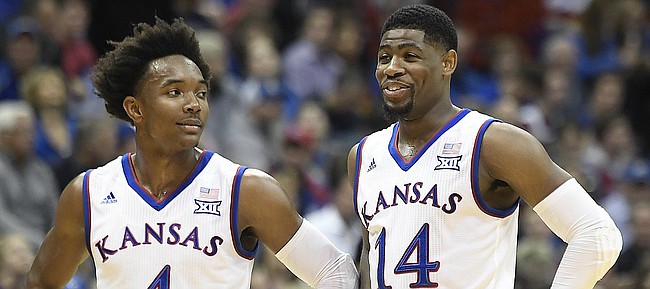 He's so smooth, so efficient in his movements that it sometimes is easy to forget that Malik Newman is on the floor. Then he gets the ball on the left wing, ball-fakes his defender into thinking he's going left, blasts right and is at the basket in an instant for an easy bucket.
Or he catches a pass on the right wing and, with a flick of the wrist, hits another 3-pointer.
Then you don't notice him for a while, and then by the end of the night, and not until then, you notice that he led Kansas in scoring with 19 points in 22 minutes in Tuesday night's 100-54 exhibition domination of Pittsburg State.
If he can do that when you're not noticing him, what's he going to do when he loudly puts his stamp on a game?
Lead the team in scoring, possibly, although that's generally a pretty difficult thing to predict on most Bill Self teams.
Newman didn't care to guess who might earn individual scoring honors already doing a nice job of sharing the ball.
"We only have eight guys and I think all eight guys are capable of putting up big numbers whenever their time is called," Newman said. "I think this may be one of those unpredictable teams also."
Photo Gallery
Kansas basketball v. Pittsburg State (exhibition)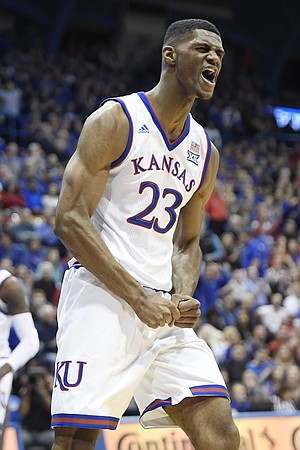 View a gallery of images from the Jayhawks' exhibition game against the PIttsburg State Gorillas at Allen Fieldhouse.
It's easy to envision six different players leading the team in scoring on any given night: Newman, Devonté Graham, Lagerald Vick, Svi Mykhailiuk, Udoka Azubuike and Billy Preston.
Vick easily was the team's best player in Tuesday's exhibition, but Newman scored the most points by making 7 of 10 shots, 3 of 5 3-pointers and added three rebounds, four assists and two steals.
And he did it in a way that left his coach wanting more.
"I love Malik, but he's too stationary," 15th-year Kansas coach Bill Self said. "He needs to play with more aggressiveness to try to do other things than just shoot perimeter jumpers. He did drive the ball a couple of times though, which was nice. And defensively, he's a ball-watcher, and he certainly can improve in that area."
Newman totaled 17 points, six boards, five assists and three turnovers in 28 minutes in the exhibition victory vs. Missouri in Sprint Center.
"I thought today he was definitely better than what he was against Missouri," Self said. "Even though he got numbers against Missouri, I didn't they were very good numbers. He's a guy who can score points in a hurry, he and Svi both, but he's got to be more rounded on both ends. ... I still don't think either one of them played near as well as what they are capable of playing at both ends."
Stiffer competition will make that happen.
— See what people were saying about the game during KUsports.com's live coverage.
---
More news and notes from Kansas vs. Pittsburg State