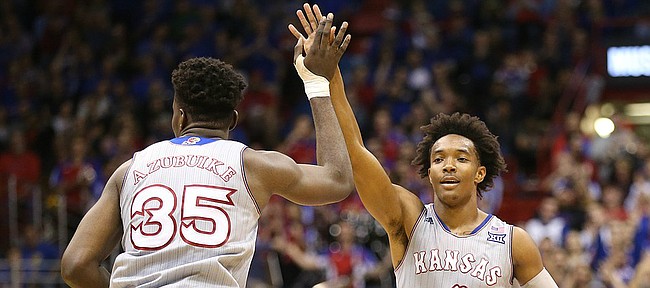 He plays at such high speeds and so often flings creative passes on the fly that Devonte' Graham is bound to make more turnovers than the average guard. Graham really slammed his foot on the accelerator Tuesday night in Allen Fieldhouse with Toledo in town.
On his fanciest play of the night, Graham whipped a left-handed bounce pass through a small window to set up Malik Newman for a layup and made other daring passes during his 30 minutes on the floor. And not once did he turn the ball over, his first mistake-free game of the season.
"I did know that," Graham said of his turnover-free night. "I always ask how many turnovers I have throughout the course of a game. That's one thing I do ask about. I don't really ask about points."
Photo Gallery
Kansas basketball v. Toledo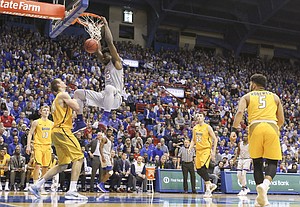 View a gallery of images from Tuesday night's game between the Jayhawks and Rockets at Allen Fieldhouse.
He didn't have to ask to know that he had a lot of points to help Kansas leave Toledo in the dust, 96-58.
Graham headed to the bench for the final time to an ovation with 8:03 left. At the moment the senior guard's night ended, the score was Graham 35, Toledo 35, Graham's teammates 51.
Graham complemented his career scoring night with five rebounds, five assists and two steals in 30 minutes.
He made 3-pointers from the left wing and right and from the top of the key. He scored on drives with his left hand and right, pulled up in the lane to drop one in. He also received plaudits from coach Bill Self for doing a better job defensively on Tre'Shaun Fletcher than Lagerald Vick had done.
In short, Graham did about everything a guard can do to both drive an opposing coach crazy and drive that coach to talk about how much respect he has for his game.
Graham left Toledo coach Tod Kowalczyk shaking his head and wondering what it would be like to have a point guard with so much enthusiasm, natural leadership and confidence carrying a fast team to victory night after night.
"Just how he's transitioned to playing the point," was the first thing Kowalczyk said about what impressed him about Graham. "Obviously, we couldn't stop him. In their ball screens, if you help too much they just throw it up to the big fellow and he dunks everything. If you don't help enough, he's just going over the top of Justin Roberts and Marreon Jackson, our guards. He's got such a good pace to him and understanding of this game. I don't know if it was the Oakland game, but he came down in transition and threw it behind his head knowing that there would be someone there for a wide-open 3. His plays like that, he makes them consistently. I would venture to guess he's a pleasure to coach."
Kansas coach Bill Self wouldn't argue that point.
"He shot it great and handled it great," Self said. "He underthrew (Udoka Azubuike) a little bit on the lob to start the second half, and overthrew him on a lob that should have been a dunk in the first half. But other than that, he was a 10. He tried his butt off offensively also. He was good. … He's been really good all year, he just hadn't shot it as well."
Graham figures if he continues to play in-your-face basketball everything will fall into place, including his shots.
"I told Malik (Newman) that my shot was going to be good, I had been shooting the ball well," Graham said. "I just wanted to come out being aggressive. My shots were falling, so I just kept attacking off the pick-and-roll and my guys did a good job of find me for open threes."
And he hit most of them, improving his season 3-point percentage from .333 to .361.
---
More news and notes from Kansas vs. Toledo
---