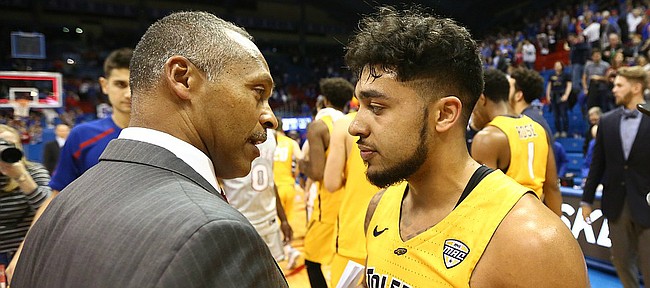 Normally when an opposing player is introduced at Allen Fieldhouse, he draws a few boos or no reaction at all from the home crowd.
That was not the case on Tuesday night before KU's 96-58 drubbing of visiting Toledo, when Toledo sophomore Justin Roberts was introduced as a surprise starter.
"I thought it was cool he got the start," KU coach Bill Self of the son of Kansas assistant coach Norm Roberts. "He played fine and made a couple of shots there late. That was great for Justin."
Roberts, who spent several years of his life around Self and the Kansas program said hearing his name called by the Allen Fieldhouse public address announcer was a thrill.
"It was everything I thought it would be," said Roberts, who learned he would start Tuesday's contest last Sunday. "I didn't expect to get a standing ovation when they called my name."
After the game, Toledo coach Tod Kowalczyk explained his decision to go with his sophomore point guard in the starting lineup, despite the fact that Roberts entered Tuesday averaging just 7.5 minutes per game this season.
"He deserved it," Kowalczyk said. "When you come play in a place like this, his hometown, his dad's on the bench; to be perfectly honest, that was an easy decision. I made that decision in the summer."
Although Roberts' team was overwhelmed for most of Tuesday's game, the Lawrence High grad finished with four points and two assists in 16 minutes.
Photo Gallery
Kansas basketball v. Toledo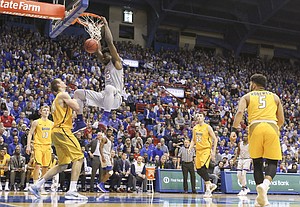 View a gallery of images from Tuesday night's game between the Jayhawks and Rockets at Allen Fieldhouse.
Azubuike assaults
While shooting 6-of-9 from the floor for 12 points and five rebounds in 24 minutes on Tuesday night, KU sophomore Udoka Azubuike threw down a handful of his signature dunks during the runaway victory.
Two of them came during KU's knockout, 32-3 run on back-to-back plays and left Kowalczyk perplexed about how his team even could have handled it on a night when KU senior Devonte' Graham lit up the gym for a career-high 35 points.
"If you help too much, they just throw it up to the big fella and he dunks everything," Kowalczyk lamented.
There was one point, with 8:49 to play in the game, when Azubuike caught a soft lead pass from Graham and had no one on the same side of the court as him. That paved the way for a monster two-handed slam and could have been an opportunity for Azubuike to try to bring the rim down.
Instead, he soared to the hoop like normal but quickly pulled his hands off after viciously throwing the ball through the hoop. The play was reminiscent of Azubuike's adjustment in Italy last summer, when he nearly destroyed an Italian rim in KU's exhibition opener overseas.
Football reinforcement?
Self on Tuesday night confirmed that the Kansas basketball program was exploring the idea of adding KU football player James Sosinski, a 6-foot-7, 260-pound tight end on David Beaty's team, to the roster as a walk-on.
Self said Sosinski practiced one day this week and added that they would allow him to practice for another week to see how it goes. Sosinski averaged 19.1 points and 12.6 rebounds per game for South Mountain Community College in Phoenix before coming to KU.
Although KU is not in bad shape in terms of practice bodies, with transfers Dedric Lawson, K.J. Lawson and Charlie Moore sitting out, the Jayhawks have been down to just nine eligible players in games during the early part of the season. Sosinski could provide another body late in games that would allow Self to put more of his rotation guys next to him on the bench.
The potential roster addition also could be key in moments where KU's current big men find foul trouble given that withheld freshman forward Billy Preston missed his sixth game of the season Tuesday night and KU currently is operating with just two true big men.
At 6-7, 260, Sosinki instantly would become the second biggest body, in terms of girth, on the KU roster, behind Azubuike (7-0, 280) and ahead of Mitch Lightfoot (6-8, 210). Preston stands 6-10, 240 and potential early arrival Silvio De Sousa is 6-9, 245.
Better late than never
Tuesday night marked the first Allen Fieldhouse game for Ruby White, of Kansas City, Kan., who saw her first live KU game in their home gym at the age of 101.
White, who now gets around in a wheelchair, visited KU's practice earlier in the day and later was honored with a roar from the crowd and a live shot of her from her seat on the video board.
Several people in attendance rose to their feet to cheer White finally making it to a game as KU's public address announcer shouted, "Welcome to the Fieldhouse, Ruby."
This and that...
Tuesday's victory pushed Kansas to 6-0 for the first time since the 2010-11 season, when the Jayhawks opened 10-0. It marks the sixth time in the Bill Self era that a Kansas team has started 6-0... KU now has won 24 consecutive non-conference games in Allen Fieldhouse... Kansas now leads the all-time series with Toledo, 3-0 and is 14-1 against current members of the Mid-American Conference.
---
More news and notes from Kansas vs. Toledo
---