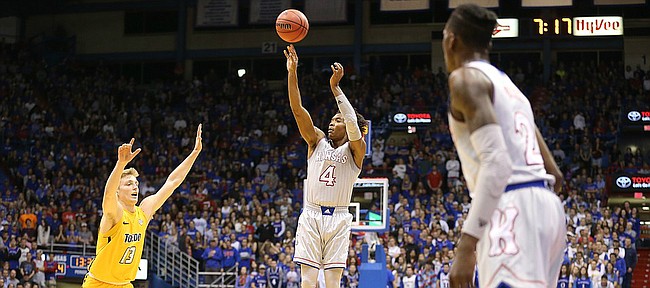 You probably have not spent much time — if any — thinking about it, given the unlikely and ridiculous sound of such a thing.
But Tuesday night, at Allen Fieldhouse, during Kansas' 96-58 trouncing of Toledo, the Jayhawks showed you, the Rockets and the rest of the world exactly what a 32-3 run looks like.
Senior point guard Devonte' Graham, who lit up the Rockets for a career-high 35 points on 14-of-19 shooting in 30 minutes, was responsible for most of the damage. At one point, deep in the second half, Graham himself, with those 35 points, had matched the offensive output of Toledo's entire team.
But Graham's red-hot night was merely the signature movement of the latest offensive symphony by second-ranked Kansas, which threatened to top the 100-point mark for a third consecutive game and now has won its last three games by a combined 124 points.
"I'm not a Kansas historian by any stretch," said Toledo coach Tod Kowalczyk. "But, in 30 years of college coaching, that's as good of a team as I've ever seen. They're on ice skates and everybody else is in sneakers. They're just that fast. And they're so unselfish and move the ball."
Photo Gallery
Kansas basketball v. Toledo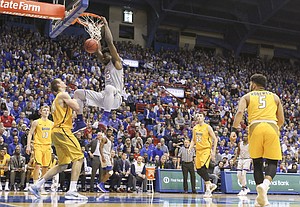 View a gallery of images from Tuesday night's game between the Jayhawks and Rockets at Allen Fieldhouse.
The knockout run started innocently enough, with, of all things, a Mitch Lightfoot jumper in the corner farthest from the Kansas bench with the shot clock winding down.
18-14, Kansas, 12:08 first half.
After a free throw from Toledo's Luke Knapke, Svi Mykhailiuk (15 points) got loose for one of his five 3-pointers in the corner on a swift feed from Graham.
21-15, Kansas, 11:29.
The next three buckets — and, really, the entire night — belonged to Graham, who first hit a jumper near the top of the key then drilled a 3-pointer in nearly the same spot that Mykhailiuk hit his and, finally, gathered his own miss in the paint and went right back up, seemingly in one motion, for an easy lay-in.
28-15, Kansas, 9:36.
A jumper from Toledo leading scorer Tre'Shaun Fletcher pulled the Rockets within 11, at 28-17, and momentarily gave the impression that this one still would be competitive.
But back-to-back, back-breaking lobs to Udoka Azubuike — one from Graham and the other from Mykhailiuk — pushed the Kansas lead to 15 and set the stage for a stretch of 20 unanswered Kansas points.
"Whatever they did, we just made a shot," KU coach Bill Self said, referencing Toledo's attempts to change up its defensive looks. "I'm not sure it was good offense as it was just shooting the ball well."
32-17, Kansas, 7:49.
Mykhailiuk, KU's leading scorer entering the game, began to heat up at this point, knocking in two of his four first-half 3-pointers to push KU to the 40-point mark with more than five minutes still to play in the half.
42-17, Kansas, 5:23. Timeout Toledo.
"It feels good when the other team has to call a timeout to regroup from a run we're on," Lightfoot said after collecting six points, four rebounds, a block and a charge taken in 21 minutes. "The ball was going in, Devonte' played amazing and it's pretty cool to be a part of that."
It was at this point that Malik Newman (17 points) decided to get into the action. His layup and 3-pointer in a three-possession stretch, bookended another Graham 3-pointer and that sequence capped the 32-3 run that was finally and not-so-mercifully stopped when Toledo scored back-to-back buckets for just the second time in the game's first 33 minutes.
"We just wanted to come out and be aggressive," Newman said. "It was we score, they score, we score, they score and that's not Kansas basketball. That's not us. So we had to come together as five and that's what we did."
From a 16-14, grind-it-out type of game to a 48-17 Kansas runaway in just 8:30.
"It's always in your mind, like, 'If we can go on a run, we can get a little separation and get a comfortable lead," Newman added. "But it's never, 'Hey, we're on a big run, let's try to keep it going.' It's always one stop at a time, one possession at a time. That's just how we go about it."
Most of what happened before and after KU's devastating run mattered very little anywhere but the stat sheet.
That includes the 14-0 run the Jayhawks used to build a 42-point lead at the start of the second half, the fact that the Rockets set their season high for turnovers with nearly five minutes still to play in the first half or even the fact that the KU defense held Toledo scoreless for the first 3:56 of the first half and the opening 5:27 of the second half.
The victory improved KU to 6-0 for just the sixth time in the Bill Self era and brought the Jayhawks to the brink of the portion of their non-conference schedule that will look vastly different, starting with a showdown against unbeaten Syracuse on Saturday in Miami.
"We've done about as well as we can do, based on the games that we've played," Self said. "But, you stop and think about it, you've got Syracuse, Washington, Arizona State, Nebraska, Stanford, to finish out our non-conference. There's no (easy) games in there. So, yeah, our schedule's just starting."
---
More news and notes from Kansas vs. Toledo
---