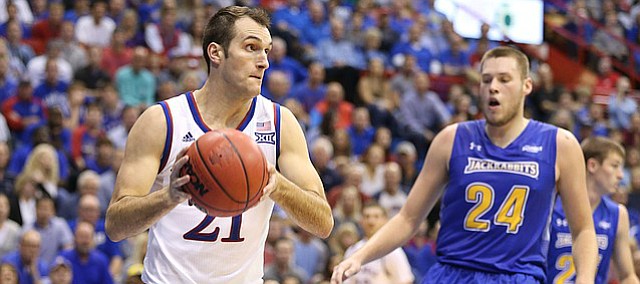 Blending with stars from the perennial national powerhouse Kansas basketball team and trending on Twitter, senior forward Clay Young had an even more memorable Friday night than the luckiest of college students.
A senior walk-on from Lansing High and Kansas City Kansas Community College, Young didn't stand out during his 12 first-half minutes in KU's 98-64 clobbering of South Dakota State in front of 16,300 fans who appreciated his performance.
For a walk-on, not standing out is a good thing because it means he's fitting right in and that's what Young did for the short-handed Jayhawks.
It's easy for some walk-ons to look a touch awkward by comparison to the sort of highly skilled athletes who run and jump, shoot and dunk for Kansas. Young didn't. Instead, the 6-foot-5, third-year Jayhawk looked as if he had been paying close attention to how coach Bill Self likes the offense to run, even though Young's always running the opponents' plays in practice as part of the scout team.
He made two nifty passes from under the basket, pitching to Lagerald Vick, who was cutting down the right side of the lane and took it up and under for a smooth reverse lay-in, and from a similar spot on the floor, spotting Malik Newman alone in the right corner. a pass Newman turned into three points.
"I definitely didn't expect to go in like four minutes into the first half of an actual game, so that's definitely different from what I expected, but I just have to be ready for when my name's called," Young said.
Photo Gallery
Kansas basketball v. South Dakota State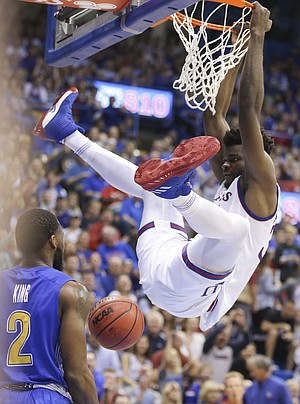 View a gallery of images from Friday night's game between the Jayhawks and Jackrabbits at Allen Fieldhouse.
Opening the curtain for a peek into the role of a red-team player, Young said he and fellow walk-on, freshman Chris Teahan (a 3-pointer and three rebounds) and KU's transfers rehearse running the next opponent's offense before practice when the scholarship players hit the weight room.
"We scout South Dakota State the same way we scout Kentucky," Young said. "It kind of helps me too. I'm not used to going in and having to play meaningful minutes, but by me knowing their plays personally out there running them so our guys can know them helps me know the scout even better probably."
Young averaged nine points and six rebounds as a senior at Lansing High and averaged 10 points and 5.6 rebounds in his freshman season at Kansas City Kansas Community College.
He tore his anterior cruciate ligament in the second game of his sophomore season at KCKCC and saved that year of eligibility as a medical redshirt, which made him eligible for three seasons at KU.
Young played 12 minutes last season, 17 as a sophomore.
He entered the night with 34 career minutes, seven points, eight rebounds and an assist and a career minutes high of five, which came in this season's opener against Tennessee State.
The son of Baker University athletes Tom, a basketball player, and Teresa, a softball player, Clay also has a younger brother, Trevor, who is a member of the KCKCC basketball team. Young's an athlete all right, just not the high-flying, rim-rattling sort we're used to watching play for Kansas.
A number of circumstances had to go wrong for Young to nudge his way into the first-half rotation.
McDonald's All-American freshman Billy Preston watched from the bench, wearing sweats and eyeglasses, as the probe into the "financial situation" of the car he was driving when he damaged the vehicle's tires on a curb continues.
Starting center Udoka Azubuike and reserve Mitch Lightfoot (fouled out in seven minutes) picked up two first-half fouls, opening playing time that Young maximized.
ESPN commentator Fran Fraschilla, in Kansas City for the CBE Classic, came in early to catch the game and tweeted about Young: "Was a little worried when Clay Young picked up his 2nd foul but @CoachBillSelf staying with him."
Too bad Young won't see it.
"I don't even have a Twitter," Young said, proving he's the model walk-on doing nothing to call attention to himself.
"Solid," Fraschilla said of Young after the game. "I didn't even mean it (his tweet) as a left-handed compliment. They needed him and he came in and played well. Why not give him credit?"
Why not, indeed.
---
More news and notes from Kansas vs. South Dakota State