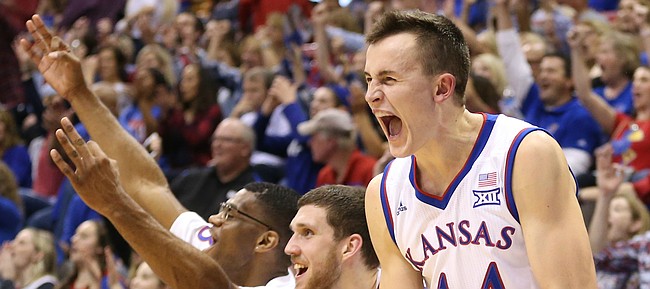 Bill Self would've been just fine if the topic never came up.
After notching his 419th victory at Kansas, 98-64 over South Dakota State on Friday, the KU coach was asked moving into sole possession of second place on the all-time wins list at KU.
Self, who pulled even with former KU coach Roy Williams (418 wins at KU) with a 65-61 victory over Kentucky on Tuesday, didn't seemed too enthralled by making that piece of history.
"That's not really something that needs to be talked about," Self said. "I knew that we had the same number after the last game. And I swear I haven't thought about it, because I've had other things to think about to be honest. ... I won't think about it again after we leave here."
As it sits, Self required 507 games to reach his current mark. Self holds a career .826 winning percentage at KU, which includes a 222-10 mark in Allen Fieldhouse (.957).
Williams, on the other hand, coached in 519 games before departing for North Carolina following the 2002-03 season. He compiled a mark of 418-101 in 15 seasons at KU. This season is Self's 15th at KU.
"He's a great coach. He's a Hall of Famer," said Svi Mykhailiuk of Self. "I would say it's a once in a lifetime opportunity to play for a coach like that and just to make history."
Now the only name remaining ahead of Self's is that of Phog Allen, who spent 39 years at the helm of the program. Allen tabbed a record of 590-219 (.729) in his time with the Jayhawks.
Self, whose KU teams have averaged 29.7 wins per season, would need to coach for just under six more years at that pace to break the mark.
"We've won a fair share in large part because we've had better players," Self said. "It's nice, but that won't register as an accomplishment, though, at all."
Photo Gallery
Kansas basketball v. South Dakota State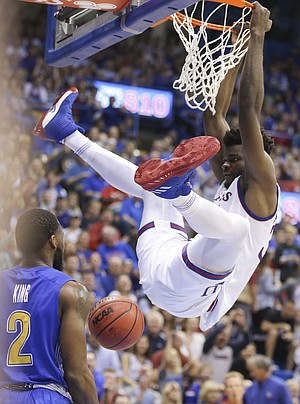 View a gallery of images from Friday night's game between the Jayhawks and Jackrabbits at Allen Fieldhouse.
Larry Legend Jr.
On Thursday, Self compared South Dakota State's Mike Daum to a poor man's Larry Bird. Daum, a 6-foot-9, 250-pound forward, averaged 25.1 points per game as a sophomore, topping out with 51 points in a game at Fort Wayne.
Daum got off to a slow start, scoring eight points on 2-for-8 shooting in the first half. He finished the game with 21 points and 11 rebounds in 27 minutes.
"I think he could've had a big night," Self said. "He missed some open looks to start the game. … The second half, he made the same shots he missed."
Self pointed to three missed 3-pointers by Daum with Udoka Azubuike guarding him as to why he didn't have a bigger game. One thing he did do effectively, though, was get the KU bigs in foul trouble.
After Azubuike and Mitch Lightfoot picked up fouls in the first three-and-a-half minutes of Friday's game, Self wasted little time in deploying Clay Young. The move caught even Young off guard, but he held his own in a career-high 18 minutes (12 in the first half).
"Their guy can get you in foul trouble, but we just jumped around, went for every fake," Self said. "Had no discipline it seemed like — 'Dok and Mitch."
Podcast episode
Kansas basketball coach Bill Self said Svi Mykhailiuk (career-high 27 points) "showed tonight what we've been kind of waiting to see." Self adds comments on playing Clay Young for a majority of the first half and Billy Preston sitting out another game.
Ball security
The Jayhawks went the entirety of the first half without committing a turnover on Friday, marking the first time a KU team had done that since a win over Texas on Jan. 24, 2015.
"Well they don't pressure," Self said. "Which is still fine, I mean you can still turn it over. … I thought we were better with the ball."
KU's first turnover was charged to Mitch Lightfoot at the 11:27 mark in the second half, as SDSU's Reed Tellinghuisen came away with a steal. The Jayhawks would finish the game committing only seven turnovers, with three being charged to the walk-ons, Young and Chris Teahan, in the final three-and-a-half minutes.
"Usually when you don't turn it over, it's because you're not taking enough chances," Self said. "I'm not sure that was the case tonight."
This and that...
KU improved to 3-0 all-time vs. South Dakota State… KU started the season 3-0 for the first time since 2013-14… Mykhailiuk's 27 points on Friday marked his fifth straight scoring in double-figures, the longest active streak on the team… The win was KU's fifth-straight at Allen Fieldhouse after seeing the previous streak of 51-consecutive wins ended at the hands of Iowa State... Chris Teahan's 3-pointer with 1:30 remaining marked his first points as a Jayhawk... Young (18) and Marcus Garrett (30) each set career-highs for minutes played... Azubuike is now shooting 90.5 percent from the field this season, making 19 of his 21 field goal attempts... The game marked Malik Newman's first start at Allen Fieldhouse.
---
More news and notes from Kansas vs. South Dakota State