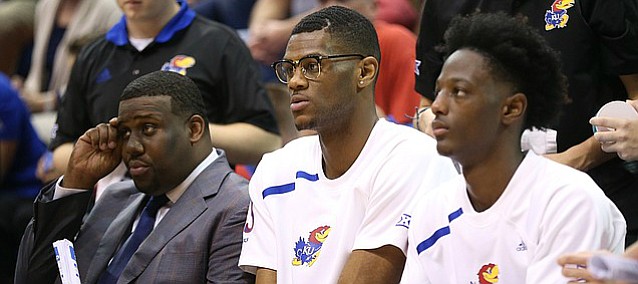 Three games into the season, freshman Billy Preston still hasn't made his debut for Kansas basketball.
As was the case earlier in the week versus Kentucky, in Chicago, KU head coach Bill Self kept the 6-foot-10 McDonald's All-American out of the lineup, as the university looks into a potential compliance issue with a vehicle Preston was driving during a single-car, no-injury incident this past weekend.
Following the Jayhawks' 98-64 victory over South Dakota State Friday night at Allen Fieldhouse, which Preston watched from the bench, Self said no progress had been made on the matter.
"No. Not to my knowledge," Self said during his post-game press conference. "I haven't heard anything to that regard from my administration."
Podcast episode
Kansas basketball coach Bill Self said Svi Mykhailiuk (career-high 27 points) "showed tonight what we've been kind of waiting to see." Self adds comments on playing Clay Young for a majority of the first half and Billy Preston sitting out another game.
KU officials have not offered specifics on what the compliance department is reviewing, other than it wants to obtain "a clearer financial picture specific to the vehicle." Compliance officers can review many matters, including whether players have received gifts or other items that would be an impermissible benefit under NCAA rules.
After finishing his prep career at Oak Hill Academy (Va.), Preston was ranked the No. 10 player in his recruiting class by Rivals.
Self also held Preston out of KU's season opener, Nov. 10, due to Preston missing curfew and class in the 24 hours leading up to the game.
The last time Preston suited up for Kansas, he scored 11 points in 23 minutes against Fort Hays State, in the team's final pre-season exhibition.
Since the incident with his car and KU's ensuing wait-and-see approach in regards to making him available, Self said Preston has handled things "pretty well."
"I think he's been pretty mature," Self said. "He's obviously disappointed and frustrated, as everybody is. But I think he's handled it better than I probably would if I was a kid in his situation."
---
More news and notes from Kansas vs. South Dakota State