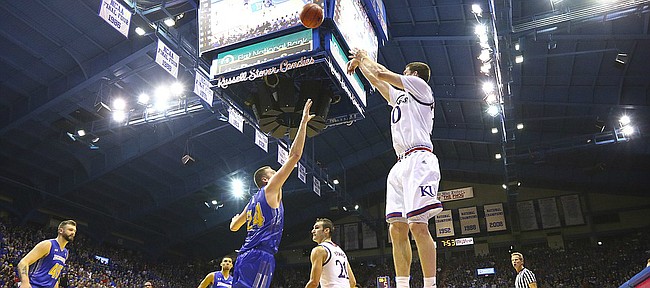 In order for a tired group of Jayhawks to handle their business Friday night at Allen Fieldhouse, one of the Kansas basketball team's seven scholarship players needed to step to the forefront early and plant some seeds of doubt in the minds of their opponents from South Dakota State.
On this particular night, the role of Jackrabbits dream-crusher belonged to senior Svi Mykhailiuk.
The 6-foot-8 wing from Cherkasy, Ukraine, scored early and often en route to a career-best 27 points for No. 4 Kansas, igniting a 98-64 thumping.
"We always try to come to the game ready," Mykhailiuk said after shooting 10-for-17 from the field and a scorching 5-for-7 from 3-point range, "because when you're flat or you start off slow, then you let a team know that they can beat you and they can play with you. So we always try really hard to not let them score."
Photo Gallery
Kansas basketball v. South Dakota State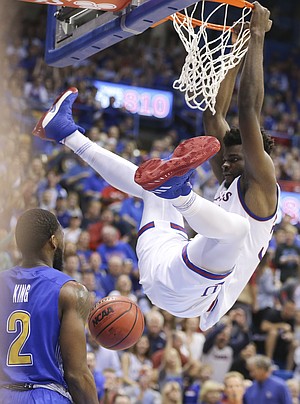 View a gallery of images from Friday night's game between the Jayhawks and Jackrabbits at Allen Fieldhouse.
Although senior point guard Devonté Graham missed KU's initial shot of the night on the first possession, the Jayhawks raced out to a quick 20-4 lead by connecting on their next eight attempts. Mykhailiuk's hot start fueled the run, as he made three field goals and scored seven points less than four minutes in.
Mykhailiuk didn't let up, either. After his drive and lay-in marked the end of KU's made-basket stretch, the senior wing stayed in attack mode. In less than a minute's time, Mykhailiuk scored another lay-in, knocked down a corner 3-pointer in transition and threw down a transition jam after making a steal, moving the ball to Graham and taking off the other direction.
His two-handed jam gave Kansas a 27-12 lead less than eight minutes in.
"I've been working at this all the time," Mykhailiuk said of becoming a more complete threat on the court for KU (3-0), "just to get better as an overall player and not just a shooter. Drive the ball, doing different moves, finish different ways."
While outdoing his previous personal best of 23 points (versus Austin Peay in the 2016 NCAA Tournament), Mykhailiuk also contributed five rebounds, four steals and an assist in just the third 20-point game of his career.
Kansas head coach Bill Self, though, hadn't demanded his fourth-year scorer take a more assertive approach.
"It kind of happened. He shot the heck out of it in our shoot-around today, too. He's just confident right now," Self said.
Self could see his smooth-shooting guard trending in the right direction the past few weeks.
"So he's been on an uptick, and he played good against Kentucky, also," Self said of Mykhailiuk's 17 points, three assists and three rebounds three days earlier. "He was aggressive and made some nice plays. He doesn't rebound the ball. You go back and watch the tape, there were some balls he should've got. But he was aggressive and he showed tonight what we've been kind of waiting for and waiting to see, for him to come out and score a lot of points in bunches."
Podcast episode
Kansas basketball coach Bill Self said Svi Mykhailiuk (career-high 27 points) "showed tonight what we've been kind of waiting to see." Self adds comments on playing Clay Young for a majority of the first half and Billy Preston sitting out another game.
Junior guard Lagerald Vick showed some of those scoring traits, too, putting up 22 points on 9-for-12 shooting, with seven boards, three assists and a block against South Dakota State (3-1).
"I think, you know, we played fine. But I think Lagerald could be a great defender and he's not that yet," Self offered. "So I would say with him for sure he can be more active."
Down in the paint, where KU out-scored the Jackrabbits 38-28, contributing to a high-percentage shooting night of 61 percent, sophomore center Udoka Azubuike delivered 17 points, primarily through dunks and layups, going 8-for-9 from the floor.
Mykhailiuk said the 7-footer's physical presence put he and Vick in good situaionts.
"Every time we're throwing it in they can't guard him. They've got to double-team him and we always have the open shot," Mykhailiuk said. "Like at the beginning of the game that's when we got an easy layup, Lagerald made two shots, and sometimes they were just trapping (Azubuike) and we were getting open shots."
By halftime, seconds after his left-corner 3-pointer sent the Jayhawks to the locker room with a 57-28 lead, Mykhailiuk already had produced more points (19) than he had in either of the season's first two games.
Mykhailiuk, like most of his teammates in the first 20 minutes, when the Jayhawks shot 21-for-33 (64 percent), often overwhelmed the Jackrabbits' defense, going 8-for-13 from the floor and 3-for-5 from behind the arc.
"We shot it well," Self said, "we moved it pretty good. Our first-shot defense wasn't awful, but we didn't rebound great by any stretch."
SDSU, led by Mike Daum's 21 points and 11 rebounds, made just 33 percent of their shots but out-rebounded KU 41-32.
Fatigue might have impacted Kansas on some fronts, as the team again played without Billy Preston, leaving freshman Garrett, sophomore Mitch Lightfoot and walk-on senior Clay Young as the only players to turn to off the bench.
Self deemed Graham, who shot 2-for-7, scored eight points and passed out 11 assists, as OK. While sophomore guard Malik Newman scored 13 points on 4-for-7 shooting.
Mykhailiuk might have done even more for Kansas had he not been dealing with cramps, beginning at the midway point of the second half.
"I've never had that problem before. I think it was kind of hot in the gym today and I was just sweating a lot. I just started cramping for no reason," Mykhailiuk explained.
Self wasn't especially surprised so many of his rotation players looked worn down in the victory.
"You've also got to understand: we played Kentucky and played six players and got in at 4 o'clock in the morning, too. And slept a little bit that night. There's a reason why we're tired," he said. "We'll take (Saturday) off, we'll go practice on Sunday and I can't believe we can't be ready to go on Tuesday."
As the coach referenced, the Jayhawks return to Allen Fieldhouse Tuesday to play host to Texas Southern.
---
More news and notes from Kansas vs. South Dakota State