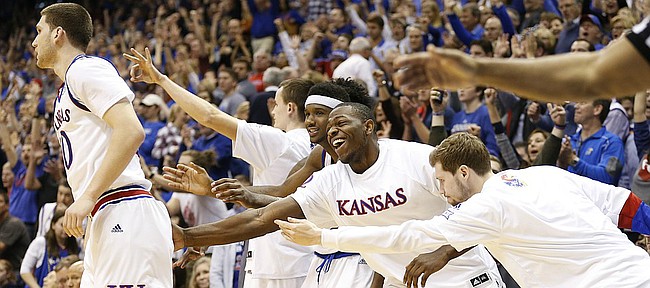 It's not often that what happens in the first 4:19 of a college basketball game teases how things will read when the final horn sounds at the end of the second half.
But that was exactly the case Saturday afternoon at Allen Fieldhouse, where the second-ranked Kansas men's basketball team used a wild, 14-2 rush to open the game to pick up a 79-67 victory over visiting Texas.
"I think that's the best we've started a game," said KU senior Frank Mason III after finishing with 17 points and seven assists in 34 minutes.
The win marked KU's 18th in a row this season, seventh in a row to open Big 12 play and 50th consecutive victory at Allen Fieldhouse.
Photo Gallery
Kansas basketball v. Texas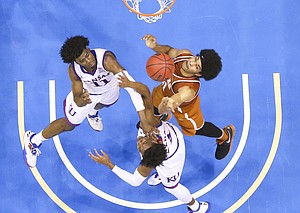 View a gallery of images from Saturday's game between the Jayhawks and Longhorns at Allen Fieldhouse.
And it came despite the Longhorns showing they came to create havoc before the game even began.
Twice during Saturday's pre-game shoot-around, a feisty and fired-up Texas squad made moves to establish their presence. The first came when KU junior Devonte' Graham missed a half-court practice shot before heading back to the locker room and saw a UT player step to nearly the same spot and drain one just seconds later.
The second came on the very last shot of warm-ups, when a 3-point attempt by KU junior Sviatoslav Mykhailiuk (12 points, 2-of-4 from long range) was swatted out of mid-air by UT guard Kerwin Roach as it approached the rim.
The two gestures may not have inspired much more than a chuckle and a roll of the eyes from the players on the home bench, but it went down as the proverbial poking of the bear that the Longhorns paid for dearly during that 14-2 run by Kansas less than five minutes into the game.
"That's all right. I knew I was gonna make that shot so it doesn't matter that he did that," Mykhailiuk joked. "We just came in focused, ready to play and played really good defense. That's what got us to (14-2). That just shows when we turn up we can play really good defense and don't let 'em score."
Texas' intimidation tactics did not subside once the game began. Midway through the first half, after Eric Davis Jr., drained a three to pull the Longhorns (7-12 overall, 1-6 Big 12) within seven with 9:30 to play, Davis started barking at KU freshman Josh Jackson, who briefly said something back and then turned to the official and pointed Davis' way.
Later, after Jackson was fouled while posting up a smaller Texas player — something he did with great success throughout the day — an easy layup that did not count was poked back up through the net by a UT defender. Instead of letting the shenanigans fly, Jackson grabbed the ball and put it back in the basket.
Asked after the game if sensing that kind of challenge and intensity from an opponent brought out the fire in the Jayhawks, the KU freshman who finished with 15 points on 6-of-14 shooting lit up.
"Oh, definitely," Jackson said. "It makes it more fun. It definitely does.... We're all competitive. We all just want to go out there and compete."
Behind the energy and juice of four steals in the first four minutes — KU finished with 10 in the first half and 14 for the game — the Jayhawks raced out to the early 12-point lead and left Texas coach Shaka Smart looking helpless on the UT bench.
After calling timeout to calm his team down, Smart watched the Longhorns trim the Kansas lead to single digits twice in the next four minutes. Each time, Kansas responded with a 3-pointer, the first coming from Lagerald Vick and the second from Jackson.
Even after starting in a deep hole, Texas got a crack to climb all the way back and tie the game with just under six minutes to play in the first half, but an open 3-point look from the wing by Eric Davis Jr., missed short and 10 seconds later, KU freshman Mitch Lightfoot tipped in a Kansas miss to maintain the Jayhawks' breathing room.
Two minutes later, after a pair of 3-pointers from Devonte' Graham and another from Svi Mykhailiuk in the corner after a sweet feed from Jackson in the high post, the Jayhawks' lead was back up to 10, 35-25, with 3:31 to play in the half.
From there, the two teams basically traded buckets and Kansas took a 41-33 lead into the half.
The Jayhawks shot 50 percent from 3-point range in the first half, draining seven of 14 shots from long range, but it was the timely nature of those makes that had Smart shaking his head and Self smiling.
"We had some times when we thought we could get even or even ahead, but Kansas had an answer every time and that's what great teams do," Smart said.
Backed by a monster game from freshman and former Kansas target Jarrett Allen, who finished with game-highs of 22 points and 19 rebounds (seven offensive), Texas never went away in the second half, continually trimming the Kansas lead to five or six points only to see the Jayhawks (18-1, 7-0) bump it back up to eight or nine a couple of possessions later.
It wasn't until junior guard Devonte' Graham, who scored 15 in the first half and finished with a team-high 18 points, buried a 3-pointer from in front of the Kansas bench to put KU up 12 with just over a minute remaining that the outcome was determined.
"That was the nail," Self said of Graham's fourth and final 3-pointer of the day. "We were so good early, you're not gonna keep playing that way. We kind of staggered 'em early and then the law of averages prevailed and they fought back.... We were really good early and then we got really average but made enough plays in the second half.
"It was a good win and what it does is sets up what is a huge week, probably about as big of a next two weeks as we've had in several years."
Kansas will travel east to take on West Virginia on Tuesday before playing at Kentucky on Saturday and returning home for a showdown with Baylor on Feb. 1.
All three teams currently are ranked in the Top 10. The last time Kansas faced three Top 10 games in a row came in the 2012 NCAA Tournament, when the Jayhawks beat No. 4 North Carolina in the Elite Eight, No. 7 Ohio State in the Final Four and fell to No. 1 Kentucky in the national title game.
— See what people were saying about the game during KUsports.com's live coverage.
---
More news and notes from Kansas vs. Texas
---