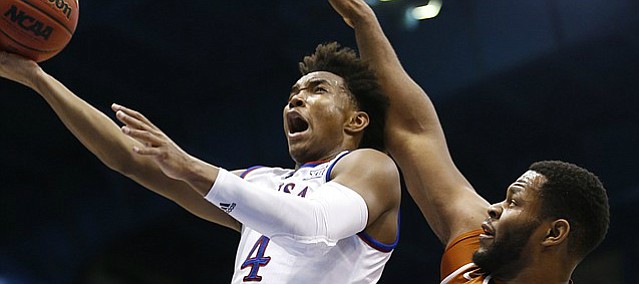 Playing so fast, yet so under control, junior guard Devonte' Graham gave his team such a big early cushion with which to work, an 18th consecutive victory never felt in jeopardy for Kansas, which dropped Texas, 79-67, Saturday in Allen Fieldhouse, where the Jayhawks have won 50 in a row.
Seven early points from Graham gave KU a 14-2 lead. Texas fought back and Graham responded with six points in the final 4:57 of the first half.
He led Kansas with 15 first-half points and then did what he usually does when he reaches double-digit points in the opening 20 minutes. Graham became a facilitator, so much so that he took just one second-half shot and nailed it from deep in the left corner, a dagger that gave KU an insurmountable 12-point lead with 1:07 left.
Graham's always hunting victories, which of course is all that really matters, but when he's as hot as he was in the first half, why not keep hunting shots?
"I don't know why I'm doing that," Graham said. "Sometimes I have a nice little first half and don't score in the second half. I don't have a problem with that. I'm just trying to make plays and still be aggressive."
Photo Gallery
Kansas basketball v. Texas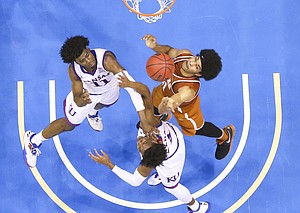 View a gallery of images from Saturday's game between the Jayhawks and Longhorns at Allen Fieldhouse.
Graham played 36 minutes and it wouldn't be realistic to expect to him play at the adrenaline level that fueled him in the opening and fourth quarters of the first half, but his pattern of following a loud first half with a blend-in second half is an interesting one.
He finished with as clean a box score line as any coach could ever ask for with 18 points, five rebounds, five assists, no turnovers and three steals. He made 6 of 10 field goals and 4 of 8 3-pointers. Still, the imagination was painting wild numbers based on his start.
It marked the fifth time this season Graham followed a double-digit scoring first half with a pass-first half.
He scored 12 points in the first half vs. UAB, four in the second, 10 in the first vs. Long Beach State, two in the second, a combined 28 first-half points against Stanford and Kansas State, scoreless in those second halves.
In the five first-half flurry games, Graham has attempted just six second-half shots and scored nine points, compared to 65 first-half points. It's nothing that has hurt the team and it's a compliment to his not focusing on points, but it is unusual.
"It's happened too often," Kansas coach Bill Self said. "He's had several games where one half has been polar opposite of the other half. Now, he didn't play bad the second half, but he didn't put himself in position to score near as much, whereas the first half he was looking for his shot."
All that time without attempting a shot didn't cool off Graham.
"He made a big one there when it counted, and certainly you get a guy who has 18 points, five assists and no turnovers, you're not going to say that that's a poor game," Self said. "Obviously, that's a great floor game, but he had the chance to really have a big night tonight and just didn't seem near as aggressive the second half."
Usually Graham's loud half is the first one, although that wasn't the case against Oklahoma State, when he scored 17 of his 21 points after intermission.
Graham and Frank Mason, playing together for three seasons, play as one backcourt instead of two individuals and genuinely don't seem to care who does what when as long as it gets done.
Here's how well they did their jobs Saturday: Graham and Mason combined for 35 points, 12 assists and just one turnover and made 6 of 12 3-pointers. The rest of the team combined for four assists and 15 turnovers.
One of these days Kansas will need to carry a heavy scoring load for both halves and chances are he'll be right there delivering what's needed.
— See what people were saying about the game during KUsports.com's live coverage.
---
More news and notes from Kansas vs. Texas
---