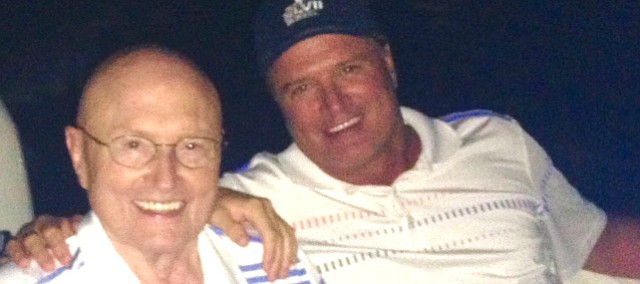 Bill Self Sr. remembers the first time he realized his son was destined to do big things in the game of basketball.
After years of watching current Kansas basketball coach Bill Self both play and aspire to coach the game he loved, the elder Self was there, front and center for every game, when Self got his first shot at competing with the big boys.
That, of course, came at Oral Roberts, where, on two separate occasions, Self's father had an epiphany that his son might be able to last and succeed in the cut-throat world of college basketball.
"Before he left ORU, I saw where he had some coaching ability," recalled Bill Self Sr., during a recent chat with the Journal-World. "And when I saw him coach against Nolan Richardson at Arkansas when he was at ORU and against Eddie Sutton at Oklahoma State, I could see then that he could coach with those guys."
When their careers were finished, Richardson (509) and Sutton (806) combined for more than 1,300 victories. Whether Self winds up passing both of them before his career is finished — he currently has 623 and is winning an average of 30 games a year at KU — remains to be seen. But the 54-year-old Oklahoma native already has proven plenty to his father and thousands of others, with perhaps most overshadowed achievement being him reaching his goal of becoming a Div. I head coach by the age of 30.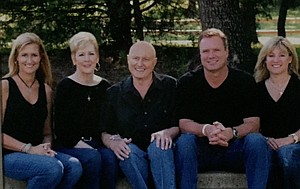 "That was just unbelievable to me," said Bill Self Sr., of the goal Self first shared with him during his junior year of high school.

Self did exactly that, taking over the ORU program in 1993 at the age of 30, and, from there, embarked upon a wild journey that took him from ORU and Tulsa in his home state to Illinois for three years and, ultimately, to Kansas, where he has won at an unprecedented rate and recently earned a spot in the Naismith Memorial Basketball Hall of Fame.
Although his name and fame both have grown throughout the years, Bill Self Sr., said watching his son coach at Kansas today was not unlike his experiences in the early years
"The pressure's a little bit more, being on a bigger stage and all," Self Sr., said. "But it's really not very much different from the time our kids started participating in athletics in grade school or junior high. We still had the same nerves now that we had then. Besides, I'm about like any other fan out there. I'm watching the action."
That was always the case, whether Self was in junior high, high school or playing at Oklahoma State. His father believed that the coaching decisions were best left to the men paid to make them and, as a rule of thumb, he stayed out of it.
A high school coach for four years before moving into administration, Bill Self Sr., never coached his son but sure has enjoyed watching his son coach others.
"Every coach knows the game of basketball, but, besides the fundamentals, I'd say his ability to keep his players cool and not let 'em get too excited in tight situations is what impresses me most," Self Sr., said. "I think he handles that real well. And I have to say that's a little bit of a surprise to me because I wasn't that cool when I was coaching."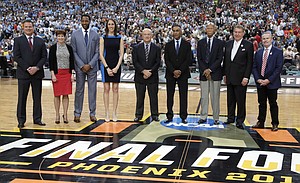 Coaching, in all sports, is filled with tales of famous fathers trying to dissuade their sons from following them into the coaching profession for fear of the long hours, nights away from home and relatively low pay leading to burn out. But that conversation never took place in the Self household.
"I never did discourage him from trying to be a coach," said Self's father, who, himself, led the Morris High girls team to a state title in 1966. "I knew the satisfaction that you got out of making kids better. It's an enjoyable life."
Asked if he had received much feedback from current or former athletes who played for his son, Bill Self Sr., shared a long list of proud memories.
"Oh yeah, constantly," he began. "I couldn't possibly name all the great things they've had to say about him, but if I had to pick one that stood out it would be how people appreciate the relationship with his players."
With Self still considered a young man in college basketball coaching circles and the Jayhawks continuing to set the standard for consistency — Self Sr., said he thought tying UCLA's record of 13 consecutive conference titles played a role in his son getting the Hall of Fame nod this year — those closest to him believe that plenty of good things are still ahead both for Self and the Kansas program.
"Well, his health is good so I would assume he'd do it a few more years," said Self Sr., when asked how long he could envision his son on the sidelines. "I don't expect him to do it until he's 75 like some coaches do, but I think he's got a few years left. Trying to predict how long, I wouldn't attempt to do that, but his golf game is so bad, he can't spend all his time on the golf course. He's the worst putter in the world. So he might as well devote all his time to coaching."
Our Series on Bill Self's Journey to the Hall of Fame
• Hall of Fame Material Part I: Larry Brown 'in awe' of Bill Self's stellar run at Kansas
• Hall of Fame Material Part II: Daughter Lauren most impressed by Bill Self's ability to mentor
• Hall of Fame Material Part III: Frank Mason III knew right away that Bill Self was the coach for him
• Hall of Fame Material Part IV: Doc Sadler says Bill Self same (sarcastic) guy as the day he met him
• Hall of Fame Material Part V: Bill Self's style, passion make Danny Manning a proud alum
• Hall of Fame Material Part VI: Bob Davis cites Bill Self's personal touch as key to success
• Hall of Fame Material Part VII: Tyshawn Taylor and Bill Self close through good times and bad
• Hall of Fame Material Part VIII: Bill Self has 'perfect DNA for the job,' per Roger Morningstar
• Hall of Fame Material Part IX: Opportunity to work with Bill Self icing on the cake of Sheahon Zenger's dream job