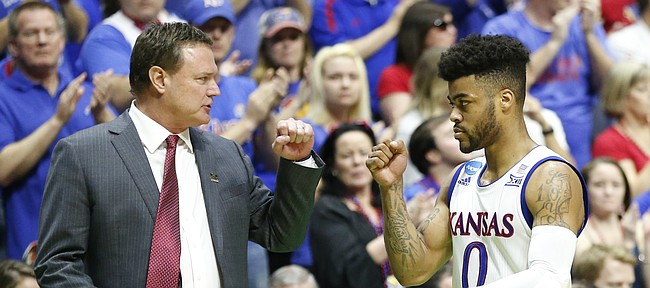 There have been too many to commit to memory, during good times and bad, so Kansas senior Frank Mason III, could not deliver, in a moment's notice, his favorite Bill Self story.
But Mason did recall nearly every detail of the first time he met the man who would coach him to greatness during his four seasons at Kansas, and he was delighted to share the encounter with the Journal-World during a recent interview about his head coach.
"It was actually on my visit," Mason recalled of his first meeting with Self. "We met up at Jefferson's, that was the first place he wanted to eat at, so that's where we went. Obviously the tradition and role that played in my recruitment was important, but I just remember thinking the whole time, 'I want to play for this guy.'"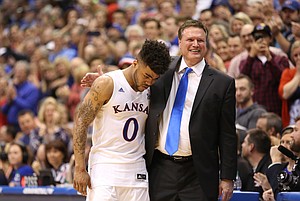 There they sat, over a few plates of wings and baskets of fries, with Self explaining to Mason and his parents all of the wonderful things KU could offer him. No one knew at the time, of course, that one of those things would be nationwide recognition as the college basketball player of the year during his magnificent senior season, but all of the parts of Self that made such an achievement possible for Mason were on display during that initial meal.
"It didn't really take any time to get comfortable with him," Mason remembered. "It was a great lunch, a great meeting we had. Coach had a great personality, he was just goofy, laughing around and he just interacted with me and my parents really well."
With the wings barely digested and his head still spinning from the opportunity at his feet, Mason did not need long to say yes to all that Self had to offer.
"I made my decision a few hours afterward," Mason remembered with a smile.
Judging by the fact that Mason said on Senior Night that he would sign up to play at Kansas for the next four years if he could — adding, "I swear I would" for emphasis — that decision turned out to be one of the best of Mason's life.
During the next four years, in which Mason became the sixth leading scorer in KU history, Self and his point guard operated on a similar wavelength during games, in practices, on road trips and in meetings. Neither Self nor Mason likes to spend much time talking about himself, and Mason said that mentality helped the two develop a quick bond.
"It's great because I'm the same way," Mason said when asked about Self's style of constantly deflecting credit elsewhere. "I think about the team first and how we can get better and things like that."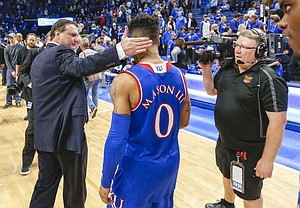 As for the traits, in his eyes, that make Self a Hall of Famer — the KU coach will learn Saturday in Arizona if he is a part of the Naismith Memorial Basketball Hall of Fame's 2017 class — Mason just as easily could have been talking about himself as well as his coach.
"I think just his passion and how much knowledge he has for the game. He brings it every day to practice," Mason said. He's been here almost more than I've been alive and we just try to focus in on what he wants every day and what he wants because those adjustments are what make us successful."
It's facts like that and stories like the one about that initial meeting that first come to mind when Mason thinks about why Bill Self is worthy of inclusion in the Hall of Fame.
Mason stresses that Self's knowledge of the game is off the charts and that his passion for coaching, developing players and inspiring greatness are nearly unmatched in the college game.
But it's those things along with the human side of Bill Self that make him a Hall of Famer, according to Mason.
"He does a good job of preparing us every day, on and off the court, and that's so key to our lives," Mason said. "I think Coach Self deserves it. Just look at the numbers and the history he's been a part of here, and even before here. It's just unbelievable what he's been able to do."
---
• Hall of Fame Material Part I: Larry Brown 'in awe' of Bill Self's stellar run at Kansas
• Hall of Fame Material Part II: Daughter Lauren most impressed by Bill Self's ability to mentor