He played for Larry Brown at Kansas, was coached by John Thompson on the U.S. Olympic team and has been in contact with more than a dozen other Hall of Fame coaches during his playing and coaching career.
So when former Kansas standout and assistant coach Danny Manning says that KU coach Bill Self belongs in the Naismith Memorial Basketball Hall of Fame, the words tend to carry a fair amount of weight.
"No brainer," Manning recently told the Journal-World when discussing Self's journey to join the Hall of Fame, which will reveal the members of this year's class today in Arizona. Various reports from the desert Friday night indicated Self had enough votes to get in. "The things that he's done at the University of Kansas, basketball-wise, as well as with his contribution to the community and the area in general, make me extremely proud to be an alum, not only of the school but also of the program."
Having recently wrapped up his third season in charge of the Wake Forest basketball program — this one ended with an NCAA Tournament berth — Manning, 50, has spent more than a little time during the five seasons since he left his post as a Self assistant trying to replicate at least some of what Self has accomplished.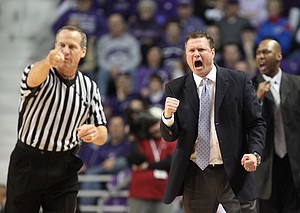 Every bit the competitor that Self is, Manning does not quite hold himself to the standard set by Self at KU. But while the ridiculous home record (221-10), insane .827 winning percentage or 13 consecutive conference titles and counting are tough to copy, the aspect of Manning's style that he believes is most important was one he picked up from his former boss.
"I have kind of a banking system with my players," Manning explained. "In order to coach 'em hard, you gotta put your deposits in the bank with your team and your players. And that's something I definitely picked up from Bill Self. Anybody that's ever played for him, at the end of the day when they were done playing for him and had gotten older, they knew how much he cared for them because he pushed them to be the best they could be every day.
"You can coach 'em hard, but you gotta love 'em, too. They've gotta know that you care for 'em by how you treat them in areas that aren't just basketball related and he's terrific at that."
Not surprisingly, Manning said Self also possessed a few traits that reminded him of Brown, the man whom Self began his coaching career under as a graduate assistant at KU in 1985-86.
"They both have a relentless obsession with doing things a certain way, just in terms of, this is who we are, this is how we play and this is how we represent ourselves," Manning said. "Coach Brown was extremely big on that and Coach Self is, as well."
Like any coach who has had success at various stops, himself included, Manning said Self's similarities to Brown were more philosophical than anything.
Self has taken bits and pieces of what he has learned from a handful of mentors and incorporated them into what Kansas fans see year after year.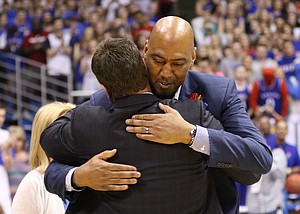 "His decision-making on the fly, being able to switch things up, change things up, being able to recognize and develop schemes offensively and defensively to attack different looks is something that I picked up from him as well," Manning shared.
While some of that shows up on the court — emphasis on defense, playing fast, playing through big men as often as possible — the rest is evident in how Self operates away from the bright lights. Whether that's clowning around with players during practices, spending quality time with them at team meals or simply texting them at random times throughout the season to check on their well being, school work or anything else they may need to talk about, Self has made himself available to every player on his team at a moment's notice during good times and bad.
According to Manning, that aspect of Self's style and stellar career, along with his record on game nights, is what makes him worthy of inclusion in the Hall of Fame as much as anything else.
"The way he relates to people is unique," Manning said. "I can't think of one home that we walked into when I was working for him that he didn't feel comfortable and he didn't make everyone in that room feel comfortable as well. That is uncanny."
---
• Hall of Fame Material Part I: Larry Brown 'in awe' of Bill Self's stellar run at Kansas
• Hall of Fame Material Part II: Daughter Lauren most impressed by Bill Self's ability to mentor
• Hall of Fame Material Part III: Frank Mason III knew right away that Bill Self was the coach for him
• Hall of Fame Material Part IV: Doc Sadler says Bill Self same (sarcastic) guy as the day he met him