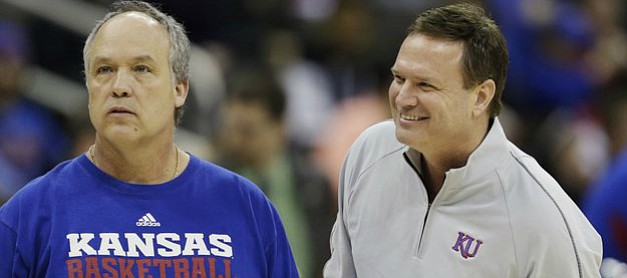 Coaching at a junior college known at the time as West Ark, Doc Sadler remembers the day he met Bill Self, then an Oklahoma State assistant coach watching a game at Connors State on a 1989 recruiting trip.
"He told me this one time, and I've never forgotten it: 'It's a great job, but don't ever quit having fun doing it.' And I think he's that guy," said Sadler, now head coach at Southern Miss. "Some people who have the success he's had take themselves too seriously. He's never changed since the first day I ever met him. And that's just him."
Sadler, who worked a year for Self after losing his head coaching job at Nebraska, shared an example of Self keeping the job fun.
"This is Bill:" Sadler said, "When I'm working for him, I'm working his fantasy camp and my team won a game in the fieldhouse. So that night, in front of the whole group, he presented me a game ball, congratulating me on my first win in Allen Fieldhouse. I won't tell you what I said to him."
Sadler will tell you that he has that basketball in his office and it brings a smile to his face every time he looks at it.
"Heck yeah, I still got it," Sadler said. "He signed it and everything. That's just him, always trying to make you laugh."
Sadler spent one year (2012-13) as a non-recruiting staff member for Self and then went to Iowa State as a full-fledged assistant to Fred Hoiberg.
"I told Bill if he gets into the Hall of Fame, I helped him because I never did beat him," said Sadler referencing Self's standing as a finalist for this year's class. "Came close a few times, but never did beat him, so a lot of the wins that he got were because of me."
Sadler went 48-18 in two seasons at UTEP and then spent six seasons at Nebraska, where he went 0-11 against Self.
"I mean, he's the most unbelievable friend," Sadler said. "Everybody knows about his coaching. They get that. But to have the ability to get the best out of people around him is what separates him from a lot of people."
Equal parts intense and funny, Self left an early impression on Sadler.
"There was always just something about him," Sadler said. "A lot of people ask you why is an NBA player an NBA player and you can't tell them and you just tell them that it's something they got. Well, coach has always had that something that you got. You can't put your finger on it."
Sadler was able to put his finger on one obvious Self trait.
"All the successful people I've been around are smart," Sadler said. "And he's very, very smart."
The names of those honored in the Naismith Memorial Basketball Hall of Fame's 2017 class will be revealed Saturday in Arizona.
---
• Hall of Fame Material Part I: Larry Brown 'in awe' of Bill Self's stellar run at Kansas
• Hall of Fame Material Part II: Daughter Lauren most impressed by Bill Self's ability to mentor
• Hall of Fame Material Part III: Frank Mason III knew right away that Bill Self was the coach for him