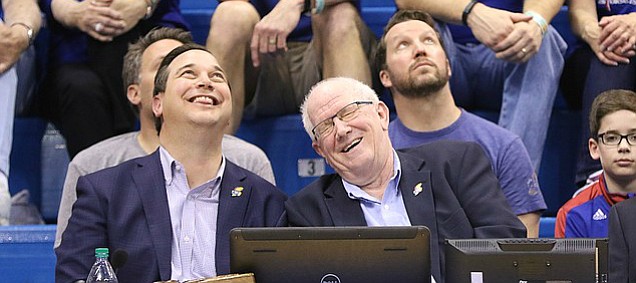 The Naismith Memorial Basketball Hall of Fame is named after Kansas' first and only losing coach, James Naismith. KU's winningest coach, Phog Allen (590 victories), was a member of the first Hall of Fame class of inductees in 1959.
And Bill Self became on Saturday the third consecutive Kansas coach voted into the Hall of Fame, following Larry Brown (2006 induction) and Roy Williams (2007).
"It's a cradle of Hall of Fame coaches," retired broadcaster Bob Davis said of the Kansas basketball program.
Davis would know. He was play-by-play man for 4 of 5 of Brown's seasons, all 15 of Williams' and all but the most recent of Self's.
Three great coaches with distinct styles.
"He's the whole package," Davis said of Self. "He's a great game coach and a tremendous recruiter. The thing he does that's different is that Bill is such a people person. He remembers everybody's name and remembers things about them."
Davis reenacted an example of that quality: 'I recruited you at such and such. I remember going to your house and you had that basement with that pool table down there and your mother baked chocolate chip cookies.'
"That's who he is and it serves him so well dealing with people," said Davis, inducted last fall into the Kansas Sports Hall of Fame. "The basketball part of it, he was influenced by a lot of people — Larry here, Leonard Hamilton and Eddie Sutton were influences on him at Oklahoma State — and Bill's always been good about sharing the credit."
Davis remembers the first of many laughs he shared with Self during their time working together.
Davis was calling a Kansas City Royals game and his son Steven was working in the TV truck that day, the day Self flew into Lawrence with his family.
"I told Steven (now voice of UMKC basketball and the Double A Arkansas Travelers) if the game gets over in time we'll hustle back to Lawrence and I'll introduce you," Davis said. "So we get back to Lawrence and (then assistant athletic director) Richard Konzem is giving Bill and Cindy a tour."
Davis, who had come to know Self from his stays at Oklahoma State and Illinois, introduced his son to the coach and told him he was one of the basketball team's managers and had two years remaining.
"Then I told him, 'In fact, I think all the managers are back for you,' thinking that would be good news because it would be a nice, smooth transition," Davis said.
"Bill goes, 'Oh, that's great. We lose (Kirk) Hinrich and (Nick) Collison and all of our M-G-Rs are back.' That's him for you."
The next day, Davis was in the audience at Self's press conference when then-chancellor Robert Hemenway handed Self his official bench chair with his name painted on the back, and Self cracked, "I just touched it and it's already very hot."
To watch Self and Davis interact for any length of time generally means watching them take turns breaking up laughing at each other's stories and barbs.
Kansas went 0-12 in Davis' final football season in the booth and the basketball team lost in the Elite Eight to Villanova, 64-59, prompting Self to tell Davis at a later date, "Kobe scored more points in his final game than you did."
Davis was one of many to blow up Self's phone with a congratulatory text Saturday.
"Congratulations," Davis said he texted. "In a few years you can tell your grandchildren you were admitted to the Naismith Hall of Fame on April Fools Day."
Our Series on Bill Self's Journey to the Hall of Fame
• Hall of Fame Material Part I: Larry Brown 'in awe' of Bill Self's stellar run at Kansas
• Hall of Fame Material Part II: Daughter Lauren most impressed by Bill Self's ability to mentor
• Hall of Fame Material Part III: Frank Mason III knew right away that Bill Self was the coach for him
• Hall of Fame Material Part IV: Doc Sadler says Bill Self same (sarcastic) guy as the day he met him
• Hall of Fame Material Part V: Bill Self's style, passion make Danny Manning a proud alum