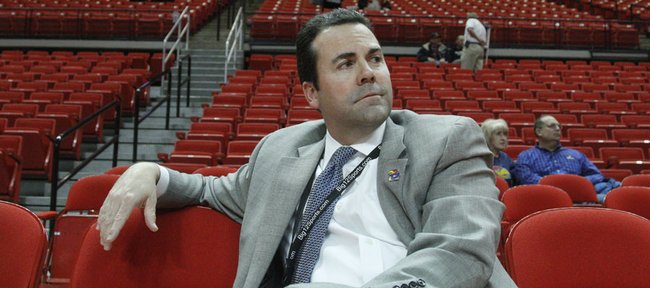 In the business of college sports, no matter where they are working, athletic directors know when they get started the likelihood is high they one day will have to hire and fire a few coaches along the way.
At a place like Kansas, where the basketball program doubles as a religion and is serious business 365 days a year, it was the shine and stability of that program that sat at the top of Sheahon Zenger's list of pros to consider when he was offered the KU AD job back in late 2010.
"Being able to work with a coach like Bill Self, who is one of the absolute best in the business, and knowing that KU was one of the elite programs in the nation, was truly at the top of the list," Zenger said.
Not long after that realization, which took mere minutes, Zenger accepted the job and has been backing Self and the Jayhawks ever since, both at home and on the road, as well as last weekend in Phoenix, where Self was honored as one of 11 members in the Naismith Memorial Basketball Hall of Fame's Class of 2017.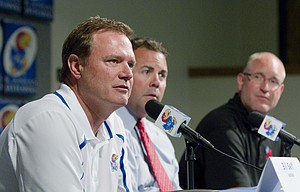 During his six and a half seasons in charge of the KU athletic department, Zenger has watched with pride as Self has guided the Jayhawks to seven Big 12 titles — in a stretch of 13 straight and counting — one national runner-up finish, four Elite Eight appearances, five 30-win seasons and 214 total victories.
"For me personally, I can give you chapter and verse of all the things he's accomplished, as everyone else can," Zenger said. "And that's why he's in the Hall of Fame. But to me, what makes him a Hall of Famer is he's one of the most authentic people I know. He's humble, self-deprecating, what you see is what you get, and that's refreshing. He's a celebrity that doesn't act like it."
Zenger and Self actually knew each other at the surface level long before Zenger's first day on the job in Lawrence. Through mutual friends, the two had known of one another and occasionally had spoken on the telephone for one reason or another.
None of those discussions were more meaningful than the one Zenger had with Self when his former school, Illinois State, was looking to hire a head basketball coach in 2007.
Having received interest from across the country and phone calls of support from a few other major Div. I coaches, Zenger said it was both Self's endorsement and Tim Jankovich's ties to Self's programs that made Jankovich the right hire.
"The quality of the Kansas program and Bill's endorsement, along with the depth of the conversation, was key," Zenger said.
No one could know then, of course, that less than four years later, Zenger would be working with the man who just helped Jankovich land that job.
Among qualities that made Jankovich's candidacy so appealing were the traits he had in common with Self. High intelligence, an emphasis on toughness, discipline and defense, and his relentless work ethic all appealed to Zenger, and it's those same qualities in Self today, among many others, that have Zenger feeling like the luckiest athletic director in the world.
"There's two things, for me, that really set him apart," Zenger said. "First, his ability to push his players hard and love them at the same time is extremely rare. And the second one is one of his core philosophies and he says it over and over but he also lives it — value every possession. I don't care if it's early season, conference play or postseason, every possession is key and he never lets up. His teams, more than any team I've ever seen, follow that and I believe that's where their consistency comes from."
With that consistency comes great expectations. Few know that as well as Self, and few feel the sting of season-ending disappointment quite like Zenger. Not because he takes the losses harder than Self or his players. No chance of that. But instead, because Zenger worries that the seasons that end without Kansas hoisting the national championship trophy bring with them unfair criticism.
"You just never know what each season's going to bring," Zenger said. "But one thing you know at Kansas is, we've watched other programs that have had a great season and then the next season it falls way off. You just never see that here under Coach Self's watch. You know that you're going to be in the hunt every year. This year, the takeaway is 31-5, national player of the year, 13 in a row, Elite Eight and a Hall of Fame coach. Every program in the country would take that.
"Just being at Kansas is no guarantee. He's really a special coach. What he gets out of his team, year in and year out, is so incredible, and even though he's raised the bar so high, it's so important that nobody takes for granted what he's been able to accomplish."
Our Series on Bill Self's Journey to the Hall of Fame
• Hall of Fame Material Part I: Larry Brown 'in awe' of Bill Self's stellar run at Kansas
• Hall of Fame Material Part II: Daughter Lauren most impressed by Bill Self's ability to mentor
• Hall of Fame Material Part III: Frank Mason III knew right away that Bill Self was the coach for him
• Hall of Fame Material Part IV: Doc Sadler says Bill Self same (sarcastic) guy as the day he met him
• Hall of Fame Material Part V: Bill Self's style, passion make Danny Manning a proud alum
• Hall of Fame Material Part VI: Bob Davis cites Bill Self's personal touch as key to success
• Hall of Fame Material Part VII: Tyshawn Taylor and Bill Self close through good times and bad
• Hall of Fame Material Part VIII: Bill Self has 'perfect DNA for the job,' per Roger Morningstar