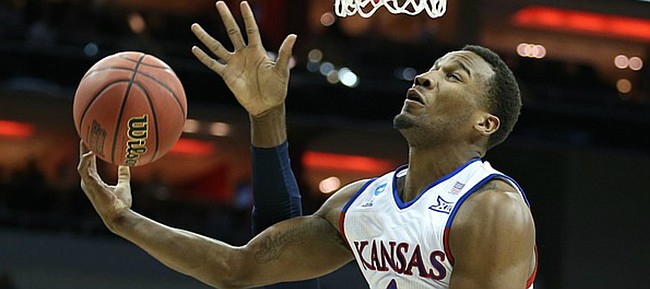 Louisville, Ky. — Sure, there were chances at the end, a five-point, second-half lead, even. But the reality is Villanova won Saturday night's Elite Eight game in the KFC Yum! Center by making Kansas University lose it, 64-59, with as bad a seven-minute stretch of basketball as it had played in months.
Somehow, Villanova played such smart, tough defense that for 6 minutes and 55 seconds of game clock, Kansas went scoreless and turned it over eight times.
The anatomy of a breakdown that befuddled KU's offensive purpose and stole their composure with a 13-0 run: 
Wayne Selden Jr. turnover. Carlton Bragg Jr. turnover. Frank Mason III missed three-pointer. Perry Ellis turnover. Mason turnover. Ellis turnover. Mason turnover. Selden turnover. Sviatoslav Mykhailiuk missed three-pointer. Ellis turnover. Devonté Graham missed three-pointer.
Photo Gallery
Kansas v. Villanova (Elite Eight)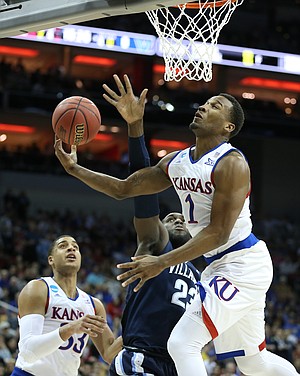 View a gallery of images from the Jayhawks' Elite Eight matchup against the Villanova Wildcats.
The drought finally ended at the 3:46 mark of the first half when Mason made 1 of 2 free throws. By that time, a 16-12 lead had turned into a 25-16 deficit.
Naturally, Kansas didn't run away and hide. The Jayhawks (33-5) compete too hard to quit. Not surprisingly they even went ahead in the second half, using a 9-0 run to go up five points.
But unlike what happens to some opponents that get caught in KU's wake, that just made Villanova play tougher, strengthened the Wildcats' resolve to continue shutting Ellis out of the game, holding him to a season-low four points.
"It starts with him," said Villanova reserve forward Mikal Bridges, who had five steals on a night Kansas turned it over 16 times. "He's the heart and soul of their team. To break them, we had to break him to get everything started."
Podcast episode
Kansas basketball coach Bill Self, as well as KU seniors Perry Ellis and Jamari Traylor, describe the issues that came up for the Jayhawks in a 64-59 loss to Villanova in the Elite Eight. The loss, one game shy of the Final Four, ended KU's season, and the careers of ...
Villanova broke Ellis by mixing its preferred man-to-man with a zone defense and by sending a guard from the weak side to steal passes intended for him in the post and on pick-and-pops. It worked beautifully and created the harsh reality that if Kansas was not going to get hot from long range, it was not going to win the game. The Jayhawks made just 6 of 22 three-pointers.
"I think we were just anxious, extremely hyped and we were shooting it kind of hard, shooting it back rim or over the rim, stuff like that," said Kansas sophomore guard Devonté Graham, who led the Jayhawks with 17 points and seven rebounds. "We just couldn't knock down shots we normally do. Wayne missed a couple of threes and so did I. We just couldn't knock them down."
In truth, Graham was knocking them down to the tune of 5 of 9, but didn't have any company. The rest of the team made 1 of 13 shots from beyond the arc.
Graham fouled out with 34.1 seconds left when he was diving for a loose ball.
"I tried to split a double-team," Graham said. "The guy hit my arm and the ball went flying out and I went and dove for it. At first I thought he was calling a travel, but he said I tripped the guy and he called a foul on me. Of course I didn't agree with it, but it is what it is."
Graham and coach Bill Self looked shock on earlier foul calls against the team's only player who brought a hot shooting touch with himSaturday.
"A couple of them were definitely not fouls, but I can't comment on the refs," Graham said. "...I can't talk about the refs. Coach told us not to say anything about the refs."
Instead, Graham talked about how much he'll miss seniors Ellis, Jamari Traylor, Hunter Mickelson and Evan Manning.
"It was a great season," Graham said of one that included KU's 12th consecutive Big 12 title and a 17-game winning streak that ended Saturday. "Hate to have it end like this, but overall, it was a great season. I'll miss the guys. They know we love them. We'll still be brothers forever."
This was a close bunch of tough competitors that ran into another close bunch of tough competitors and only one team could advance. The NCAA Tournament ends in sadness for 67 of the 68 teams, the ugly side of such a great event.
— See what people were saying about KU's Elite Eight loss during KUsports.com's live coverage
---
More news and notes from KU's Elite Eight loss to Villanova
---
More like this story on KUsports.com