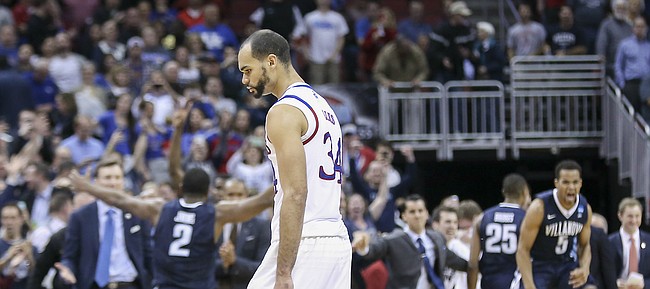 Louisville, Ky. — Perry Ellis, the eighth leading scorer and 12th-leading rebounder in Kansas University basketball history, sat dejectedly in front of his KFC Yum! Center locker and, in a clear voice, explained to wave after wave of reporters how he felt after Saturday's 64-59 NCAA Tournament Elite Eight loss to Villanova.
It was a loss that ended the 6-foot-8 Wichita native's career as a Jayhawk.
"I mean, it was frustrating," Ellis said of Villanova keying on him and holding him to a season-low four points off 1-of-5 shooting.
Ells didn't attempt a three and only went to the line three times, hitting two, as the (33-5) No. 2 seed Wildcats halted (33-5) No. 1-seed KU's 17-game winning streak.
Photo Gallery
Kansas v. Villanova (Elite Eight)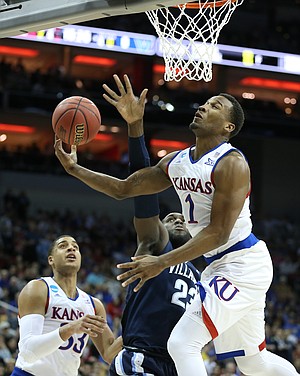 View a gallery of images from the Jayhawks' Elite Eight matchup against the Villanova Wildcats.
"But in the second half, we fought and we were up five (45-40 with 10:50 left). I was excited because as a team we were doing a great job," Ellis added. "We made some plays, but they fought back, got the lead (50-45) and we fell short. It hurts so bad because we couldn't close out. We were so close."
Ellis, who had scored 20 or more points in seven of the Jayhawks' last eight games, explained the problems Villanova posed in his getting involved offensively in his 34-minute stint.
"They did a great job of down-in-the-post fronting, things of that sort," Ellis said, keeping his composure and shedding no tears. "They did a great job of trying to swarm at me. Someone was always there. They did a good job of denying me the ball. I could have tried to demand the ball more. It was hard to get in the flow. They did a great job, credit to them."
Podcast episode
Kansas basketball coach Bill Self, as well as KU seniors Perry Ellis and Jamari Traylor, describe the issues that came up for the Jayhawks in a 64-59 loss to Villanova in the Elite Eight. The loss, one game shy of the Final Four, ended KU's season, and the careers of ...
KU coach Bill Self, whose squad hit just 40.4 percent of its shots — just six of 22 from three and received absolutely no points off the bench — explained Ellis' four-point outing, his lowest of the season and lowest overall since scoring four against West Virginia on March 3, 2015.
"Perry never really engaged himself in the game the first half," Self said. Ellis did not score in 16 minutes, missing two shots as KU lagged, 32-25, at the break.
"They took away the pick-and-pop with him when they played man, because the way they rotated, so he didn't catch the ball naked at the top like we've been scoring quite a bit during the tournament," Self explained. "They made him make the extra pass and we missed some shots when we were wide open making the extra pass. But I think you should give Villanova credit. I don't think Perry was as aggressive demanding the ball as he has been at certain times."
Self said the Jayhawks "bailed out" the Wildcats several times in firing up threes rather than working the offense. He by no means was blaming Ellis for the setback.
"He's a stud," Self said. "He got a couple easy looks early and missed them both and probably shied away from being quite as aggressive after that. We've ridden Perry pretty hard over the last three years and he's almost always delivered for us. So it doesn't take anything away at all. It would have been nice to see our seniors get to a Final Four because we haven't gone with this group. Certainly in my mind he's been a stud and one of the all-time greats regardless of the outcome of this game," Self added.
Of problems feeding Ellis, junior Wayne Selden, Jr. (16 points, 6-14 shooting, 0-6 from three), indicated: "They focused on him. You could tell their game plan was to really bother him. They were doubling down. They were diving hard on him."
Villanova used a 10-0 run to erase KU's lead and led, 50-45, at 7:54. KU did cut it to 50-48 on a Graham three at 6:59. A crucial moment came at 0:41.5, when Graham was called for his fifth foul as he dove into the legs of a Wildcat as he lost possession. A foul on 'Nova in that situation, instead of KU, would have sent Graham to the line.
Instead, Frank Mason III fouled Ryan Arcidiacono and he hit two free throws at 0:33.1 to make the score 58-54. Mason hit a three at 0:25.5 to make it 58-57. It was 62-59 at 0:13.3 when Mason declined to fire up a three and instead, while cutting, lost the ball into Nova's hands. Two free throws at 3.5 second wrapped it up for the (33-5) No. 2 seed Wildcats, who had defeated the 1-seed.
Nova, not KU, will be going to Houston for the Final Four, while Ellis will begin preparing for the NBA Draft, where he's being called a possible second-round pick.
"He's one of the greatest to ever wear a Kansas jersey," Selden said. "He gave it his all. Every practice, every game in his career. He carried himself so well. He gave himself to this place. He committed himself to this place," Selden added.
— See what people were saying about KU's Elite Eight loss during KUsports.com's live coverage
---
More news and notes from KU's Elite Eight loss to Villanova
---
More like this story on KUsports.com