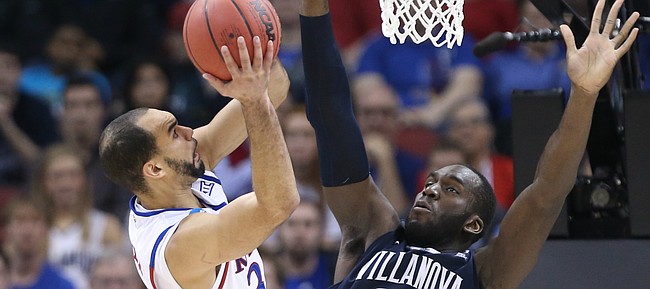 Louisville, Ky. — Although it looked at the time like No. 2 seed Villanova was on the verge of melting down, Wildcats coach Jay Wright said an early timeout his team took after a hot second-half start by Kansas might have been the best thing that could've happened.
Instead of having to adjust on the fly to KU's new plan to get struggling senior Perry Ellis the ball, Wright and his coaching staff calmly explained things during that timeout and the instruction ultimately helped the Wildcats (33-5) pull out a 64-59 slugfest victory in the Elite Eight at KFC Yum! Center.
"As soon as we started the second half, bang-bang, they got (Ellis) inside differently than they tried to get him in the first half and that got us," Wright said after the victory. "If we didn't turn that ball over and they didn't score and we didn't call timeout, I don't know if we would've been able to adjust, so it actually helped a little that way."
Limiting Ellis to four points on 1-of-5 shooting in 34 minutes was by far the biggest factor in Villanova knocking off the tournament's top overall seed and ending Kansas' 17-game winning streak.
Photo Gallery
Kansas v. Villanova (Elite Eight)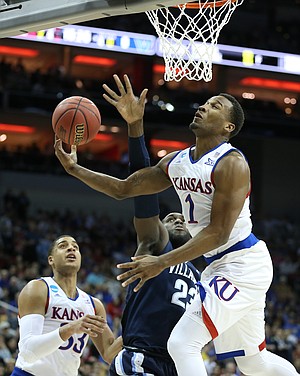 View a gallery of images from the Jayhawks' Elite Eight matchup against the Villanova Wildcats.
But Wright said his team's effectiveness against a player who entered the game having scored 20 or more points in seven of his last eight games was not the product of some genius defensive scheme.
"We were very aware of trying to limit his touches," Wright said. "We played him mostly straight. We played zone. We played man-to-man, but we mostly just tried to find where he was. We really didn't double him too many times. I don't know if we doubled him once."
If they didn't, it sure looked like it. Because every time Ellis caught the ball, and even during a few possessions when he didn't, there were two or three Villanova jerseys within reach of KU's leading scorer.
Nova big man Daniel Ochefu said stifling Ellis was "completely a team effort," and something that began long before Saturday night.
Podcast episode
Kansas basketball coach Bill Self, as well as KU seniors Perry Ellis and Jamari Traylor, describe the issues that came up for the Jayhawks in a 64-59 loss to Villanova in the Elite Eight. The loss, one game shy of the Final Four, ended KU's season, and the careers of ...
"From the day we found out we were playing Kansas, everybody on the team just locked in," Ochefu said. "We knew he was the No. 1 guy on the scouting report. Everybody just rolled to him, making plays on him, being aware of where he was, team defense, just knowing where he was at all times. Our communication was great.
"We all know he's a special player and for us to be able to do that talks a lot about how we defended."
As if qualifying for the Final Four already wasn't sweet enough, Wright said getting there by going through a team like Kansas (33-5) made it all the more meaningful.
"That Kansas team is a championship team," Wright said. "That's a national-championship-caliber team. They made every single correct play down the stretch. They hit the three, they got the layup, they fouled the right guys. We made the foul shots. They kept coming until we got a steal at the end. That's a great team. Never went away, made every right play. I have all the respect in the world for Bill and their program. And, specifically, this team this year."
— See what people were saying about KU's Elite Eight loss during KUsports.com's live coverage
---
More news and notes from KU's Elite Eight loss to Villanova
---
More like this story on KUsports.com